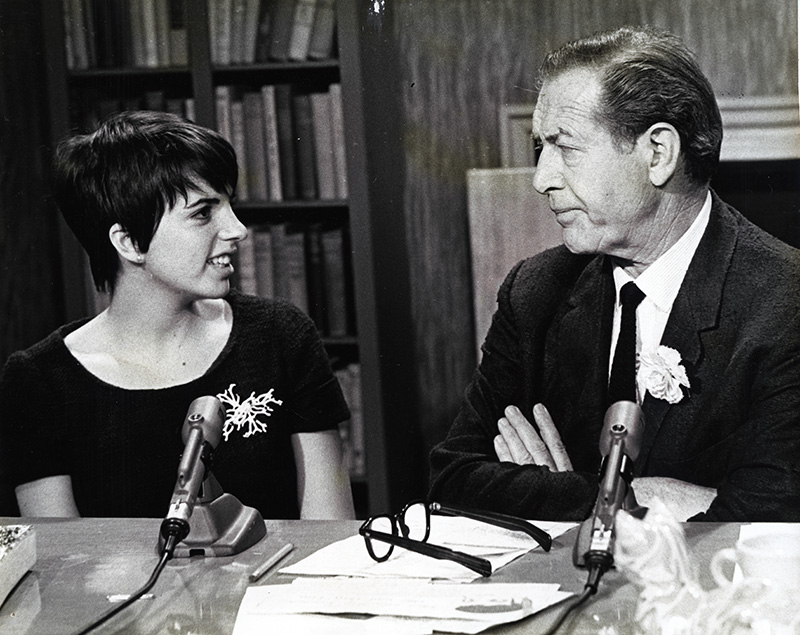 1966 For decades, host Bill Kennedy greeted his legion of television viewers to the tune of Jule Styne's "Just in Time" on his bare-bones set. He smoked like a chimney in an Alaskan winter, introduced the afternoon film he was showcasing that day, and answered phone calls from fans. Kennedy's tone was frequently gruff with viewers inquiring about Hollywood trivia, but his imperious manner didn't seem to matter. Movie buffs tuned in faithfully for nearly 30 years to watch Bill Kennedy's Showtime on Windsor's CKLW (Channel 9) beginning in 1956.
In 1969, he crossed the Detroit River to WKBD (Channel 50) and held court at Bill Kennedy at the Movies until his retirement in 1983. Kennedy was undeniably a hit. As Richard Bak wrote in his book Detroitland: A Collection of Movers, Shakers, Lost Souls, and History Makers From Detroit's Past, Kennedy's show at its peak drew one out of every three people watching the tube in metro Detroit. Kennedy's crusty demeanor evaporated into a font of schmaltzy charm when he interviewed a guest — and he snagged some top names, including Nat King Cole, Liberace, Jayne Mansfield, Clint Eastwood, Debbie Reynolds, Kirk Douglas, and Harry Belafonte. In those days, celebs appearing at Windsor's Elmwood Casino and Top Hat Supper Club, Detroit's Roostertail and Cass Theatre, or Southfield's Northland Playhouse were happy to drop by for a plug. Here, a fresh-faced, 20-year-old Liza Minnelli came to the Windsor studio between appearances at the Elmwood Casino.
A native of Cleveland Heights, Ohio, Bill Kennedy was a B actor or a bit player in some major movies. He may not have hit the big time in Hollywood, but in Detroit he was a star until his retirement in 1983. Losing a battle with throat cancer and emphysema, he died in Palm Beach, Florida, in 1997. He was 88.