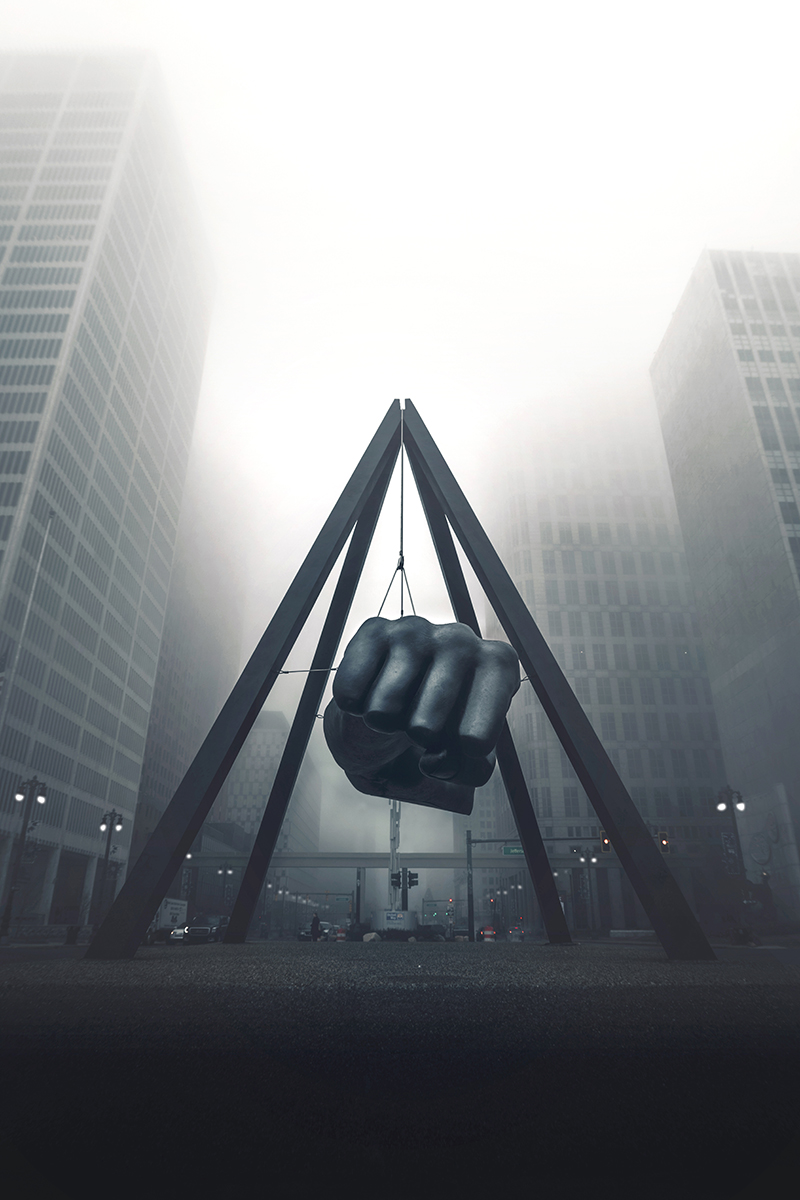 Instagram is rife with photographers, both amateur and professional, each trying to find a niche amid hordes of travel bloggers, street-style phenoms, beauty gurus, and food connoisseurs. Standing out from the billions of pics on the platform has never been more difficult, but Detroit-based photographer Joe Gall has managed to do just that since he started posting photos of life in the city in 2012.
Over the past eight years, the Romeo native has amassed about 97,000 followers on the platform, where he's known as Camera Jesus, thanks to his long, sandy hair and full beard. Gall's feed has changed a little since its early days. His frequent photos of Detroit are now occasionally interrupted by shots of, say, Barack Obama, or ad campaigns he's shot for Adidas and Ford. Still, Detroit has maintained its place as Gall's No. 1 muse and has been central to his rise from local kid with a camera to internationally sought-after photographer.
Gall got his professional start early, shooting concerts around Detroit when he was just 20 for the now-defunct Real Detroit Weekly newspaper in 2008. His prolific work eventually led to projects for Rolling Stone, Spin, and other national publications, but he didn't get started with social media until 2012. Today, Gall eschews the use of a typical website to showcase his work, preferring Instagram as his only portfolio.
"To me, the way that I work, shooting something almost every single day, it would be so hard to keep an updated portfolio," he says. "Instagram is something that people are checking regularly, and I can update that whenever I need to — daily, if I wanted."
While Gall had been working long before he joined Instagram as Camera Jesus — a nickname bestowed upon him by locals who saw him working in the pit as the house photographer for the Royal Oak Music Theatre — his rise to almost 100,000 followers was a slow burn.
"It was always kind of a gradual thing, but probably one of the biggest jumps I had was when Tony Hawk gave me a shoutout," he says. That was in 2014. Gall has since become friends with the skateboarding legend, who makes regular appearances on his feed. "That's when I went from under 10,000 to over 10,000, and that's kind of a significant jump in social media."
Gall travels for work about half of the year, making frequent visits to major markets like New York and Los Angeles, along with destination trips to places like Indonesia, New Zealand, and Vietnam, but he's made a point of keeping Detroit as his home base. His pictures of the city, which have captured both its ongoing development and its inherent rawness, have not only brought new followers to his feed, but have also given outsiders a new perspective on a city that has faced an uphill slog against decades of negative stereotypes. 
"One of the biggest comments I get, especially from people who have never been to Detroit, they would see a photo and comment something about 'I've been following you for a year now, and I see you post all these things about Detroit. It's never been a place on my list of places to visit, but seeing your photography really makes me want to check it out.' And that always feels good," Gall says. "It just feels wrong to leave because this is the place that made me. And why go into one of those bigger markets when Detroit is such a great home base? I'm able to work in New York or L.A. or anywhere in the world. It's just a plane ride away."
Facebook Comments