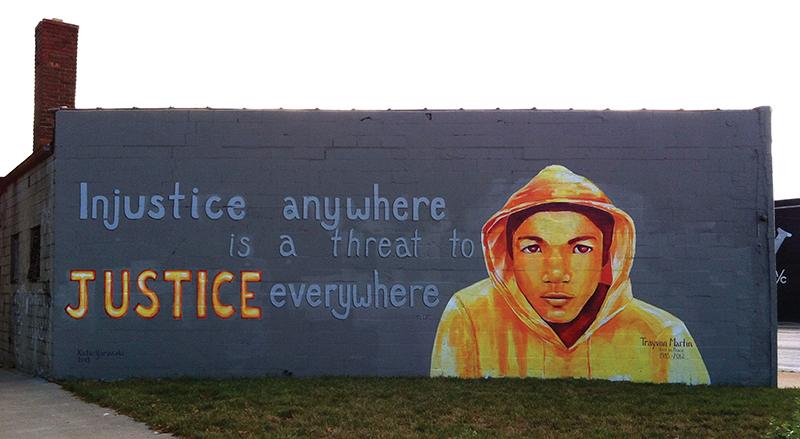 Right off Highway 94, as the exit ramp curves up to Gratiot Avenue in Detroit, his image looms larger than life. Two piercing brown eyes stare out from under a familiar hoodie. A beautiful boy leans forward with a slight slouch as if he has not yet grown used to his sudden height. So young. Too young. Like an arm wrapped protectively around his shoulders, the words of Dr. Martin Luther King Jr. declare, "Injustice anywhere is a threat to justice everywhere." The word "JUSTICE" glows golden like the boy.
"Trayvon Martin Rest in Peace 1995-2012"
Painted on the back wall of On the Rise Bakery, a program of the Capuchin Soup Kitchen to help train people who have recently been released from prison, the mural of Martin is often enveloped in the warm, wafting smells of freshly baked bread. Painting the mural in 2013 felt like getting "a two-day hug" from the residents of this community, says muralist and children's book author Katie Yamasaki.
"The beautiful thing about that one is that it looks the same as it did when I painted it in 2013, and that is a heavy graffiti neighborhood," says Yamasaki, who is the granddaughter of Minoru Yamasaki, the Detroit architect famous for the World Trade Center in New York and One Woodward Avenue in Detroit. "That, I feel, is the biggest compliment to any mural."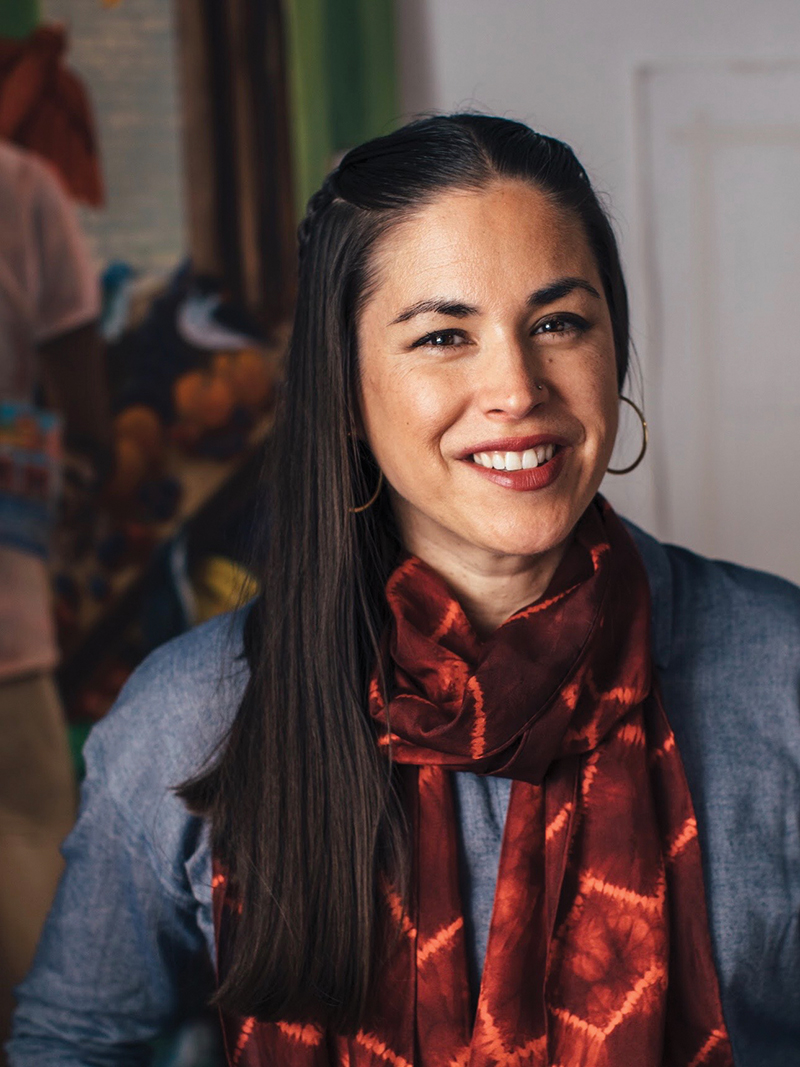 Yamasaki has created more than 80 murals around the world, including in Mexico, Argentina, Spain, Philadelphia, New York, Los Angeles, and Boston, often working with women on themes of incarceration, education, and families. But Detroit is special to her. Although she now lives in Brooklyn, New York, with her husband and 2-year-old daughter, metro Detroit is home and where her parents still live. It's also home to a number of her murals, in addition to her tribute to Trayvon Martin. Her work adorns the Boggs School and the Infinity I and II Head Start locations. And in 2015, she received a Knight Arts Challenge award to paint the Shield of Peace and Non-Violence mural with artist Vito Valdez in southwest Detroit.
"When a city has struggled as Detroit has with poverty and profiling and race discrimination, art can serve as a healing tool. The act of creating art is inherently therapeutic," Yamasaki says. "Also, it is a really effective bridge for communication. The way that we communicate in art is so different from the ways that we otherwise communicate, it's enough to slow people down."
When Yamasaki was growing up in Lake Orion in the 1980s, the Big Three automakers were experiencing massive layoffs as they struggled to compete with cheaper, more fuel-efficient Japanese imports. Anti-Japanese and anti-Asian sentiment was widespread, and although she was somewhat protected by having a famous grandfather and a white mother, she still heard anti-Asian slurs from people she knew.
In 1982, two white autoworkers brutally beat and killed 27-year-old Chinese American Vincent Chin with a baseball bat. Witnesses heard one of the men use racial epithets, blaming the Japanese for the auto industry's woes. They were sentenced to three years of probation and ordered to pay $3,780 each in fines and court fees. The near-complete indifference of the judicial system gave rise to a sense of solidarity among Asian Americans and galvanized a generation of civil rights activism. Today, the Chin case continues to inspire Asian American activists and artists, whose work adds to the complexity of conversations about race and justice in Detroit.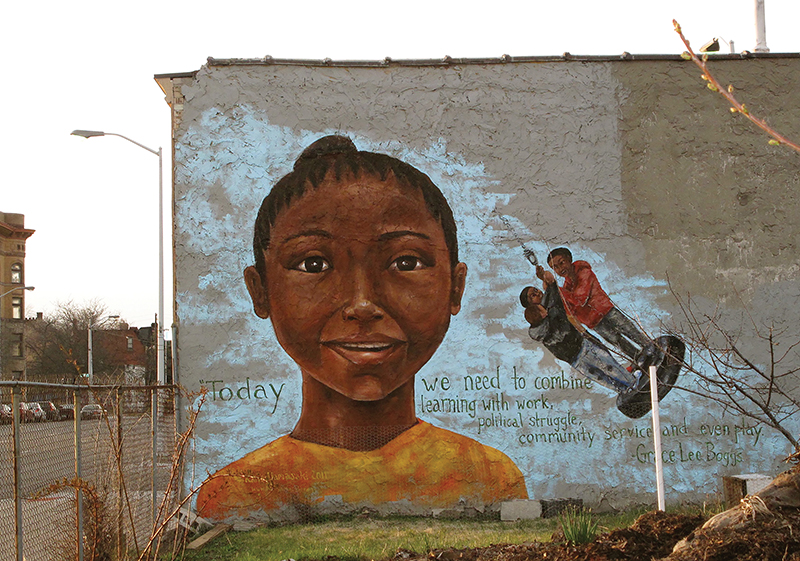 Those conversations are as essential as ever today, as the spread of COVID-19 since it emerged last year in Wuhan, China, has brought a spike in anti-Asian sentiment across the U.S.
"I've been horrified by the anti-Asian sentiments and actions surrounding the COVID-19 pandemic," Yamasaki says. "Once the quarantine has been lifted and people are living out the grief and trauma from this pandemic, I am deeply worried about our Asian American communities becoming targets of misdirected anger and trauma stemming from this pandemic."   
Yamasaki learned the importance of history — and the power of storytelling — in seventh grade. It was Dec. 7, and her teacher pointedly called on her to explain the significance of Pearl Harbor Day. Not taking the bait, she told the class that her great-grandfather was arrested by the FBI immediately after the attack because he owned a produce stand, and shortly after, many of her family members were rounded up and forcibly sent to internment camps with other Japanese Americans. They were held there for the duration of World War II. Her teacher told her class the incarceration of Japanese Americans never happened and, Yamasaki says, she never learned anything about that chapter of American history in school after that.
In 2013, Yamasaki wrote and illustrated the children's picture book Fish for Jimmy, inspired by a family story about an uncle who was held as a boy during World War II at Granada War Relocation Center in Colorado. In the book, older brother Taro secretly sneaks out of the camp at night to catch fish because his sickly younger brother has stopped eating. The book was selected in 2017 to be included in McGraw-Hill Education's fourth-grade literature anthology textbook, ensuring that children across the country are now learning about the Japanese American experience during World War II.
Today, Yamasaki carries her family's experiences in World War II internment camps with her as she makes connections with people around the world. One of her earliest mural projects was with a women's prison in Mexico, and she has done multiple projects at Rikers Island in New York and at detention centers in Philadelphia, working with incarcerated women and teenagers separated from their families. She finds that poor women, especially indigenous women and poor black and brown women, are hardest hit by the ways poverty, immigration, and mental health have been criminalized. "Regardless of the reason people are mass incarcerated, the impact it has on a family and on multiple generations is pretty universal," she says.
Yamasaki's children's picture books also explore themes of race and justice in stories that reflect Detroit and the issues that young people here face today.
In Everything Naomi Loved (Norton Young Readers, 2020), for instance, a girl notices changes in her neighborhood as gentrification bears down on it. She decides to paint a mural of everything in her neighborhood that she loves so there will be a record of it. "You might feel devastated that the restaurant is moving, but you can also be painting, and you're loving painting, and then a dog walks by and licks your leg and that's hilarious," she says. "It might feel weird to feel that you're laughing out loud when something terrible is happening, but that's just the human experience."
These days, Yamasaki is working on Dad Bakes, a picture book about a father, once in prison, who now works at a bakery at night, spending his days with his daughter. This simple story is inspired, in part, by Detroit's On the Rise Bakery, which helps returning citizens begin their lives anew. It's also where Yamasaki painted the mural of Martin.
"Katie's murals are a form of healing and love in action," says Joe Voeller, director of communications for NoVo Foundation in Brooklyn, where Yamasaki recently covered a new four-story office building with pictures of the women and children — including some from Detroit — that the foundation serves.
"[Her murals] make history visible; remind us of the power of community; and weave together relationships, common dreams, and shared possibility," he says. "They dare all of us not only to imagine a more joyful and just world, but to see ourselves in the work of building that world."
---
Reporting for this story was made possible by the Keith Center for Civil Rights Detroit Equity Action Lab Race and Justice Reporting Fellowship, which is funded by the Knight Foundation, Ford Foundation, Community Foundation for Southeast Michigan, and Detroit Journalism Engagement Fund.