In the summer of 2013, Rossetti, the international architectural planning and design firm, relocated its headquarters to the Federal Reserve building in downtown Detroit. The first thing on the agenda: to remodel much of the building. The firm refinished the top floor, the downstairs restaurant, Maru Sushi, as well as the fourth floor (where their offices are located).
Step into their suite and you'll instantly get a sense of Rossetti's aesthetic. The 13,000-square-foot modern space strikes a wonderful balance between streamlined and bold — think, exposed metal beams and sleek wooden tables that are accented with orange light fixtures and bright green chairs. It's an open concept workspace, and there is ample light filtering through the windows, though most of the designers keep task lamps turned on at their desks. In many ways, this, is exactly what the team behind Rossetti believes makes for good design — a series of contradictions and a continual battle between beauty and functionality.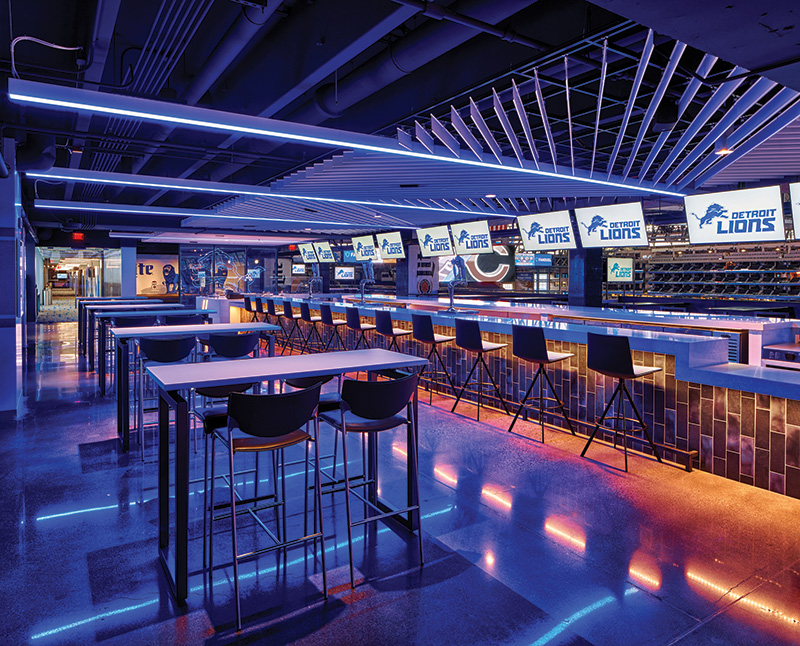 To date, Rossetti has designed numerous arenas, amphitheaters, stadiums, and more across the world — including Toyota Park in Chicago, University of Notre Dame Compton Family Ice Arena, and the Baku Olympic Stadium in Azerbaijan for the 2015 European Games. In Michigan, they've renovated The Greektown Casino and Hotel, luxury apartment building The Albert, and Cobo Center. And that list is growing.
They are currently in the midst of working on a renovation of the Quicken Loans Arena in Cleveland, the Munn Arena at Michigan State University, and are working on converting Detroit's former public housing project, Douglass Site, into an urban neighborhood.
Given their list of projects, it would seem almost as though the Rossetti team specializes in sports and entertainment venues. But ask their executives, and they will say otherwise. What sets the firm apart is less about actual locations and more about their focus on experience. "We strive to be a one-stop-shop — we love doing the building, creating the backdrop, and branding it," explains Rossetti's creative director, Kelly Deines. That comes down to not just choosing wallpaper, lamps, and coffee makers, but envisioning how those items are presented to create a finished product that is as emotive as it is useful.
In fact, their process is almost cinematic. "That movie I Am Love had this gorgeous mid-century Italian backdrop, to what was a really sort of sad family drama. But you know that's an art director, or architect, or interior designer staging that experience. Could you imagine it in a cottage with tumbleweeds?" Deines laughs.
So, how does this all play out when it comes to creating experiences at sporting events and their respective venues? Jamie Neher, senior designer at Rossetti, likes to reference a tennis activation area the Rossetti team handled at the 2019 Miami Open. "In a temporary setting, you have to think from the point of view of the visitor and how they might experience this event — you have to choreograph each step of their way," she explains. "Where do they go to eat? And not just typical functions but also emotional functions. I always try to reference the senses — the smell, the touch — how do we activate all of these senses?" she asks.
To do this, the team designated space for parking nearby the event, so as to prevent guests from having to walk far from the stadium. They also collaborated with Hard Rock Stadium owner Stephen Ross to design luxurious lounges to keep guests comfortable during long days of matches. These plush lounges featured a state-of-the-art shade canopy, four high-definition boards, and bold art to delight the senses.
The above-and-beyond approach Rossetti took to the Miami Open is just what they bring to all of their projects. They are not simply designing spaces that get the job done, they are creating immersive experiences that evoke emotion and, therefore, leave a lasting impression.
---
Step Inside the Rossetti Office
"We describe our office as an indigenous Detroit living laboratory," Denise Drach, Rossetti's vice president of marketing writes in an email. "The design is transparent and honest with some grit." It carries a bit of history with it, too. The space sits in the former Federal Reserve Building, erected in 1927 and annexed by an eight-story glass and marble structure, which comprises two-thirds of the current workspace. It was designed by famed American architect, Minoru Yamasaki, who was responsible for the design of the annex to the World Trade Center in 1951.
Many of the natural materials used to construct the building are exposed: the concrete pillars, metal beams, terra cotta bricks, and concrete floor. All of which are punctuated by birch cabinets, a large, marble island, and walls of black-charred paneling — and even in this small detail, there is big meaning. "They replicate the Japanese Shou Sugi Ban technique that preserves wood by charring it with fire. It's also a nod to Yamasaki," writes Drach.
The desks in the office are from furniture manufacturer The Senator Group, and the seating from its offshoots Allermuir and Aeron. Since 1969, the team has been getting together every Friday for "Friday Bar Time" from 4:30-6 p.m., and when the weather is nice, they gather on their two outdoor decks (relatively rare in Detroit).
Facebook Comments