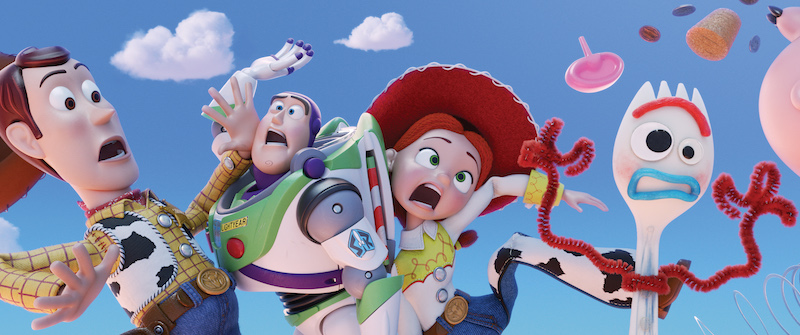 While sitting in a crowded theater with a group of friends from high school, tears streamed down my face as — spoiler alert, but all movie lovers should have seen this by now — Woody (Tom Hanks) and friends were trapped on a conveyer belt inching toward an incinerator. This couldn't be how Toy Story 3, or the whole Toy Story franchise for that matter, ends, right? Turns out, it wasn't. The expert storytellers at Disney-Pixar wouldn't dare traumatize a loyal audience.
But, as the toys were rescued and my tears dried, it hit me just how much Toy Story meant to me, my friends, and a generation of young adults who grew up feeling attached to the characters.
Like Andy, the now-teenager who had signed his name on the bottom of Woody's cowboy boot when he was young, we were also 2010 high school grads headed off to college, leaving childhood bedrooms and our own version of a Woody or Buzz Lightyear behind. It felt like the story came full circle, or so we thought. Yet, nearly 10 years later, the toys are back on the big screen, this time in Toy Story 4.
"Like most people, I assumed that Toy Story 3 was the end," says director Josh Cooley in a statement released by Disney-Pixar. "It was only the end of Woody's story with Andy. Just like in life, every ending is a new beginning."
The film, which hits theaters on June 21, follows the gang as they head on a road trip with Bonnie, the little girl who now cares for them, and a comedic toy Fork named, you guessed it, Forky (Tony Hale). On their adventure, they meet new friends, like Ducky (voiced by Detroit native Keegan-Michael Key), and connect with old ones, like Woody's love interest, Bo Peep (Annie Potts). 
Toy Story 4 isn't just about the hilarious hijinks the toys get into though. According to producers, the larger themes explored in the story include finding one's life purpose and transitioning into new roles. For empathetic Woody, contemplating these topics makes sense, but even the lovable, yet sometimes impulsive, Buzz Lightyear (voiced by Birmingham native Tim Allen) gets in on the action. The character's space suit buttons play commands that require him to listen to his inner voice — a life skill many of the film's 20-something-year-old fans are striving to develop now.  After all these years, it seems the toys are still friends we can connect with.
"There are people working on this film who say Toy Story was the first movie they saw when they were kids," says Jonas Rivera, a producer on the film. "But no matter how old we are, there's the sense that we've all grown up with Woody, with Buzz. It's more than just a movie."
Facebook Comments