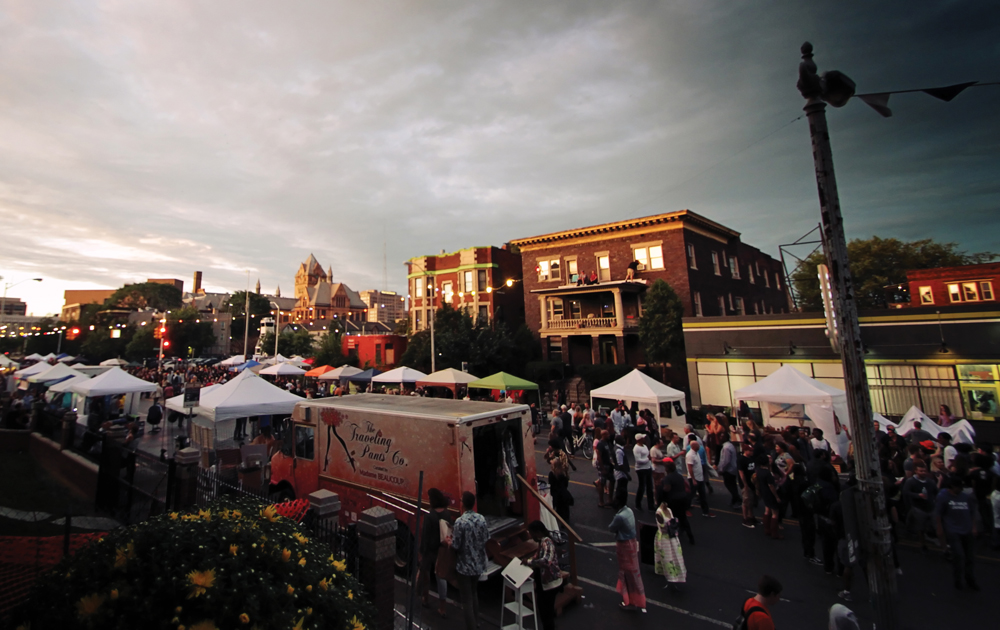 One day each year, almost like magic, vendors appear to sell crust punk T-shirts, glass tobacco pipes, shea butter, and African-inspired jewelry. They set up alongside beer tents pouring pint after pint for winding lines of thirsty partiers. Largely unknown artists take to multiple stages: spoken-word poets, one-man-bands, multimember folk crews, and hard-thumping drum-and-bass sets.
But at its roots, this is far from your average art fair. It's the Cass Corridor's annual Dally in the Alley.
When the neighborhood bordering West Warren Avenue and Fisher Freeway was rebranded as part of "Midtown" in 2000, it became a point of contention for longtime residents. For decades, the Cass Corridor name evoked crime, drugs, and general debauchery. But for others, it was a point of pride, giving face to a colorful counterculture that called the neighborhood home.
In other words, the "two Detroits" argument isn't exactly a new bone of contention.
Rebels with a Cause
In the 1960s, a gritty community developed along a 0.36-square-mile-strip on Cass Avenue in Detroit. The tight-knit group was full of artists, activists, and members of the LGBT community.
Around the same time, the name "Cass Corridor" came to popularity amid new development by the City of Detroit and Wayne State University.
In 1977, the North Cass Community Union was formed to rebel against these changes and to protect the neighborhood's culture and residents' needs.
That same year, members set up card tables in the alley and sold beer to help fund a legal fight against the city and WSU. That first gathering formed the roots of today's Dally in the Alley, and the backbone of the NCCU, which continues to exists today.
In 1978, the festival became a bit more organized and official. It was proposed by union member Linda Krupp, and was known then as "Gallimaufry" (meaning a little of everything).
On Sept. 24, 1978, the Detroit Free Press took note. "Some people in the Cass Corridor who don't want their apartment buildings flattened into parking lots held a street fair Saturday to draw attention to their plight," an article stated.
Staying Power
Forty years later, the Dally has grown, to say the least. There were over 80,000 in attendance in 2016. But even though it's the largest event thrown by the NCCU every year, few people really know who puts on the festival.
Matt Klipper, president of the NCCU, serves as the Dally's logistical organizer. At his side is a ragtag group of both lifelong inhabitants and Cass Corridor newcomers, all with one idea in mind: keeping the legacy of Dally alive.
Much like the original Dally, today's festival represents the culture of residents who tend to be unapologetically proud of the Corridor in all its grit and grime. It's a community resistant to outside influences and attempts at "rebranding" the area.
Hundreds of locally based artists, musicians, and vendors apply each year to be a part of the festival. But selections are largely prioritized by the operation's proximity to the Corridor.
Sorry, out-of-towners.
"This festival initially was a giant 'f*** you' to Wayne State back in the day, so there is that sort of punk-rock, rebellious, alternative vibe to it," says Robbie Dwight, a member of the music committee. "So, I would much rather have a lot of that, as opposed to 'oh, these bands that everyone's talking about.' I want the bands that make this neighborhood f***ing cool."
That mentality is why the festival has endured.
"There's a reason that this thing has lasted for 40 years, that has very little to do with us," says Adriel Thornton, a member of the NCCU and head of public relations for Dally. "There's a spirit and a magic, and a soundtrack to Dally and I think that the ability for those things to be consistent … that's very important."
Part of that "magic" is that the committee has no hierarchy and designated "leader." Instead, the group functions more like a social democracy — everyone does what they can, and every idea is up for a discussion and vote. While the group is very close-knit, they don't agree on everything. Sometimes arguments get heated, but at the end of the day, every member just wants the festival to continue year after year.
"I take personal pride in being a part of [Dally] because I want this, even after I'm gone," says Kandi Gantt, who heads up the kids fair and serves on the music committee. "I want my children to come here, my children's children."
A Volunteer Spirit 
Dally is the culmination of blood, sweat, and tears of unpaid volunteers. Members of the committee tell war stories from previous festivals, including broken fingers, sprained ankles, hospital visits, and once, a weeklong diabetic coma.
Despite all this, they keep coming back. Lura Smith, a seven-year committee veteran, laughs as she talks about the year she had to push-broom deep puddles of water out of the alley for hours before the sun rose. Or that little debacle when a transformer exploded and she and the team had to evacuate thousands of attendees (most of which had been drinking since the early hours of the day).
But even with little budget (the festival barely breaks even), no pay, no internal hierarchy, and limited resources, the Dally happens every year.
"Matt [Klipper] is the glue," Thornton says. He has helped produce large-scale festivals like the Detroit Electronic Music Festival professionally, and knows firsthand the type of backbreaking work that goes into an event of this scale. And he gets paid for those.
Klipper, on the other hand, devotes a lot of volunteer time to the Dally, even during the offseason. Each year, it becomes increasingly difficult and more expensive to hold the festival, which costs roughly $100,000 to host.
The preparation process begins in the early months of the year to allow for long delays or seemingly continuous changes to the process from the city. With his handy Dally in the Alley logistics master list at his side, Klipper can easily weed through the city's red tape, but he worries for the fate of new festivals trying to break into the city.
"Getting [City] Council approval … makes you nervous," Klipper says. "But at the same time, just because I know what to do now, it doesn't make me as nervous.
"But if you were a new festival coming in and you didn't know how to navigate Coleman A. Young Municipal Center, you'd be in a lot of trouble."
Never Selling Out
While the festival has grown, so has the number of critics. Klipper and his team are well aware of the mumblings and swirling rumors of corporate sponsorship and "selling out."
But the NCCU has one very important argument in its defense: Dally has never, and will never, accept a corporate sponsorship — and it's not for a lack of offers. Big-name Detroit corporations, national beverage companies, and others have offered money to the organization, to no avail.
"I feel like people like the festival [and] want to help because of the mission and the way it has stayed true," says Klipper. "But, if it starts to evolve beyond that, then I don't see why anyone would find this more special than just volunteering at DEMF [or] at the Jazz Fest."
Moreover, Klipper says the festival has never lost sight of what's really important: the residents of the Cass Corridor. The festival has recently scaled back almost completely on advertising and media appearances to attract less outside attention. "It's not necessarily a festival that we want people to outwardly seek out," Klipper explains, adding that they're not exactly trying to "net" new attendees.
"Unless you're 'net' new to the neighborhood."
And in a rapidly changing area like Cass Corridor (aka Midtown), that sort of neighborhood-centric attitude is as important today as it was in 1977.
Dally on.
The 2017 Dally is scheduled for Sept. 9. dallyinthealley.com
Facebook Comments