In prisons across the state, art is bridging gaps. In March and April of this year, the Annual Exhibition of Art by Michigan Prisoners held its 23rd art show exhibiting work from 582 artists across 28 prisons. From landscapes to political statements, color pencils to acrylics, the subject matter and mediums may have varied, but one thing was clear: it was a transformative experience for artists and guests alike.
Daniel Valentine, 57, participated in the show for 20 consecutive years before he left prison and says, "it literally saved my life."
The annual exhibit is organized by the University of Michigan's Prison Creative Arts Project (PCAP), an academic and volunteer based program that brings together students, faculty, community members, and incarcerated individuals to work towards artistic collaboration and mutual growth. Retired U-M professor, visual artist, and senior curator of the exhibition, Janie Paul, started the show in 1996 with English professor and PCAP founder William (Buzz) Alexander. The project has been running for over 25 years and championing prisoner rights ever since.
"We believe that the arts are an important way to deal with the terrible human rights abuses that are happening within the criminal justice system," says Paul. As of January 2018, the total number of prisoners under the Michigan Department of Corrections was 39,688. On the national front, the United States has the largest reported prison population in the world with well over 2 million prisoners. Inequalities like racial disparities and excessively harsh sentencing have been well documented within the U.S criminal justice system.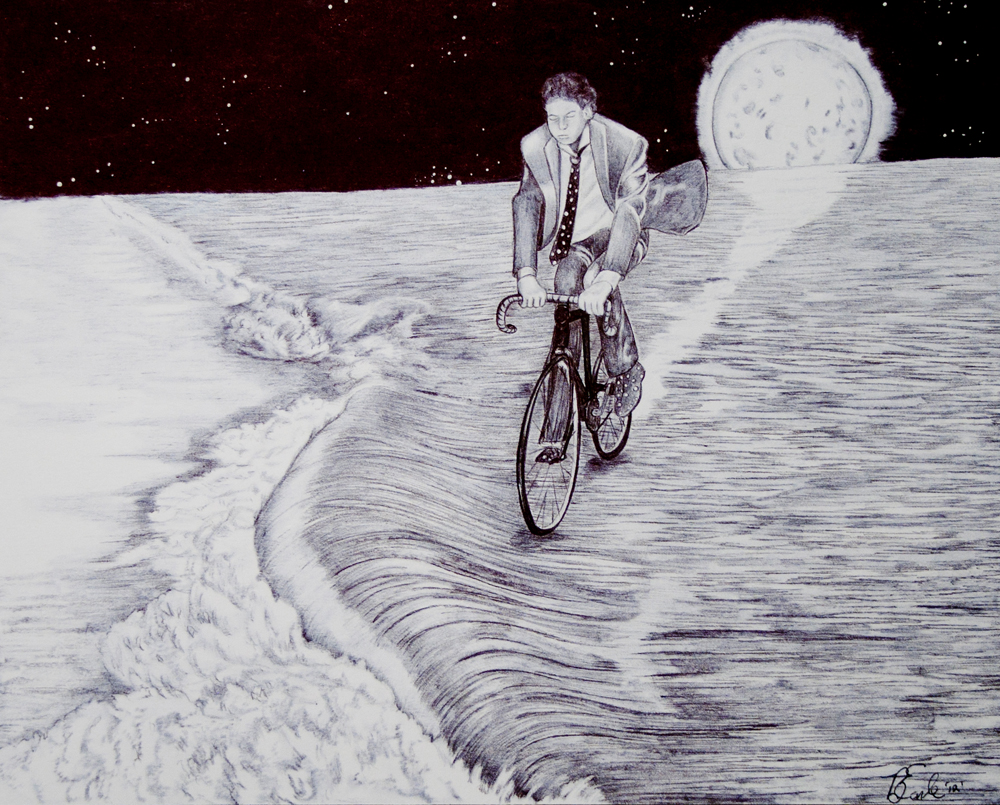 "For most people, it's the thing that's keeping them alive. It's keeping their soul alive. It's humanization in a dehumanized environment," Paul says.
Longtime participants like Valentine can agree. "I had just come to prison with a 40-year sentence and I had given up completely," he says. He had made plans to commit suicide but remembers the first show coming along right at that time. "I decided to stick around long enough to do the first show because I was interested in art."
Since that first show, he participated every year until his release in 2013, displaying his acrylic, oil, and Prismacolor creations. His subject matter was mostly mother and child and anatomical forms. During the art shows, what he appreciated most was the feedback from viewers. It acted as a bridge between the world he currently occupied and the one left behind.
PCAP is aiming to humanize prisoners by inviting the general public to question their assumptions about incarcerated people. The art show is one of the public aspects of PCAP's work, along with their literary publications. Behind the scenes, there is year-round programming, like engaging workshops. Volunteers visit prisons and juvenile centers and facilitate generative sessions in everything from writing and theater to the visual arts and music. "Our efforts create community where we are all acting as equals and co-creators [in the space]." says Paul, "We like to think of ourselves as facilitators rather than teachers, although we are teaching some skills."
With 12-20 participants in the room, it's about an hour or more of artistic expression and collective growth in an otherwise restrictive environment. The facilitators are trained by PCAP and the respective facilities to work with guards, staff, and prisoners. "Underlying everything is communicating trust to the incarcerated participants, first of all," says Paul, along with respect for every individual and belief in their potential.
PCAP's programming fosters a sense of community, in workshops and outside of them too. When visitors come in to an art exhibition, for example, they see a diverse array of highly skilled, emotional, and expressive images on display. This challenges their assumptions about prisoners and even their stereotypical imagination of what an artist can look like. Valentine appreciated the interactive component of the show, reflecting on a guestbook where visitors could write their thoughts about the artwork.
"There's just an incredible amount of art being made in Michigan state prisons," Paul says. With workshops, art shows, and more, PCAP emphasizes the transformative nature of creativity. Paul says prisoners make art regardless of programming like PCAP, in prisons across the country.
"Art, by its nature, is about constant evolution and growth from one artistic experience to another. The people who are making art in prison get to experience a future that holds promise, rather than a future that is blank and dead space." she says, "Through making art, [prisoners] get to transform time and space which is extremely confined in prison."
And for formerly incarcerated individuals like Valentine, art can save one's life while also supporting it in many different ways. "I was able to sell my work. I won several awards. It was a big picker upper, I gotta say. It sustained me until I got out."
Facebook Comments