Born in 1959, comic artist and illustrator Bill Morrison spent his time growing up in Lincoln Park drawing with his sister and reading comics.  "My sister used to give me drawing lessons. She would sit me down at the kitchen table and show me how to draw pretty much whatever I was interested in…" he says. "She noticed that I had a talent, and so she was always reinforcing that…I think that always stuck with me, and I was always interested in comics and animation."
He went on to attend College for Creative Studies and graduated in 1981 with an illustration degree before working at the art and design company Artech in Livonia in the early '80s doing graphic design work for manuals. Eventually, he found success working on projects like Disney's Cinderella, The Simpsons, his original comic Roswell, Little Green Man, and more. He also co-founded the company Bongo Comics in 1993.
These days, Morrison is working as a freelance artist from his home in St. Clair Shores and is often invited as a special guest to events and conventions. Recently, he spoke with Hour Detroit about his career in art and comics.
Hour Detroit: You started your career working at Artech Inc. What was that like, and how did you go from there to doing work for Disney?
Bill Morrison: Detroit was not the kind of town where freelancers really thrived. It was more of a camp for illustrators, where you got a studio job and then you took on whatever assignments came in. It wasn't like you had an art rep or you were out there freelancing and picking and choosing what you would work on. A friend of mine was doing work for Artech, so I interviewed there, and I got the position. And that was fun, and the work was really fulfilling, it was very technical. We were doing the kind of art that would be published in owner's manuals — like when you buy a car and you get the owner's manual, the little diagrams and illustrations that are in there. And mechanics guides, car parts, manuals, that kind of thing.
Because I was sort of terrified of moving to New York, which was what you had to do to be a comic artist, I started gearing my portfolio towards the West Coast and the sort of airbrush illustration that was being done out there for movie posters and record album covers. Once I felt like I had my portfolio ready I went out to California. I made a lot of appointments and showed my portfolio around. I ended up landing a job at a place called BD Fox and Friends. I was the in-house artist. What I didn't realize at first was that in L.A., it was totally the opposite of Detroit. L.A. artists were mostly freelancers, and there weren't really many studio positions. After doing that for about four years, I was offered a job with one of my heroes, a man named David Willard, an illustrator who did a really fun, California airbrush-style. He took me into his studio, and it was while I was there that I got my first Disney job. It was for a movie poster for the rerelease of the classic Cinderella cartoon animated feature. Disney really liked what I did, so they kept giving the studio more and more work. I was like the Disney guy at the studio. After that, I got to do the first The Little Mermaid poster, Oliver and Company, and posters for Peter Pan, The Jungle Book, Lady and the Tramp, Bambi, and all kinds of my favorite Disney films from childhood.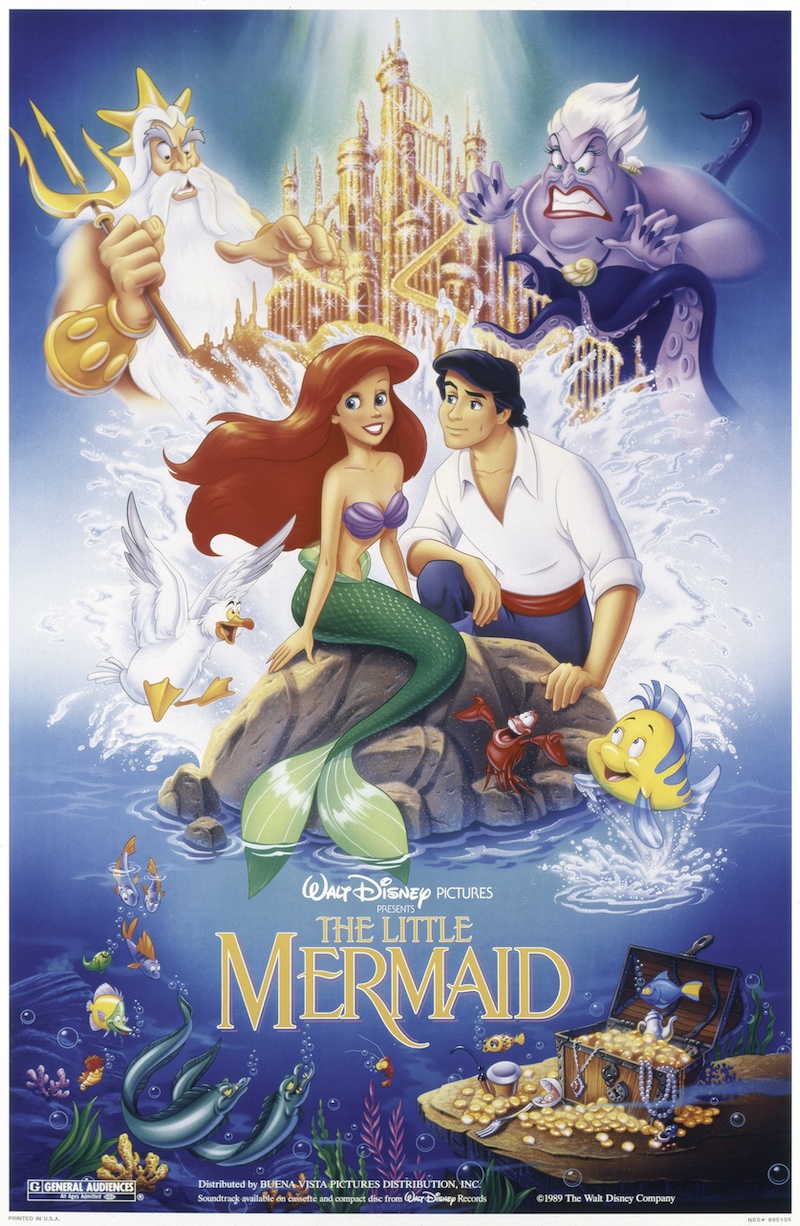 One of the Disney properties you created artwork for included the controversial phallic imagery on the1990 VHS box for The Little Mermaid, correct?
Yes, I was the artist on the VHS box art. All of the stories and urban legends that came out of that were very entertaining. I used to go into comic shops, and I would hear people talking about it and just be kind of a fly on the wall listening to whatever the story was, and it kept growing, like it was like a game of telephone…It was totally unintentional, just a fluke. I think the very first version of the story was that the artwork was done by an artist who was being fired so his last act of defiance against Disney was to paint this phallic image in the video box art…But of course, none of that was ever true.
You then went on to work on The Simpsons that same year. How did that happen?
I was working at Dave Willard's studio doing the Disney stuff, and I got a call from a friend who was an art director who I had worked with at BD Fox and Friends…She was looking for artists to do art for The Simpsons, which had just become a half-hour TV show. She was friends with Matt Groening, [creator of The Simpsons, Futurama, and more], and he put her in charge of all the merchandising art, so she became sort of his liaison between him and Fox [TV network] in doing approvals for merchandise art…it was very early on; I think the show had only been on the air about maybe three weeks when that happened.
You co-founded Bongo Comics in 1993, which worked on comics for many different brands like The Simpsons, Futurama, SpongeBob SquarePants, and Cold Play's Mylo Xyloto comic adaptation. How did working on merchandising art for The Simpsons lead to that?
At the time, [Matt Groening] was doing book projects, and all that fell under the banner of publishing, which is what he had the rights to. I became ensconced as one of the regular artists with the publishing stuff, so we started a magazine called Simpsons Illustrated. It was a fan magazine that basically was full of articles about The Simpsons, and games and puzzles, and so forth. But it also had a comic section. I drew the very first Simpsons comic strip in issue one,  and then I went on to draw more…Then eventually, after a couple of years, Matt really wanted to launch a comic book company, and we had put out an issue of The Simpsons Illustrated that was all comics. And that sold so well that it gave Matt the confidence to just start a company and begin churning out comic books on a regular basis. And that was Bongo.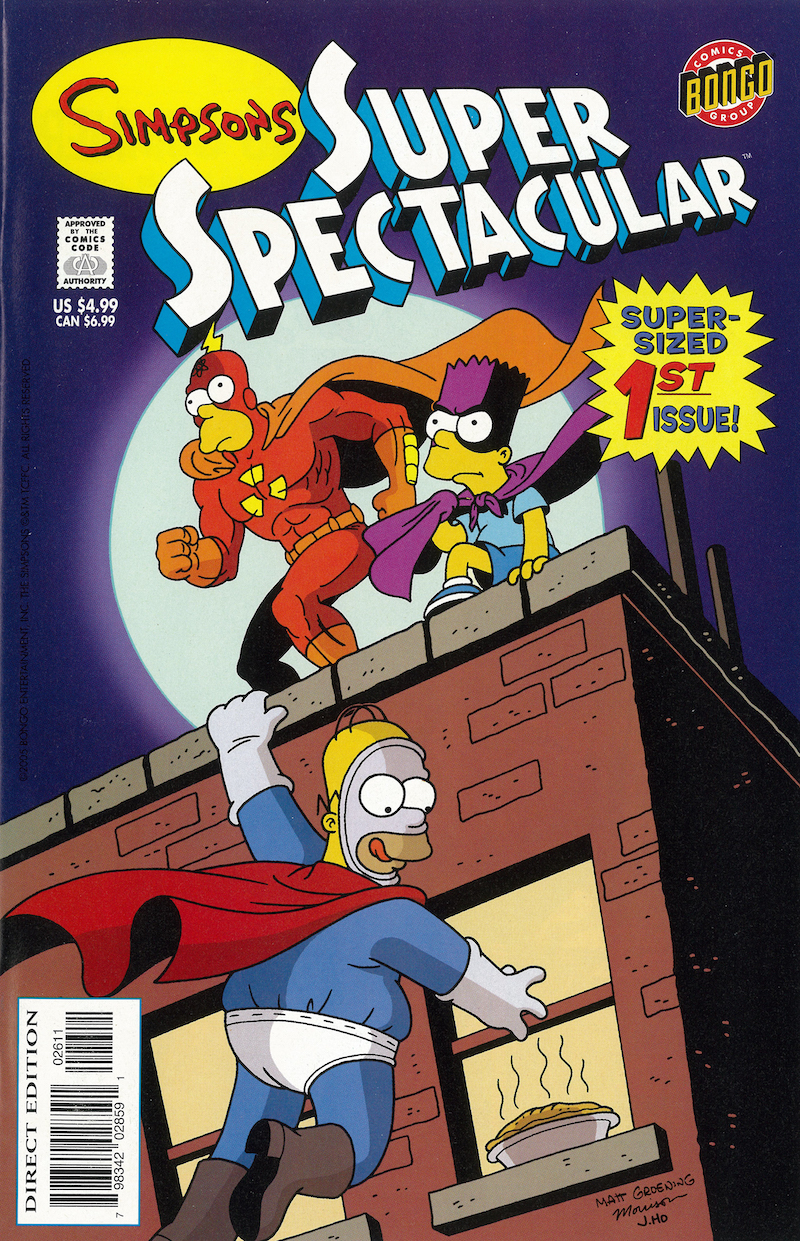 Bongo Comics was founded in 1993 but shuttered its doors after 25 years in 2018. Even though you left Bongo in 2012, what was it like to have built something up from the beginning and see it close after so long?
Well, it was sad. I wish Bongo would have continued. I was just at Comic-Con in San Diego…In place of where the Bongo booth stood for years and years at Comic-Con was a new Marvel booth. Marvel always had a big booth across from us, but they took advantage of Bongo leaving and occupied the space that we had previously occupied for their merchandise booth. So, I took a photo of that, and it was bitter, not too bitter, but it was sad. It was the end of the era. Having been [at Bongo] from the beginning — and for the great majority of Bongo's life — I've always felt that it was a big part of my identity and I've got a lot of good memories from my time there.
After Bongo Comics closed you went to work as executive editor for MAD Magazine but left in 2019. What have you been up to since then, and do you have any plans or projects in the works? 
I was a special guest at [San Diego] Comic-Con. Being a special guest at Comic-Con and getting an Inkpot Award [which is given to individuals for their contributions to their mediums] — it was a good time of recognition and it sort of gave me a shot in the arm in terms of where I go from here. It made me feel very positive about the future. I've got all kinds of projects in the works. I've got animation projects, comic projects, and I'm working on bringing my Roswell comic back to life. I'm teaching now at CCS, my alma mater, and just enjoying my life here in Michigan now.