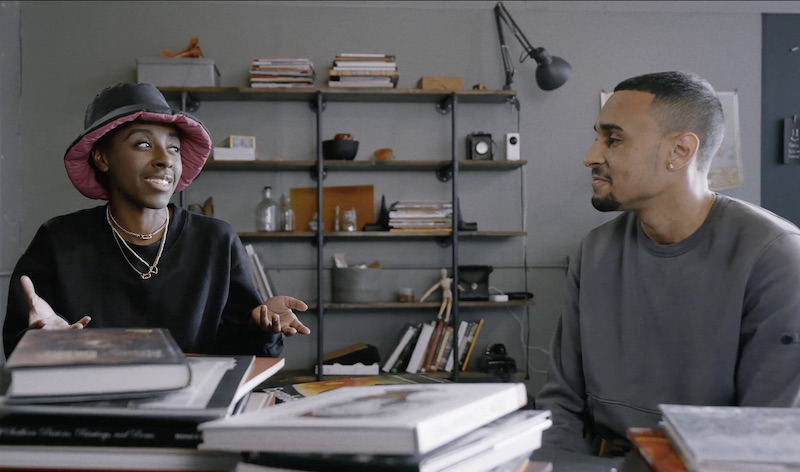 On The Map, a new travel video series from Facebook, is exploring Detroit's Black arts scene in its latest episode. Hosted by Speedy Morman, a Queens, New York-based journalist who works for Complex magazine, the show spotlights several of the city's creatives and community builders.
The episode features artist Sydney James, who is the creator of the mural "Girl with the D Earring" and others in Detroit. Morman talks with James about how she's creating space for artists of color through her bi-annual Blkout Walls Mural Festival, which launched as a seven-day event in Detroit last summer. The next festival takes place over 10 days this July in Oakland, California.
Morman then sits down with Roula David, the founder of Spot Lite Detroit, an Islandview, Detroit-based coffee house, record shop, bar and lounge, art gallery, and event space. David, who co-launched the annual Murals in the Market festival in Eastern Market, discusses fostering a space for collaboration and creativity.
The next featured creative is street artist and DJ Sheefy McFly, whose work has been featured in spaces across the city, from billboards to the Monroe Street Midway. He chats with Morman about his unconventional path to becoming a successful artist in Detroit.
Finaly, Morman speaks with Asmaa Walton, the founder of Black Art Library. Walton's library-turned-museum exhibit aims to encourage conversations about Black artists in historical and contemporary art. It has been exhibited at the Museum of Contemporary Art Detroit and was featured at the Bottega Veneta pop-up in Corktown. Walton talks about she started the Black Art Library and how it has built a community.
The Detroit video is the second episode of On The Map. The first episode, which was released in early February, features sustainable fashion creators, a healer, a gallery owner, and more in Phoenix, Arizona.
Watch the full Detroit episode below.
Facebook Comments