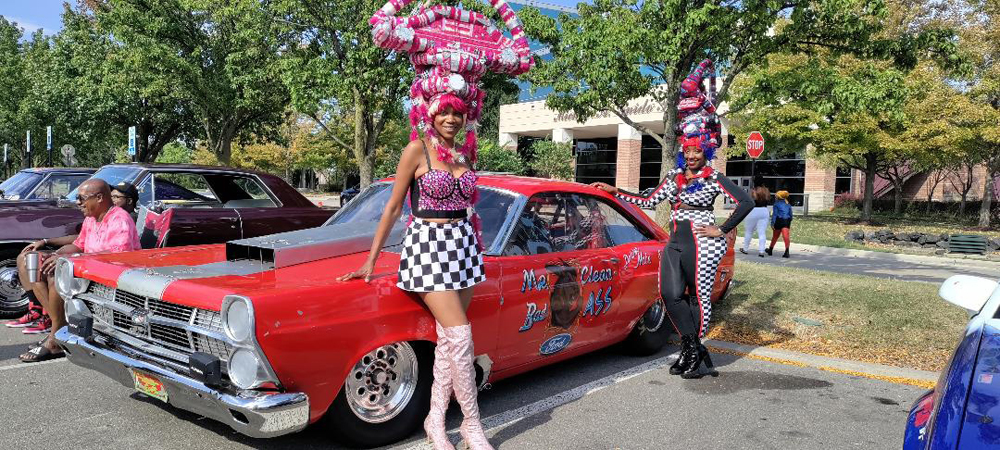 If the holding power of Schwarzkopf's göt2b Blasting Freeze Spray buckles under the pressure of car-shaped hair extensions and 1-foot high loop-de-loop ponytails, there's always the hot glue gun. With just minutes before showtime at Hair Wars 2022 — which took place Sept. 18 at the Ford Community and Performing Arts Center in Dearborn — nearly every stylist was spritzing down flyaways on their sculptural 'dos or artfully gluing on tiny Hot Wheels cars as improvised barrettes.
"I don't know what they're going to do, and they don't tell me either," says David Humphries, the Hair Wars founder who also goes by the nickname Hump the Grinder. "Everything is top secret, and everyone practices in private."
First launched in the Detroit club scene in 1985, Hair Wars enjoyed underground street cred and international acclaim that looked like collaborations with MOMA in New York City, international media appearances, and sturdy coffee table books featuring the photography of the show's coiffeurs as high art. Then, when the pandemic hit in 2020, the show paused and retreated online as Hair Wars Around the World, a streamed interview show hosted by Humphries.
"We had hairstyles like no other cities in America," Humphries recalls when thinking about what inspired him to start Hair Wars. "We would create hairstyles that weren't anywhere but in Detroit." In the early days, Humphries encouraged stylists to send their models down the runway to techno music, something reflected in the 2022 show as the DJ mixed Kraftwerk and 69 Boyz to pump up the crowd before showtime.
Backstage, models flitted about in elaborate automotive hairpieces and wild costumes ranging from the adorable little girls dressed as traffic lights to women in barely-there dresses made of hair wefts. Hot Wheels were a popular item in many hair kits; stylists affixed them to locs as if they were crossing a hair bridge, a ponytail "racetrack," and even onto skirts. One salon, Detroit's Alta Moda, outfitted their hairstyling team with matching "pit crew" t-shirts. In the last-minute shuffle of lining up backstage, one model lost the "L" on the end of her Uniroyal tire hairpiece, a mini replica of the iconic giant Uniroyal Tire visible off I-94 in Allen Park.
When Humphries picked "Hair Stars & Hot Cars" as the show's theme several months ago, he didn't realize that the North American International Auto Show would be the same weekend. Instead, he planned a car show of his own with Corvettes and racecars to line the parking lot as guests entered. "There's always been a connection between cars and the hair business," Humphries says. That connection set the show's tone, which opened with models from Flint's Creative Beauty School strutting around the traffic cone dotted stage to Gasolina by Daddy Yankee. Two of their models donned '50s greaser-style, all-black leather looks.
Macomb's Teddie Nairobi, known as Teddie The Braid Artist since first discovering Hair Wars in 1994, let cars inspire the checker-print dress and monster truck staff of her model's look for this year's show, but chose to let her signature braiding tell a different story. She's created looks for the UniverSoul Circus and has been featured in the Charles H. Wright Museum of African American History. But, back in 1994, Teddie was just a college student at Michigan State University who spotted a Hair Wars flyer on campus. "I was so fascinated by the hair entertainers I saw, and I wanted to be on the stage doing what they were doing," Nairobi says.
Despite signing up at the last minute this year, Nairobi created a white top hat with black flowers, all braided and set atop a fiery red fishtail braid. When thinking of her favorite moment from this year's show, Nairobi points to the crowd. "Just hearing the crowd go wild like they're excited about what we have done, it makes you feel like all your hard work and bumps in the road were worth it."
Facebook Comments