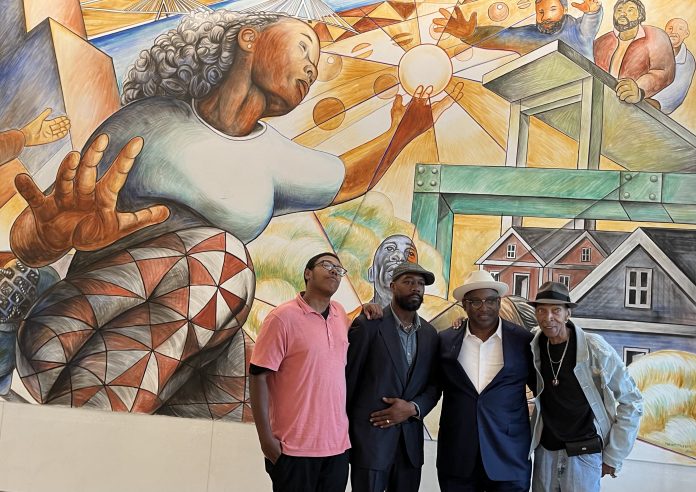 A fresco mural by renowned artist Hubert Massey was unveiled in the ground floor lobby of Huntington Tower in downtown Detroit today.
The fresco includes renderings of the Renaissance Center, the Detroit River, the Gordie Howe International Bridge (which is still under construction), and depictions of workers and families, modeled after friends of Massey's. Many of the painting's subjects hold orbs of light, which represent "ideals."
"They're passing ideals from one person to another, because ideals create communities, they create families, they build homes," Massey says.
Because it's situated in a bank lobby, a place where people go to withdraw and deposit money, Massey wants the fresco to remind passersby that "everybody has a value," he says.
To create the vivid imagery, Massey applied pigments to the two-ton lime plaster canvas with help from his assistants Ken Jackson, Vernard Reubens, and Kevin Cartwright, whose artist name is Nivek Monet. From start to finish, the process took about a month to complete, they said.
Massey was born in Flint. A billboard painting job brought him to Detroit in 1983 — and he's been based in the city ever since. He learned the fresco craft from late husband-and-wife painters Lucienne Bloch and Stephen Dimitroff, former assistants of Diego Rivera. A 2011 Kresge Arts Fellow, he's currently the only commissioned Black fresco artist in the U.S., according to the press release.
Massey's works are scattered all over metro Detroit and Michigan, including pieces in the Charles H. Wright Museum of African American History, the Atheneum Suite Hotel, and Huntington Place (formerly Cobo Hall). His most recent contribution was in June, when he created a vibrant obelisk in Southfield, commissioned by the city just off 11 Mile Road.
In 2019, then-TCF Bank CEO Dave Provost tapped Massey to create the mural. His wife, Christine Provost, sat on the Detroit Institute of Arts' board of directors with Massey, and Dave was familiar with Massey's murals in the Detroit Athletic Club
Located across Woodward from Comerica Park, Huntington Tower opened last September and houses the bank's commercial headquarters. It was initially supposed to be called the Chemical Bank Tower (named for the subsidiary of TCF Bank) — but the name changed after Provost arranged the sale of TCF to Huntington in 2021 for $6.9 billion. Provost retired soon after.  He spoke at the unveiling ceremony on Sep. 26, along with Huntington Bank's Southeast Michigan regional president Mike Land and chairman Gary Torgow.
For more information, visit huntingtonplacedetroit.com.