Museums across the country and here in our own backyard are working to rebound in 2021 after in-person attendance — and budgets — withered last year. It will pose a tricky challenge for those at the helm. The six women profiled here are part of a national trend: More women than ever hold executive roles at museums, according to a survey released in 2018 by the Andrew W. Mellon Foundation. But diversity is stagnant. The number of people of color in similar positions grew from just 11 percent to 12 percent between 2015 and 2018, when data was most recently available. All the women profiled pointed to mentorship as a possible remedy.
For our annual Women's Issue, we asked these metro Detroit cultural leaders about their career paths, their upcoming challenges, and the women who inspired them along the way.
---
Robin Terry
Chairwoman & CEO of the Motown Museum
Robin Terry's connection to Motown runs through her bloodlines. Motown founder Berry Gordy is her great uncle; Esther Gordy Edwards, who founded the museum in 1985, is her grandmother. Terry is following in those footsteps and pursuing her own vision by leading an ambitious $50-million expansion of the landmark museum. 
"In my life — and certainly throughout the history of Motown — strong, independent women were present and visible in far greater numbers than average," Terry says. "Being around visionary women like my grandmother and the dozens of other women who profoundly influenced the legacy of Motown is a unique privilege, and I'm so thankful to be able to tell their stories in a meaningful way at Motown Museum." 
That doesn't mean the work to get more women into leadership roles within cultural institutions is done, she says. "Opportunity and access are critical components for women — especially women of color — and it is imperative that women have other women in positions of influence to reach for the next role and take on a new challenge to build experience and, ultimately, lead."
A Woman Who Inspires Her: Vivian Pickard, president & CEO of the strategic consulting firm the Pickard Group. Formerly the president of the General Motors Foundation, Pickard was appointed to the Michigan Women's Commission in 2020 by Gov. Gretchen Whitmer. "Through her personal and corporate philanthropy, Vivian invests in people and important cultural institutions throughout this country, particularly in Detroit," says Terry. "She is passionate about the arts and creating equal opportunity for women and people of color."
---
Anne Parsons
President & CEO of the Detroit Symphony Orchestra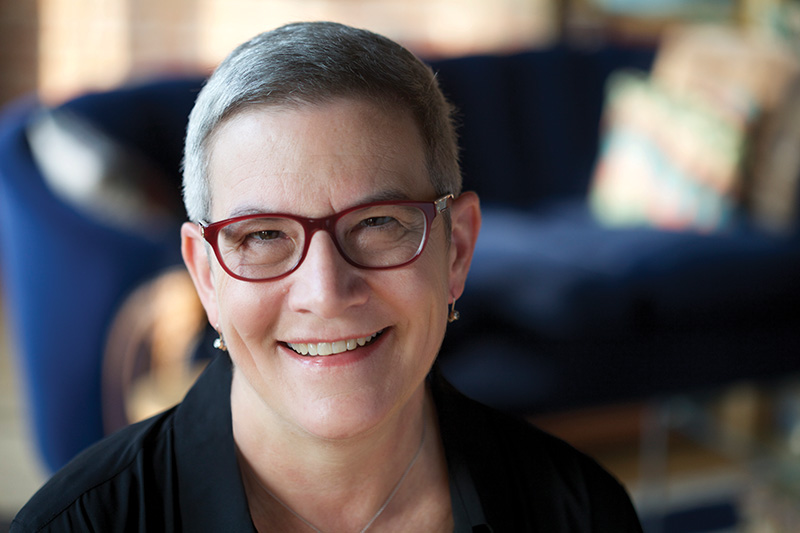 When COVID-19 put the crunch on in-person events, Anne Parsons and the DSO were well ahead of the competition with their digital assets. Under Parsons' leadership, live streams became the norm. As one of the oldest orchestras in the country, housed in a facility that boasted at least 300 events a year, it was an impressive pivot that has kept the DSO in touch with its audience through the pandemic. Parsons has also continued and expanded the DSO's decades-long legacy of reaching out to diverse audiences through classical music — an art form that still struggles to build a sustainable pipeline for long-neglected minority audiences. Looking ahead to the rest of 2021, Parsons says there is "great hope for being able to come together again, connect, and heal through shared experiences." One of the biggest management changes she says she's seen over the years is a wider acceptance of a life/work balance as being a general problem, not just a "woman's issue." "This had been a serious barrier for women aspiring to CEO positions," Parsons says. "More and more, I'm happy to see that it has become a shared value for men and women alike."
A Woman Who Inspires Her: Chacona Baugh, director emeritus at the DSO and an early supporter of the Classical Roots Celebration, which aims to increase awareness of the contributions of the DSO's African-American composers and musicians. "I was always struck by her grace, intelligence, compassion, curiosity, and love for life," says Parsons, "while at the same time admiring her capacity to take on huge tasks, working hard to accomplish goals, create progress and enable positive change."
---
Diana Abouali
Director of the Arab American National Museum
There's nothing typical about Diana Abouali's journey to becoming director at the Arab American National Museum in Dearborn. Her Ph.D. in history and Middle Eastern studies from Harvard took her on the teaching route to Dartmouth College before she sought professional fulfillment  elsewhere. Her role as head of research and collections at the Palestinian Museum in Birzeit in the West Bank taught her "how to present history when you're in a classroom" and, she says, how museums work.
"The museum field in the U.S. remains largely white, and the face of museum leadership is mostly white and male," she says. "A lot more work needs to be done to make the museum profession more diverse and inclusive." After a challenging 2020, Abouali is focused on building back her staff and focusing on the museum's core mission by resisting trends that emerged during the pandemic. "I think the challenge will be to not fetishize the digital turn in a way that distracts from the real work that we need to do — producing new knowledge about Arab Americans that is interesting, engaging, relevant, and meaningful to our audiences." 
A Woman Who Inspires Her: Ladan Akbarnia, curator of South Asian and Islamic Art at the San Diego Museum of Art. "She is at once brilliant, humble, generous, and incredibly productive — a leading scholar in her field, and the creator of world-class exhibits," Abouali says. "She makes it a priority to mentor her younger female colleagues, which is something I admire a lot in her."
---
Laura A. Hughes
Interim executive director at the Museum of Contemporary Art Detroit
The former director of the Ruth Ellis Center, a homeless and runaway shelter for LGBTQ+ youth in Highland Park, Laura A. Hughes says an introduction to vogueing — a dance form that emerged out of Harlem's Black queer community in the late 1970s — helped her understand the power of self-expression through arts, culture, and resilience. "I learned what it means to be an ally, to know that sometimes your voice can open a door, but it isn't your voice that should be the lead," Hughes says. 
In her new interim leadership role at MOCAD, she'll steer a marquee contemporary art institution that fired its longtime executive director last summer after former employees orchestrated a public campaign to address a toxic workplace culture. "I have watched from a board seat as young, amazingly talented female curators have been devalued, plugged in without autonomy or the investments in their work that would enable them to thrive," says Hughes, who served on MOCAD's board for two years before taking on her current role. "The cultural sector should understand and be a beacon for the complexity of voice and experience. I'm delighted that 2020 brought a reckoning with racial justice and that the courageous voices of Detroit activists, artists, and makers are demanding more from our institutions. It is beyond time that we respond."
A Woman Who Inspires Her: Tonya Allen, the former president and CEO of Detroit's Skillman Foundation, a philanthropy organization dedicated to creating opportunities for children in Detroit. "She operates at the intersection of neighborhoods, the corporate sector, and private industry, and no matter what room she's in, always reminds us to ask, 'How are the children?' " says Hughes. "If cultural institutions held ourselves to these same standards — if what we exhibit and program always asked, 'How is Detroit?' — what would we look like?"
---
Patricia E. Mooradian

 
President & CEO of The Henry Ford
Patricia E. Mooradian says the jump from the for-profit world to the nonprofit Henry Ford was a decision that "literally changed my life." It changed the museum forever, too. Mooradian's vision has reshaped The Henry Ford into one of the most original cultural attractions in the country. During the pandemic, online visitation from outside of Michigan rose by 26 percent over the previous year. Its ambitious Invention Convention Worldwide has connected with more than 120,000 K-12 student inventors as part of a larger push to support "innovation, invention, and entrepreneurship regardless of backgrounds and barriers," says Mooradian. But re-establishing pre-pandemic in-person attendance numbers is critical for the success of the museum, which saw layoffs last year due to the attendance decline. Transparency and diversity in hiring will be key, too. "While nearly half of museum directors across the country are women, I truly believe there is so much more to be done in terms of diversity and equity for all," Mooradian says. "We need to continue to make progress in creating opportunities that attract diverse talent at all levels of an organization."
A Woman Who Inspires Her: Mariam Noland, president of the Community Foundation for Southeastern Michigan. "The strategy and growth she's accomplished during her career and the role she's played in supporting the entire community deserves recognition."
---
Elana Rugh
President & CEO of the Detroit Historical Society
Elana Rugh emerged from a career in the nonprofit realm to take over the Detroit Historical Society in 2018, which includes the Detroit Historical Museum and the Dossin Great Lakes Museum on Belle Isle. It was a new challenge for Rugh, who had never operated a museum before but adored them as a patron. This year, Rugh will guide the museum through its centennial as only the second woman to lead the cultural institution. "Gender and ethnic equity is an issue throughout the museum community globally, as is the gender pay gap," Rugh says. "But there is a growing number of female leaders and leaders of color in Detroit's cultural sector, and I am proud to be part of such a diverse and talented group." Looking ahead, Rugh foresees a need for more financial support to cover basic operating costs, as well as difficulties in monetizing digital experiences that have become a necessity for the entire cultural sector. "As we come out of the fog of these COVID times, times of great stress and political divide and racial unrest, we have a responsibility here at the Historical Society to ensure that we have collected the stories about this time," she says, "and that we work to create Detroit's museum for the next 100 years."
A Woman Who Inspires Her: Anne Parsons, president & CEO of the Detroit Symphony Orchestra. Rugh says she was the only leader of any Detroit cultural institution to welcome her when she first got the job. "I have particularly appreciated our candid conversations about leading through crisis — and about being a successful leader while also being a mom," Rugh says. The friendship has led to collaborations between their institutions, and Rugh now sits on the DSO's Board of Trustees. "Anne represents many of the best traits I aspire to have as I evolve as the leader of the Historical Society." 
Facebook Comments