Back in the late '90s, when VW brought back its classic Beetle, such revivals were a novelty. Nowadays, the auto industry leans heavily into nostalgia, to the point where it hardly turns heads. Still, the comebacks of General Motors' GMC Hummer and Ford's Bronco are in classes of their own. Both have major pop culture resonance, legions of devoted fans, and are off to impressive revivals. They're not really competitors — you can buy three basic Broncos for the cost of a new Hummer — but they both are aiming for the aggro motorist seeking some brawn and off-road chops. And both are earning ravenous media attention, which isn't easy to come by these days. Here's how they stack up.
What's New 
Hummer: The GMC Hummer EV Edition 1 is dubbed "the world's first all-electric supertruck." The automaker says it will have a 350+-mile range, can "crabwalk" — aka drive diagonally — and zoom from 0 to 60 in three seconds with 1,000 horsepower. 
Bronco: Ford is rolling out seven variations of the modern body-on-frame Bronco depending on how punishing the terrain is you hope to tackle. Each offers a four-door version, a choice of a 270-horsepower or 310-horsepower engine, and removable doors and roofs. In addition, there are five varieties of the Bronco Sport, a smaller crossover SUV more akin to the Jeep Cherokee.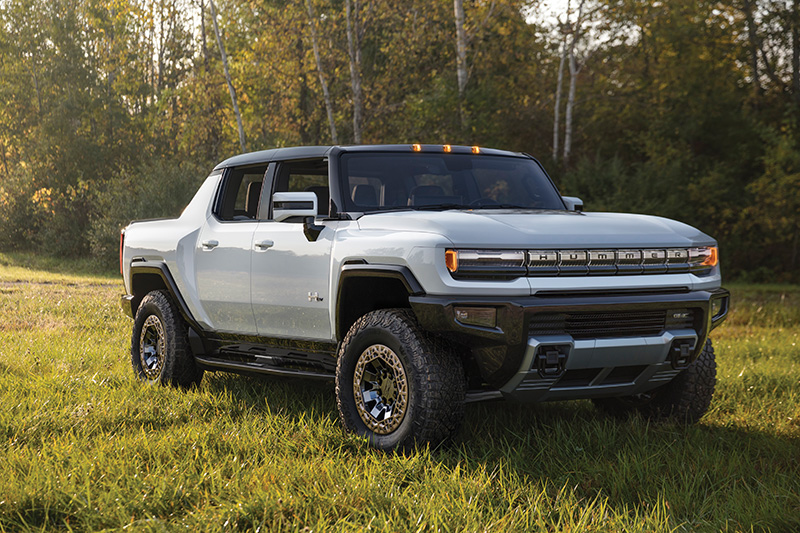 When:
Hummer: Due for deliveries in fall 2021. GM says Edition 1 sold out in 10 minutes when reservations opened on Oct. 20.
Bronco: The 2021 First Edition Bronco Sport, which Ford made 2,000 of, are on the road now. The 2021 First Edition Bronco, which the company plans to build 7,000 of, is due for delivery in June. Both sold out. In fact, Ford received about 150,000 orders in the first two weeks it opened its website for reservations (for a refundable $100) for the rest of the versions and doesn't expect to be able to fill those orders until 2022.
Price: 
Hummer: Starts at $112,595; the 2023 model year edition, with lower horsepower and less range, starts at $99,995.
Bronco: The seven Bronco versions range in starting price from $28,500 for the basic two-door Bronco on up to $57,410 for the 2021 First Edition. The five Bronco Sport options start at $26,660.
When Discontinued: 
Hummer: 2010
Bronco: 1996
Where Is It Built? 
Hummer: At Factory ZERO, formerly GM's Detroit-Hamtramck assembly plant, where at various points GM made the Chevy Volt, Malibu, and Impala.
Bronco: The two- and four-door Broncos will be put together at Ford's Michigan Assembly Plant in Wayne, the same plant that cranked out the old Bronco from 1966 to 1996. The Bronco Sport will come out of the Hermosillo Assembly Plant in Mexico.
What They're Saying: 
Hummer: "The new Hummer is what the old Hummer never quite managed to be: a halo vehicle for GM's transformation to an electric automaker. The old Hummer was for dudes (usually dudes) who, for whatever reason, wanted to be like Arnold Schwarzenegger. It was, despite its combat lineage, a cartoon car. But the new GMC Hummer is virtue amplified by the resonance of a brand deftly inverted. It isn't your father's Hummer, and how! … Hummer lost its thunder in the late 2010s. But boy, does it ever have the lightning back!" —Matthew Debord, Business Insider
Bronco: "All the enthusiasm the Bronco has conjured feels worthwhile. Even in a very early build, this feels like exactly the sort of vehicle customers have been craving from Ford. It seems eminently capable in most low-speed operations, but the way the Bronco handled high-speed off-roading was a pleasant surprise. … It's encouraging that the Bronco has some adeptness and that Ford is providing a more affordable pathway to that sort of performance." —Brandon Turkus, Motor1.com
Why Now? 
Hummer: With electric vehicle pioneer Tesla due to bring forward the Cybertruck sometime in the coming decade, the revival of a classic brand that now incorporates respect for the environment into its legendary swagger is a big opportunity for GM to make over its image. 
Bronco: Ford dusted off this nameplate to go after Jeep's Wrangler business. Also, the Blue Oval needed a new entry into the SUV market for folks who wanted something adventurous but didn't want or need the gigantic F-150. 
The Original Was Known For:
Hummer: The original Hummer was a gas-guzzling consumer version of the military's Humvee and became iconic at the turn of the millennium as an example of American excess and disregard for the environment. The most famous Hummer owner is Arnold Schwarzenegger, who persuaded AM General to offer them for civilian use in the early 1990s after seeing the imposing, noisy vehicles in use during the first Gulf War and
kicked off a celebrity craze. (General Motors bought the brand from AM General in 1999.)
Bronco: Anyone older than about 35 remembers where they were on June 17, 1994, when they saw soon-to-be-arrested O.J. Simpson's white Ford Bronco driven by Al Cowlings leading a phalanx of police cars on a slow-speed chase after Simpson's ex-wife, Nicole, and her friend, Ronald Goldman, were found stabbed to death. Some 95 million people watched that spectacle live. Former O.J. agent Mike Gilbert bought that Bronco from Cowlings for $75,000 in 1995 and still owns it, having failed in 2017 to sell it for $1.3 million on the TV show Pawn Stars. It's on display at the Alcatraz East Crime Museum in Tennessee.
Facebook Comments