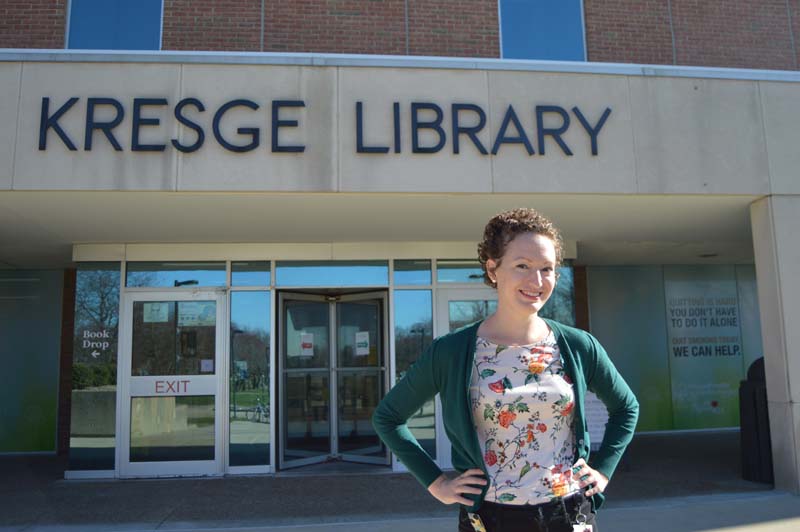 Frances Burney's pen scrolls across a compilation of scrap linen. Her reputation could crumble with worldly writing — floating a pen toward paper to write a novel was dangerous for a woman in the 18th century. Nevertheless, she quietly transcribed her name into history, writing novels, plays, letters, and diaries.
Centuries later, Burney's work and other similar authors have found their way to Oakland University where Emily Spunaugle, assistant professor of humanities and the school's first rare books librarian, has been closely researching women writers' stories of socialization, scandal, and sadness since 2017.
Burney published her first novel, Evelina, anonymously in 1778 to avoid social persecution. Spunaugle says society frowned upon women "exciting their imagination" with reading or writing because they would "neglect their [domestic] duties and fantasize." Women were expected to uphold a reputation for their family and husband, keep a household, and practice religion. Straying from those traditional gender roles made a woman seem ill-prepared for marriage, and writing was considered a dangerous distraction. Publishing anonymously, however, allowed women to express themselves freely.
Spunaugle focuses on the women writers, like Burney, whose lives and writing have been shrouded in mystery. By unearthing their stories, she hopes to show that writers don't have to fit history books' usual description — educated white men. "How many Judith Shakespeares might there have been, instead of just a William Shakespeare? Well, there were a lot," she says.
Spunaugle's journey with writing and researching began at a young age. Her mother was a high school librarian, and their home was filled with an "amazing collection of children's books."
While she's had a lifelong love of literature, her interest in the objectivity of books wasn't solidified until the spring of 2015 when she took a course on the history of the book while studying for her second graduate degree — a Master of Science in library science at the University of North Carolina at Chapel Hill. It was then that she wholeheartedly fell into the rabbit hole of historical books.
At the university, she says she became obsessed with a Soviet Union book from 1970; she was drawn to the government warning label thoughtfully taped inside the front cover. Eventually, this curiosity turned into a career of researching other obscure titles tucked away in libraries.
Today, Spunaugle devotes her days to researching women writers, studying their lives and work by tracking down rare literature by looking through collections. Along with Dr. Megan Pesier, an assistant professor of English, she serves as co-director of Oakland's Marguerite Hicks Project. The initiative preserves and sheds light on work by marginalized writers by researching a more than 900-piece collection of 17th- and 18th-century books by and about women writers. The collection was gathered by Marguerite Hicks, a Detroit socialite and rare books collector, and her partner, Thelma James. The duo obtained the texts throughout the 1930s and '40s, and Oakland acquired the extensive collection in 1971.
Of course, while many materials are available at Oakland, Spunaugle and her colleagues often must look elsewhere for information. Tracking down rare books and researching can pose challenges, especially during a pandemic. "Almost all libraries were closed this summer to protect their workers and patrons from infection, so it was difficult to make contact," she says.
Though, with the help of other librarians, she's still been able to gather information about Hicks — Spunaugle and Pesier are studying how she amassed her collection — and women writers despite the obstacles presented by COVID-19. Her connections with other libraries and researchers have allowed her to exclusively visit or view photos, even when buildings were closed to the public.
Doing so has given her the chance to spend time with materials as she analyzes the women's stories and the type of publication they were featured in — the condition of a book can show if the writing was widely read, hand-written notes offer a look into their personal lives, or the binding material of a book could indicate how expensive its release was. "I love that book history reads the book itself, rather than just the text on the pages," she says.
Spunaugle's most recent project involved researching the work of Melesina Trench, an 18th-century poet and diarist who is remembered through various series of letters. Mirroring modern-day social media, she says Trench's letters were a casual and appropriate way to express thoughts and feelings for men and women. The letters were also a backdoor to poetry publication until her work was officially published posthumously in 1861.
Some women chose to pursue traditional publishing, but they were met with more risk. This is why travel writer Mary Morgan, for example, chose to publish anonymously. If she published under her name and her work wasn't popular or appropriate for a woman, she could ruin her reputation and relationships.
Even so, she did leave a trail of clues to identify her anonymous writing. Most notably, she signed her work simply as, "M.M.," according to Spunaugle. "The printed initials that the textblock bears indicate an intention to obfuscate — but not outright deny — her own authorship," she says. Morgan's work, Mary, the Osier-Peeler, was recently authenticated by Spunaugle.
Some women have been forgotten because they weren't good writers, but there's always a chance that Spunaugle is shedding light on a woman who was simply forgotten because she was a woman, like Trench or Morgan. In that case, she's finally giving them the recognition they deserved years ago. "[Trench] isn't collected and canonized, and her books aren't preserved," she says. "She's frankly not a good writer, but maybe that doesn't matter."
She has found a "kinship" with some of the women she's come across in her research. Hicks, for example, earned a master's degree from Wayne State University in 1938. Similarly, Spunaugle is currently a doctoral student at Wayne studying English and concentrating on book history and women writers of the 18th century. "I'm traversing the Detroit Public Library, Wayne State Libraries, or even Kresge Library at Oakland University, and Marguerite was in those same spaces too, just offset by 70 years," she says.
And, although not every early woman writer offers as clear of a parallel, Spunaugle says they paved the way for her career in research and writing. She recently published an essay in The Interactive Journal for Women in the Arts, 1640-1830 that examines the personal story and publication of Morgan. "There is an outpouring of excellent research on… marginalized communities of writing, reading, and storytelling, but there's so much more to be done," Spunaugle says.
She hopes to inspire the same "gentle madness" she feels when scouring for clues about authors with the students at Oakland University. "Rewriting literary history to include women writers helps us reshape our understanding of writing, reading, and print and manuscript cultures to better reflect historical realities," she says. "…Continued research into the ways that reading, writing, and gender operate throughout histories and cultures will always be important for anchoring the richness of literary production then and now."