Source Booksellers isn't supposed to open for another hour, and already the phone has rung three times. When the COVID-19 pandemic arrived last March — when Janet Webster Jones and her daughter Alyson Jones Turner were so happy to get a sale that they'd ship books out with a piece of chocolate, a tea bag, and a note of gratitude — the phone didn't ring much. 
"Now, people all across the country and some parts of the free world have found out about us," Jones says. The 2020 movement to support Black-owned businesses put the Midtown bookshop, with its specialty in non-fiction titles, on the map. Being women-owned and in Detroit, a city that sparks intrigue overseas, also helped, she says. "They call us from Australia, and I've made new BFFs on both ends of the country."
A year ago, Jones decided not to close the shop she opened on Cass Avenue in 2013 despite the challenges of operating during a pandemic. "I knew if you closed down, starting up is harder. So we stayed up," she says. 
Long before "coronavirus" was a household word, Jones deliberately chose not to sell books online. "I wanted this business to be a relational business where people had interactions with people," she says. She even practiced memorizing customers' faces — now a useless skill in the days of mask wearing. "Now I'm having to remember voices on the telephone." 
Taking orders over the phone, by email, and even through Instagram is how Source and many other independent bookstores locally and nationwide have stayed alive over the past year. While some owners, like Jones, were against selling books online, they quickly realized an online sales platform was necessary to withstand the wrath of COVID-19. 
Since last March, at least one independent bookshop has closed each week in the U.S., according to Allison Hill, CEO of the American Booksellers Association (ABA). "Margins are thin in bookselling, so the stores were already vulnerable going into the pandemic," she says. 
But online sales became a safety net. Shops that typically generated less than 1 percent of their sales online are now generating more than 80 percent of their sales online, Hill says. "The increase of e-commerce sales for the indies has helped offset the loss in in-store sales a little," she says. "But in most cases not enough." 
Maria Montoya is one of eight member-owners of the Hamtramck cooperative bookstore Book Suey. When it opened in 2017, Montoya says, local bookshops advised them: "Detroiters want to buy books in person." So they turned the former bank and Chinese restaurant into a community space where locals could enjoy a complimentary snack and coffee and stay to read a children's book with family — no pressure to buy. 
As luck would have it, they signed on with bookshop.org right before the pandemic hit. Member-owner Matt Lewis explains the site without uttering the name Amazon, referring instead to "another well-known online bookseller that shall not be named." "That bookseller's business model allows you to browse any title that is published and have it delivered to your home at a good price and a quick turnaround," he says. "Bookshop is a platform that does something similar, while providing a benefit to independent booksellers." 
When customers buy a book from Bookshop, 30 percent of the sale goes to the chosen bookstore and 10 percent is distributed to all shops on the platform twice a year. "Whether you're shopping through our portal or another independent bookstore's, you're benefiting independent bookstores everywhere," Lewis says.
Bookshop — which has raised more than $10 million for independent bookshops — saved Book Suey. From March to December, the cooperative sold nearly 700 titles through bookshop.org, resulting in nearly $4,000 in profit. "Between this and curbside pickups, we've been able to cover our expenses and sustain the shop despite not being open for in-person retail," Lewis says.
Unexpected Demand
Susan Murphy, owner of Pages Bookshop on Grand River Avenue, had an online sales platform that processed three or four orders per week pre-pandemic. When March hit, online orders surged — "and surged is an understatement," she says. Hundreds of online orders poured in from Detroiters who wanted to support her, but also from people across the country. Murphy also saw a backlash against Amazon, which deprioritized book shipments in March and April as demand for other products exploded. That drove customers to Pages.
"We weren't set up for that volume," Murphy says. "So those first few months, I wasn't sure we were going to survive. We couldn't do what we were trying to do in a very efficient manner." 
Murphy didn't have to worry about furloughing her four part-time booksellers. In fact, she even increased hours to process online orders. "I kept thinking, 'This isn't going to last,' " she says.
And then came the murder of George Floyd.  
"That set everybody on fire," Jones says. "He was just killed right before people's eyes, and that set off a huge cry for understanding." Overnight, publishers ran out of their stock of books about racism and white supremacy.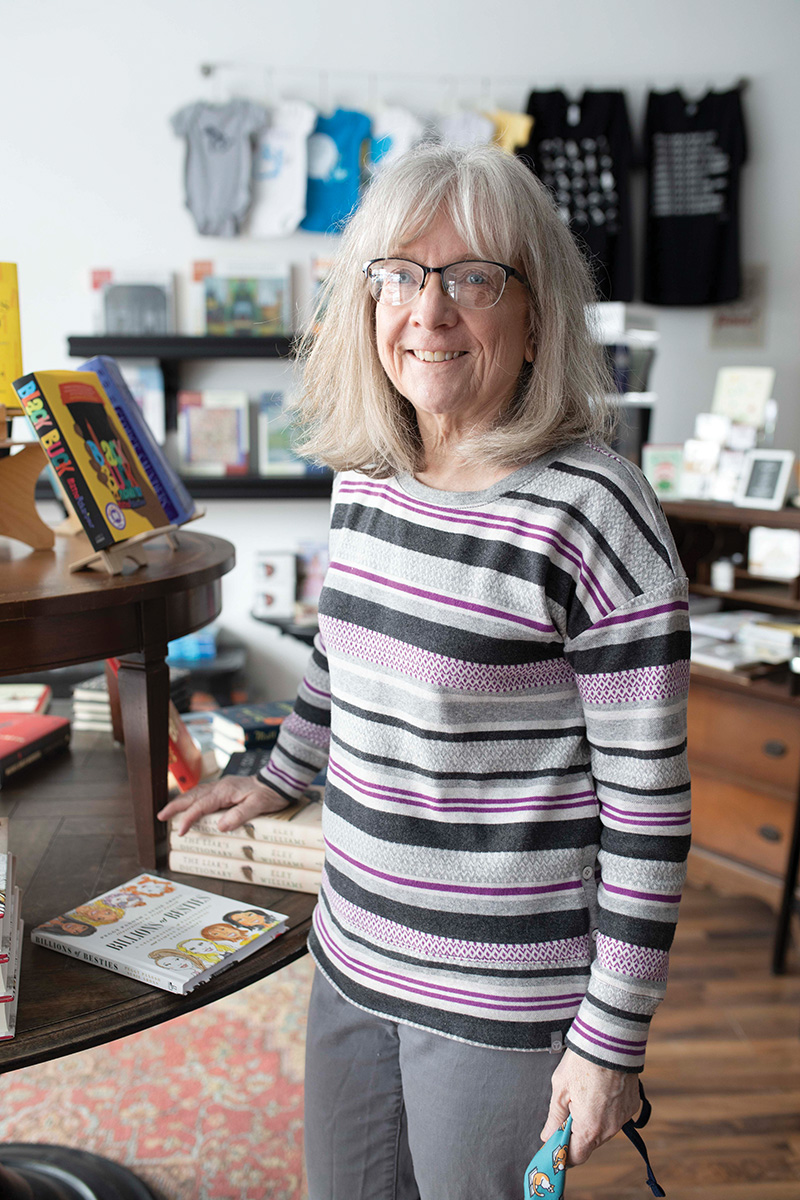 The Black Lives Matter movement "brought a lot of books that were not necessarily popular before into popularity," Turner says.
Source got a boost from the ensuing call to support black-owned bookshops nationwide. In August, it was chosen as a bookseller for a virtual teach-in with the NBA, WNBA, How to Be an Antiracist author Ibram X. Kendi, and Just Mercy author Bryan Stevenson. The shop sold nearly 3,000 copies of books by Kendi and Stevenson in one day. "I've spent so much money in packaging and stamps," Jones says with a laugh. "We had to buy a label machine."
Cary Loren, who has owned Book Beat in Oak Park since 1982, says he's grateful for all the customers placing orders through email and phone, but the change in operations has been "a tremendous strain."
"It's like working twice as hard now for half the pay, and we have less employees to work," he says. "We're here to 2 or 3 o'clock in the morning, sometimes later, just to clean things and organize buying and pack orders."
The shop fell under its sales goal for 2020, but earnings through curbside pickup and bookshop.org were enough to keep Loren going. "People don't go into bookstore businesses to really earn money," he says. "You go into it because you probably really love books and you feel you have some connection to the community."
It's Not the Same
Where there's a will to get books in the hands of readers, there's a way. "Indie bookstores, like many small businesses, have been incredibly resilient and innovative during the pandemic," ABA's Hill says. 
But what's lost — for now — is the magical experience of meandering a shop, fingering the spines, and stumbling upon a good book. The booksellers Hour Detroit spoke to said they'll remain in the phone-email-online sales mode for a while. It's not the face-to-face interaction they love, but it's keeping them going. 
Jones, for one, has changed her tune about online sales. Her daughter built their online shop over two days last March. That led to over 3,000 online orders last year, which, along with the financial relief Source received through the Detroit Economic Development Corp. and TechTown grants, helped Jones pay the bills. 
Murphy also says she gained hundreds, maybe thousands, of new customers in 2020 alone. She used to know most of her customers by name, and that won't happen now for all the book buyers who've never set foot in her shop, but a year into the pandemic, her shop is still here. And while some of her Detroit peers put in-store shopping on hiatus, she'll still see up to four customers at a time if they make an appointment. 
Taking a break from fulfilling online orders, Murphy sits across a wooden table — one that survived the furniture purge that created space for social distancing. She launches into her "shop small" anthem: "People choose where to spend their money, and they also choose what they want their neighborhoods to look like. So if they want independent booksellers, they need to support independent booksellers." 
With that, her door swings open, and a UPS driver pushes in a dolly. Murphy, smiling behind her cat mask, waves her in. "She's my pandemic hero."
---
How to Shop Local Independent Bookshops
Book Beat
Curbside pickup. Order by phone, email, and online. 248-968-1190; bookbeatorders@gmail.com; bookshop.org/shop/bookbeat
Pages Bookshop
Shop by appointment, in-store pickup. Order by phone, email, and online. 313-473-7342; susan@pagesbkshop.com; pagesbkshop.com
Book Suey
Curbside pickup, home delivery. Order by phone, email, and online. 313-213-9404; info@booksuey.com; bookshop.org/shop/booksuey
Source Booksellers
In-store pickup. Order by phone, email, and online. 313-832-1155; sourcebooksellers@gmail.com; sourcebooksellers.com