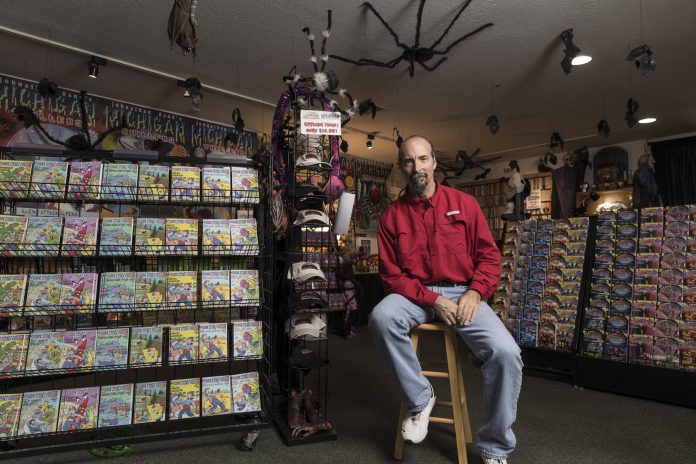 For many Michiganders who attended elementary school in the early aughts, Johnathan Rand's Michigan and American Chillers book series were a ubiquitous part of childhood. Each book was written from the point of view of a kid your age and involved something scary happening in a place you knew. They had alliterative titles like Dinosaurs Destroy Detroit and Gruesome Ghouls of Grand Rapids.
Chapters ended with gnawing urgency, sometimes, perhaps, overpromising on what might actually happen on the next page ("What I was about to find was worse than anything I could have possibly imagined …").
The first Michigan Chillers title, Mayhem on Mackinac Island, came out in 2000. Previously, author Chris Wright, who was born in Pontiac, grew up in Grayling, and currently lives in Topinabee in Cheboygan County, had written three adult novels as "Christopher Knight."
He wanted a new pen name to differentiate his children's books, something short and memorable. At the time, he was reading Atlas Shrugged, Ayn Rand's lengthy magnum opus. The novel's central figure is John Galt, whom she describes as a "self-made man, self-made in every sense." Wright came up with "John Rand," which later became "Johnathan Rand."
Wright's entrance into the horror-set-in-Michigan genre came in the mid-'90s when he was working in radio advertising, writing and recording spots from his home studio. He was waiting for his first novel, The Laurentian Channel (which he finished in 1995), to be published and pitched another idea to publishers. He wanted to do an audiobook-only release called St. Helena, a horror story about a family living in a real-life lighthouse 10 miles west of Mackinac Island. Publishers all shot it down. He began to feel "disenchanted" with the publishing industry, but not discouraged.
At his studio, Wright recorded the entire thing. Then, in 1997, he founded his own company to publish it: AudioCraft Publishing Inc. "[Publishers have] a lot of control in marketing and other avenues, which I felt I could do better," Wright says. "My background was marketing and commercials. … I put that to work when I started self-publishing."
The following year, he released St. Helena in paper form and a second book, Ferocity, a Jaws-esque tale of a killer fish in Mullett Lake.
After printing Michigan Chillers, Wright needed his books on shelves. He sent hundreds of samples to booksellers around the state, but no one replied. So, he considered his options. He lived half an hour south of the Mackinac Island ferries and right off I-75 — a major artery for summer tourist traffic.
While not every tourist was likely to visit a bookstore as they passed through, there was a good chance that they would need to stop at a local gas station, restaurant, or hotel. He handed each owner a small stack to sell. Many were skeptical, but Wright was insistent. He set up a profit-splitting system and offered them a copy if none sold. It worked — soon, the businesses began calling, asking him to restock. And the Chillers books started circulating downstate.
"In [places like] Farmington, … [a] mom and dad would take their kid to the bookstore and say, 'Hey, my son needs this next book; he really liked this one,'" Wright says. "It forced a lot of the bookstores to look at my books."
Eventually, the books became available at large booksellers and libraries across the state. Teachers invited him to speak in their classrooms. By October 2000, Wright and his wife, Boots, became so occupied that they both quit their day jobs.
The following year, Wright published eight more Michigan Chillers books. His first title of the American Chillers series, The Michigan Mega-Monsters, was published in December 2001. To date, he's sold nearly 7 million copies of his books.
Wright turns 59 next month. He and Boots live with their three dogs close to Chillermania, their store in Indian River that sells exclusively Johnathan Rand/Christopher Knight books and merchandise. The couple also founded a summer camp for young writers called Johnathan Rand's Author Quest International and run the Northern Michigan Animal Rescue Network, a nonprofit dedicated to the well-being of pets.
He still writes most mornings and travels frequently to speaking engagements — about 100 a year — in his "Chiller Van." "There will be a lineup of kids waiting to see him," says Michal Jacot, a longtime friend and collaborator who first met the author during an appearance at his children's school in Tawas. "He talks one-on-one with them. I've seen him talk with kids who are so shy, they barely talk to anyone. And he'll bring them right out of their shell."
Wright is known to answer fan mail, and after all these years, the words "I love your books" still mean the world to him.
"I don't take it for granted," Wright says. "I really appreciate it. I'm so thrilled. [A kid] could say, 'I really like Goosebumps.' Hey, I'm thrilled about that, too. If you found something at that age and you love it, that's great."
---
This story is from the October 2023 issue of Hour Detroit magazine. Read more in our digital edition.