Whether you live south of Eight Mile or commute in from an outer-ring suburb, you're a Detroiter at heart, right? Next time you're strapped for something to do — or if you have out-of-town visitors looking for a quintessential "Motown" experience — keep this handy guide in mind. While every little thing on our list might not be up your alley, there's a little something for everyone. We included the tried-and-true-but-still-awesome (Tigers Opening Day and the Detroit Zoo). We also put in a few slightly obscure, "insider-only" attractions and events (Hamtramck Disneyland and Detroit Soup fundraisers). Along the way, we'll show you how to fist-bump Joe Louis, point out a few dos and don'ts of fishing, and much, much more. Just don't let us catch you sounding like a summertime teen complaining, "There's nothing to do."
001
Say Goodbye to 'The Joe'
Sure, the outside steps are a pain — and let's not even talk about the long bathroom lines. Now that there's a proposed new hockey arena in the works, it's better to remember the good times — the Red Wings' unprecedented playoff streak, the Stanley Cups, heck, even "Mo Cheese."
Detroit
redwings.nhl.com
002
Complain About the Lions
Well, at least they got the building right (see "The Joe" above). The Lions still pack 'em in at Ford Field, even though it's been decades since they were champions. But hope springs eternal. Plus there's a lot of traditions — tailgating in Eastern Market, Thanksgiving Day games, and yes, heckling the team when they don't perform up to expectations.
Detroit
detroitlions.com
003
Give the Pistons Another Chance
Sure, the past few seasons have been a bit dicey, and the dwindling crowds have reflected the team's performance. But owner Tom Gores and Co. are making strides to make sure that "Deeeetroit basketball" is relevant again.
Auburn Hills
pistons.com
004
Get Cultured at the Detroit Film Theatre
Cinema buffs can find a sophisticated lineup of contemporary and classic art films inside the Detroit Institute of Arts at the longstanding Detroit Film Theatre. Moviegoers can sign up to serve as volunteer ushers or join the hundreds of patrons who've purchased a tax-deductible seat dedication, starting at $500.
Detroit
5200 Woodward Ave., Detroit; 313-833-7900. dia.org
005
Do Woodward Justice
The namesake of Michigan's first chief justice, Woodward Avenue would soon become America's first paved road. And there's no better way to appreciate its grandeur than from the private rooftop of the historic Park Shelton in Midtown. Get to know someone who lives or works in the building. It's the best-kept view in town.
Detroit
theparkshelton.com
006
Make It a Date Night at the DIA
A Bloomberg journalist recently suggested that the DIA's art would be better appreciated in a city like Los Angeles. We just think she's jealous. The collections at the Detroit Institute of Arts are indeed priceless. But may we suggest taking it all in at least once with an unexpected happy hour/dinner date at the newly redesigned Kresge Court? Picasso, Matisse, Rivera, et al., may be more appreciated when accompanied by a good glass of wine and some exciting new food options.
Detroit
dia.org
007
Get Lost in a Good Book
John K. King Used and Rare Books on Lafayette is an emporium of literary works — and Michigan's largest bookstore. Spend a day exploring its vast array of titles and getting lost amid its towering stacks.
Detroit
rarebooklink.com
008
Park in History
The former location of the Michigan Theater, the beautifully ornate Michigan Building now caters to the needs of those looking for an interesting place to park. The building was the backdrop of some scenes in Eminem's Detroit classic 8 Mile.
Detroit
220 Bagley
009
Catch a Race at Belle Isle
From the ear-pleasing sounds of hydroplanes during the APBA Gold Cup to the roar of the revived Chevrolet Detroit Belle Isle Grand Prix, there are plenty of thrills for fans of fast.
Detroit
detroitgp.com; gold-cup.com
010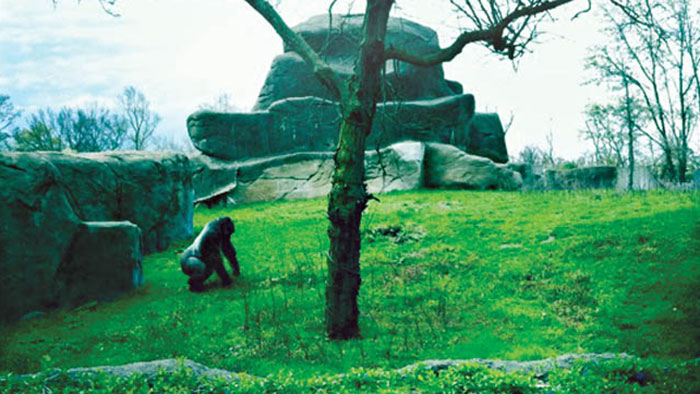 Take a Walk on the Wild Side
When you hear the word zoo, you don't automatically think of romance. But the Detroit Zoo is a great place to take your loved one. Go on a zoo date, explore how animals show their love, ride the train, make a wish in the bear fountain, eat fried food, and meet some of the crazy creatures featured in Hour Detroit's Animal Attraction series. Visit the zoo's website to see how you can make the day more special, with experiences like "Mingle With the Macaronis (penguins)" "Breakfast with the Giraffes," and more.
Royal Oak
detroitzoo.org
011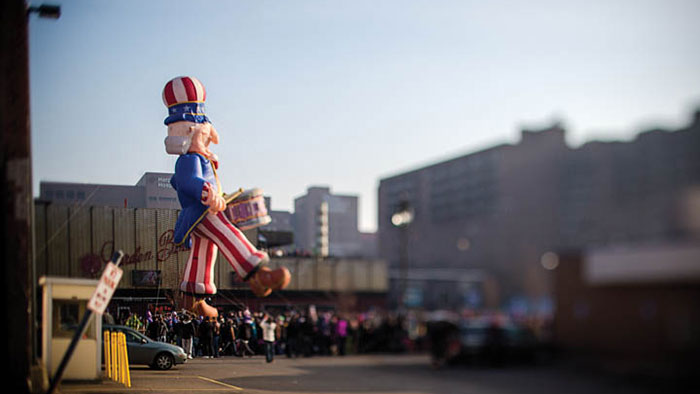 Love a Parade!
You never know what the weather will be like … but you should consider getting off the couch at least once and witness America's Thanksgiving Parade in person. After all, it's one of the country's oldest and most celebrated events. But if you insist on babysitting your turkey dinner or have Lions tickets, the parade is broadcast on WDIV Local 4.
Detroit
theparade.org
012

Get Haunted at the Whitney
You can either dine with your friends at the Whitney, or you can dine with its ghosts, too. The famously haunted Detroit residence-turned-restaurant is hosting haunted dinners and haunted high teas with Detroit psychic and medium Kristy Robinett. It's a ghostly way to learn all the dark stories behind this historic mansion on Woodward Avenue.
Detroit
Visit kristyrobinett.com for the schedule; call the Whitney for reservations: 313-832-5700
013
Get a Bead on Africa
Don't start packing your suitcase yet — when you pay a visit to Detroit's African Bead Museum, you just might feel like you've landed in Africa. Olayami Dabis, the museum's curator, fine artist, and historian, shares her unique African experience with Detroiters, without the high price of a plane ticket.
Detroit
mbad.org
014
Pick a Pack of Perfect Paczkis
French for "Fat Tuesday," Mardi Gras takes place every year on the day before Lent. In New Orleans, streets are filled with costumed revelers. In Hamtramck, it's a longstanding tradition on Fat Tuesday to wait in long lines as neighborhood bakeries churn out thousands of the mouthwatering jelly-filled treats known as paczkis ("punch-keys"). Be an office hero and bring in a few dozen, then sit back and enjoy as your Catholic and non-Catholic co-workers praise (or curse) you for providing the tasty temptations.
Hamtramck
multiple locations
015
Cheer on a Derby Girl
The Motor City Disassembly Line, the Motown Wreckers, the D-Funk All Stars, and the Detroit Pistoffs. These cleverly constructed Detroit spinoffs are just a few of our local roller derby teams in the city, a sporting event that's a bit more underground than your typical professional ballgame.
Detroit
detroitrollerderby.com
016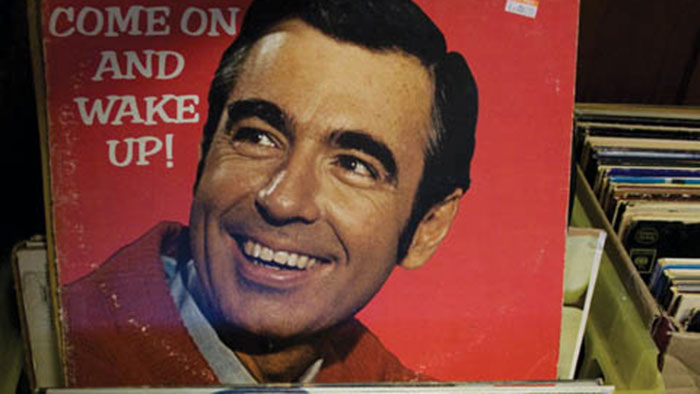 Rummage for Records
With the renewed popularity of vinyl records and shabby chic furniture, metro Detroit is still home to numerous record shops (and antique stores tend to have record bins, too). From old Motown classics to the newest sounds of today, you can spend an entire day exploring Detroit's record stores and adding to your personal collection.
Metropolitan Detroit
multiple locations
017
Think Local at the Rust Belt
Once home to an Old Navy, the building has hung up its flip-flops to become one of Ferndale's most expansive gatherings of local vendors. Open only on the weekends, the Rust Belt Market plays host to local small businesses selling unique products like those you might find at an art fair. A great way to help support local artists and musicians.
Ferndale
rustbeltmarket.com
018
Sing a Song of Schnitzel!
Since 1933, the Dakota Inn Rathskeller has been serving up authentic German fare. Surround yourself with friends, German beer steins, trophy animal heads, and Kurz family pictures. You don't have to wait until Oktoberfest to sing along with the band or discuss the finer points of rouladen, sauerbraten, or other of the "haus" specialties.
Detroit
dakota-inn.com
019
Find It Fresh at Eastern Market
Since 1891, Detroit's Eastern Market has been a Saturday destination for thousands seeking everything from the highest-quality fruits and vegetables to the finest cuts of meat. The market is located near I-75 and Mack. Get there at 6 a.m. for the freshest produce — or come later, when vendors slash prices in an attempt to lighten the load to carry back home. Shops surrounding the market are a world unto themselves, offering flowers, antiques, beer and wine, spices, and, of course, Germack nuts. Food trucks add even more flair to the weekly taste fest.
Detroit
easternmarket.org
020
Have a Blast at the Fireworks
Come join 1 million of your closest friends and watch rockets burst into a colorful display over the Detroit River. The event is bigger and better than ever, with Ford Motor Company and the Parade Company announcing a major partnership for one of the nation's largest fireworks displays – the Ford Fireworks presented by Target. Don't like the crowds? Pony up for a spot at the Parade Company's VIP rooftop party — one of the nonprofit organization's largest fundraisers.
Detroit
theparade.org
021
Revel at the Redford Theatre
Classic movies, Three Stooges festivals, silent movies set to live organ music, and more top the bill at this breathtaking historic venue. Kids of all ages are thrilled to see the Redford's original three-manual, 10-rank Barton Theatre pipe organ rise up from the orchestra pit.
Detroit
redfordtheatre.com
022
Yeah, Baby! It's Ernie's
For many in metro Detroit, "Yeah, Baby!" is a sign of good food to come. Ernie's Market, a small family-owned sandwich shop in Oak Park, isn't just about good food; it's about the experience. Ernie, one of the most personable people ever to own a sandwich shop, is the market's namesake. He works six days a week hand-slicing the meat and cheese for every single sandwich. Ernie's sandwiches are as big as your head, and you'll be full for the rest of the day.
Oak Park
8500 Capital St.; 248-541-9703
023
Pound It With Joe Louis
Built by sculptor Robert Graham in 1986, this monument to Detroit boxer and activist Joe Louis stands in the heart of the city. In addition to being an important reminder of our past, the sculpture has a lot of potential for an epic fist bump.
Detroit
Woodward and Jefferson
024
Get Thee to the Greek
Greektown may have become touristy, but it can still draw a crowd that isn't necessarily going to gamble. Street performers and painters line the streets, making it a people-watching paradise. And for an authentic Greek dinner, with its flaming cheese and other classic dishes, Pegasus Taverna can't be beat.
Detroit
greektowndetroit.org
025
Satisfy Your Sweet Tooth
Imagine wall upon wall of any kind of candy you can think of. Now snap back to reality and drive to Doc Sweets' Candy Co., Michigan's largest retail candy store. Proceed to buy more sweets than any one human can consume. You won't regret it.
Clawson
docsweets.com
026
Wander Downtown Mount Clemens
What happens when a city starts to apply the "Main Street" philosophy of the National Trust for Historic Preservation to its downtown? You get a thriving, walkable area with shops, restaurants, bars, and clubs.
Mount Clemens
downtownmountclemens.com
027
Paddle the 'Strait'
What better way to spend a sunny day than on the water? Paddle up to the Ambassador Bridge or navigate your way around Zug Island. The Detroit River is no longer just a toxic afterthought; it's a waterway for everyone to enjoy all types of boating and paddle boarding.
Detroit
riversidekayak.com; detroitriversports.com
028
Find Your Dream Ride
Journalists from around the world and close to 1 million people from across metro Detroit, the Midwest, and Ontario can't be wrong. The North American International Auto Show, which takes place every January, never stalls out. Founded in 1907, the show is always special. Even if you aren't in need of a new ride, the jaw-dropping exhibits are well worth the trip. And the always-sold-out opening-night black-tie gala is one of the biggest single-day fundraisers in the country.
Detroit
naias.com
029
Discover Ann Arbor's Foodie Gem
For anyone who's ever been to Zingerman's, you know what all the hype's about. For the rest of you, just know that the line is totally worth it. What started off as a small deli in 1982 has evolved into an Ann Arbor institution, known for its Dagwood-sized sandwich list, homemade breads, hand-sliced meats and cheeses, and delectable desserts. Visit the deli in Ann Arbor or pick up Zingerman's products at a grocery store near you.
Ann Arbor
zingermansdeli.com
030
Enjoy a Fisherman's Delight
Spend the day with the gentle lull of Lake St. Clair beneath your boat, the sun over your head, and a fishing pole in your hand. Or simply set up with a pole on the RiverWalk. Either way, you'll save yourself a trip to the market and catch your own fish, guaranteeing an excellent meal of walleye, smallmouth bass, muskie, and more.
Detroit, St. Clair Shores
multiple locations
031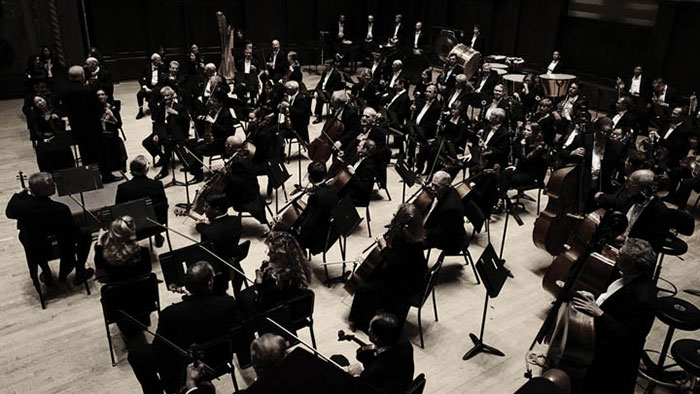 Let It Flow at the DSO
For a classy night in Detroit, immerse yourself in the sounds of the Detroit Symphony Orchestra. You need not be a fine-music buff to enjoy the DSO's selection of classical, pops, and jazz. The acoustics in Orchestra Hall are among the world's finest — as are the sounds produced in the 450-seat music box, part of the stunning state-of-the-art Max M. Fisher Music Center.
Detroit
dso.org
032
Ponder the Production Line
The Ford Rouge Factory Tour combines environmental innovation with industrial ingenuity. Watch the Ford F-150s get assembled, and then visit what's billed as the world's largest "living" roof.
Dearborn
thehenryford.org
033
Take a Trip Back in Time
Break out that dusty old T-bird in the garage, drop the top down, turn on some classic doo-wop, and cruise on down to Dearborn for a double feature at the Ford Drive-In. With the resurgence of vintage, what could be better than watching two modern movies with the retro-feel of a drive-in? Take that, Netflix.
Dearborn
forddrivein.com
034
The Need for Mead
From a basement home-brewing operation to its renowned meadery, B. Nektar is a dream come true for owners Brad and Kerri Dahlhofer. Their homegrown meadery has spread its wings from Ferndale and now ships its sweet spirits to states as far away as Maine and Florida.
Ferndale
bnektar.com
035
Get a Feel for Farm Life
Domino's Petting Farm is a fun destination for the whole family. Explore 20 acres of open pasture, feed ducks on a pond, pet goats, sheep, cows, bunnies, cats, and more. Domino's is especially known for maintaining rare breeds of animals, housing unique horned creatures from around the world.
Ann Arbor
pettingfarm.com
036
Move Yourself
The Movement Electronic Music Festival pays spectacular homage to Detroit's techno roots in Hart Plaza every Memorial Day weekend, attracting the best techno artists — and fans — from around the world. But it's a shoulder-to-shoulder party. If you can swing VIP tickets, you'll get the best view and plenty of room to dance as the Beatport stage lights up the Detroit River.
Detroit
movement.us
037
Fly High
Sure, everyone's seen a hot-air balloon, but have you ever ridden in one? Sky Adventures is here to help. Take an aerial tour of Oakland and Lapeer counties, and bring your loved ones along for an amazing, high-flying ride that you won't soon forget.
Oxford
skyadventures.com
038
Polish Up Your Act
Everyone around here knows about the celebrated restaurants of Detroit's Mexicantown, but let's not forget the acclaimed Polish restaurants hidden away in the hamlet of Hamtramck. There you'll find heaping helpings of Polish fare from the likes of Krakus, Polonia, Polish Village Café, and Under the Eagle. And soon, a Russian flair will be added to the mix when Rock City Eatery opens its new location on Joseph Campau. Take your friends to Hamtramck and experience its famous flavors for yourself — have dinner at one spot and dessert at the next.
Hamtramck
hamtramck.com
039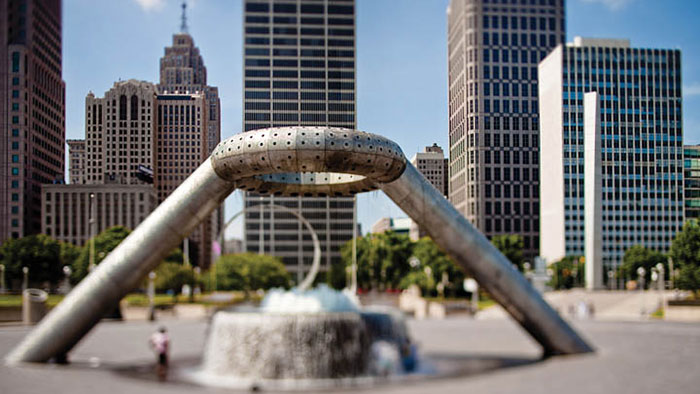 Strollin' Down the River
Detroit's RiverWalk is the only place in the continental United States where you can look directly and clearly into another country. It's also a great way to spend a summer day. You might catch a festival or other activity at Hart Plaza, the GM Plaza, or Chene Park — all stops along the way. You can also rent a bike or ride your own.
Detroit
detroitriverfront.org
040
Sleep Historically
Detroit is filled with pockets of gorgeous historical homes and grand neighborhoods. But you can actually sleep in one near downtown at the Inn on Ferry Street, a string of lovingly restored homes that date back to the 1880s.
Detroit
innonferrystreet.com
041
Drive Out the Devil
Some say that Detroit is cursed because Antoine de la Mothe Cadillac ignored the advice of a fortune-teller some 300 years ago. So just to be safe, Detroiters have begun to gather in the Cass Corridor each year in late March to once again banish the Nain Rouge (the Red Dwarf, a fiendish embodiment of all that holds us back). Whether you believe in the Nain or not, the march is always a great excuse to visit the Traffic Jam & Snug.
Detroit
marchedunainrouge.com
042
Tour Cranbrook House & Gardens
Whether it's for a date or some deserved alone time, the serene gardens at Cranbrook House are a great way to escape from city life and into an elegant storybook world. Enjoy the seasonal flowers and trees of this historic Bloomfield Hills manor on your own, or make a reservation for lunch and afternoon tea.
Bloomfield Hills
housegardens.cranbrook.edu
043
Settle a Family Feud
In 1914, Greek immigrant brothers Bill and Gus Keros established a Coney Island that would go down in Detroit history. A few years later, the two found themselves in a family feud, splitting the restaurant in two — American and Lafayette Coney Island. Today, both restaurants still stand, and the rivalry is as classic as Michigan vs. Michigan State. Head downtown, grab a Coney Dog at each, and decide for yourself.
Detroit
americanconeyisland.com; facebook.com/pages/Lafayette-Coney-Island
044
Catch a Show by the Water
Step 1: Befriend someone with a boat. Step 2: Get in your new friend's boat and cruise down the Detroit River until you find a big white parachute (aka Chene Park). Step 3: Drop anchor and enjoy a live concert amid other boats full of people. The Strokes, Snoop Dogg, and the B-52s have all performed there, so check out the calendar for something you wanna see. If you can't find a boat, you can always buy a ticket.
Detroit
cheneparkdetroit.com
045
Tell Your Tale at Cliff Bell's
Cliff Bell's is a classic Detroit jazz joint, a gloriously restored former speakeasy that plays host to some of the country's finest jazz and blues acts. But on every first Thursday of the month, crowds flock to Cliff Bell's for something different: a unique storytelling event called The Moth. The room fills up fast to hear real people tell real stories based on real themes. You just might discover America's next great raconteur. And if you're feeling brave, you can even climb onstage and tell your own story.
Detroit
cliffbells.com
046
Slurp Soup for a Cause
Donate $5 at the door, enjoy a delicious soup dinner, and listen to Detroiters pitch their creative ideas that would benefit the city — then vote for your favorite one. The winner receives all the money collected at the door, empowering him with a boost of confidence and some cash to make his dream a reality. Help Detroit get inspired at Soup.
Detroit
detroitsoup.com
047
Watch the Masters of Glass-Blowing
The vase on your living-room table might seem a simple thing, but a visit to Henry Ford Museum's Greenfield Village can show you just how intricate glass-blowing can be. Go see the village's talented artisans transform a ball of hot molten glass into exquisite bowls, glasses, and vases. You can even purchase their handmade designs at the museum gift shop.
Dearborn
thehenryford.org
048
Trendy in Troy
While big-name celebrities like Madonna and Miley Cyrus have eaten here, you, too, can join the who's who of metro Detroit young professionals every Wednesday at this iconic Asian fusion restaurant. While the food is definitely delicious, Mon Jin Lau is best known for its stiff drinks and over-the-top patio parties. The family-run restaurant is hospitable, to say the least — let the Chin brothers take care of you. Once the dining room is cleared, Detroit's best DJs take over into the wee hours.
Troy
monjinlau.com
049
Jazz It Up at Baker's
Baker's Keyboard Lounge occupies a special place as one of the city's vaunted jazz joints. Opened in 1934 as a beer-and-sandwich shop, "the world's oldest jazz club" has seen its stage graced by the likes of John Coltrane, Oscar Peterson, and Dave Brubeck. These days, jazzheads from the city and suburbs mingle over cocktails and soul food. Most groups are local, but big-time national acts still stop by.
Detroit
theofficialbakerskeyboardlounge.com
050
Spill the Wine
Motor City Wine Bar is hidden to many, nestled discreetly on the second floor of a pub at 608 Woodward Ave. But trudge up the steep staircase into this dimly lit bar, and you'll find a small but detailed selection of wine and champagnes from around the world, including a handful made in Michigan. They also offer a selection of Michigan craft beers.
Detroit
motorcitywine.com
051
Get a Taste of Italy in Detroit
If you think you've had the best pizza in Michigan, make sure you've tried a slice from Supino Pizzeria. Located in Eastern Market, it's worth the wait, even if the line goes out the door. Hand-tossed dough, fresh ingredients, and gas-fired ovens work in harmony to create a thin, chewy crust for their perfectly foldable pie. White and red pizzas, along with premium ingredients like goat cheese, roasted garlic, and smoked gouda, will transport you to Italy. Insider's tip: Call in your order ahead of time, as the pizzas take about 40 minutes to cook; then you can skip the line!
Detroit
supinopizzeria.com
052
Choose Your Churros
The Mexicantown Bakery on Vernor in Southwest Detroit is just one local eatery where you can find these mouthwatering Mexican desserts. And of course, much of Mexicantown is packed with well-known and off-the-beaten-path shops and restaurants.
Detroit
mexicantown.com
053
Industrial-Sized Art
One of the largest artistic communities in the Midwest rests in an old factory designed by Albert Kahn. The Russell Industrial Center is home to more than 100 commercial artists. Special events there have included a glass-blowing expo and a summer-long outdoor market. Plus you can even rent space for your own special events.
Detroit
russellindustrialcenter.com
054
Island in the Stream
There's only one public beach in Detroit, and it's right in the middle of the river on Belle Isle. Cross the MacArthur Bridge from the mainland onto the island and enjoy a half a mile of sandy beaches. Jazz on the Beach takes place every Sunday night, so you can savor your weekend just a little bit longer.
Detroit
belleisleconservancy.org
055
Cook and Canoe the Creek
Grill up some hot dogs or play some water sports at Stony Creek Metropark. The 4,461-acre park extends across Macomb and Oakland counties and makes an ideal summer getaway, if only for a few hours. Canoes, paddleboats, bikes, and other gear can be rented on-site. Picnic areas and grills are located throughout the park.
Shelby Township
metroparks.com
056
Gotta Have That Funk
A Motor City classic, Funk Night is a monthly dance party held at the Contemporary Art Institute of Detroit. Boogie down until the sun comes up to funk, soul, and rare 45s at this all-night affair, held on the last Friday of the month from midnight till 5 a.m.
Detroit
funknight.com
057
Make a Splash
Splash the summertime heat away at Red Oaks Waterpark. This family-friendly getaway in Madison Heights features waterslides, a wave pool, and a "Soak Station," where kids can play among the waterfalls and water jets. Red Oaks also includes plenty of picnic areas for when your group gets hungry — just be sure to wait an hour before getting back in the pool.
Madison Heights
destinationoakland.com
058
Find the Cost of Freedom
Go see a show at the newly renovated Freedom Hill Amphitheatre. Four years and a whopping $2 million later, this popular outdoor venue is having an exciting summer with some star-studded headliners.
Sterling Heights
freedomhill.net
059
Take a Ride on the Wild Side
The Detroit Bus Company bills itself as a homegrown business fighting for a connected Detroit. Take a themed excursion like "Frontier Anarchy: Go West," which tours the Prohibition-dismissing, tobacco-magnate-ridden Wild West side of Detroit.
Royal Oak, Ferndale, and Detroit
thedetroitbus.com
060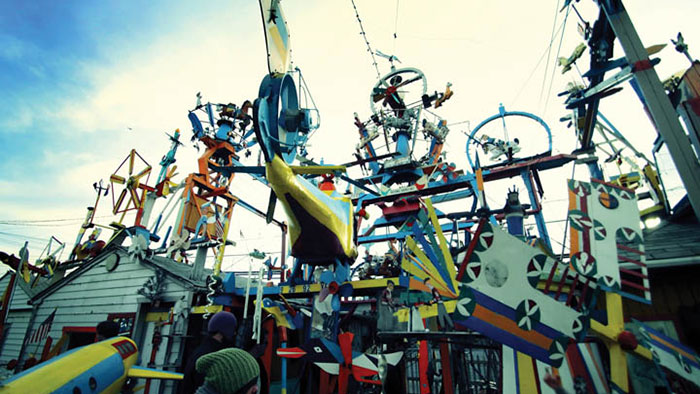 Visit Hamtramck Disneyland
Nestled in an otherwise nondescript Hamtramck alleyway is this extremely unusual art installation, of sorts. Hamtramck Disneyland, an elaborate sky-high collection of knickknacks, was erected by Ukraine native and GM retiree Dymtro Szylak. Visit this spectacle and admire the structural marvel that's every bit as magical as Disneyland itself.
Hamtramck
12087 Klinger St.
061
Candy Is Dandy
If you want to learn how to make chocolate, but you don't want to end up like Lucy and Ethel on I Love Lucy, a tour of the Morley Candy Factory is just what you need. Tours of its Clinton Township factory are free and even include a free sample.
Clinton Township
sanderscandy.com
062
Watch a Movie Under the Dome
It's one thing to watch a movie; it's another to experience it. The Michigan Science Center's IMAX Dome Theater offers visitors a truly captivating experience. With its 70-foot-wide, 5-story screen, it's sure to pull you right into the story.
Detroit
mi-sci.org
063
Discover the 'Sound of Young America'
A former Detroit boxer by the name of Berry Gordy founded a little record label in 1959, and before long, the Motown Sound was heard throughout the land. Although Motown is no longer an independent label, its original location on West Grand Boulevard still stands as a museum and a living tribute to the Motor City's collective identity. Visitors can set foot in Studio A (aka "the snakepit"), where some of the most popular songs in history were recorded by house band the Funk Brothers, along with the likes of Smokey Robinson, Stevie Wonder, Marvin Gaye, and the Supremes.
Detroit
motownmuseum.org
064
Play at Marvin's Marvelous Mechanical Museum
At this quirky Farmington Hills museum, visitors can play on Marvin's collection of one-of-a-kind coin-operated machines while admiring thousands of his other rare collectibles splattered on the walls and ceiling. Pay Marvin a visit to see exactly why The World Almanac named his museum one of the country's most unusual.
Farmington Hills
marvin3m.com

065
Cut Across, Shawty
On a warm, sunny day, grab your bike and head down to the Dequindre Cut for a relaxing ride. Stretching 1.35 miles from the Detroit RiverWalk all the way to Gratiot, the paved sidewalk gives bikers — and walkers — a clean and green way to exercise and enjoy the great outdoors.
Detroit
detroitriverfront.org/dequindre
066
A Night at the Opera
Detroit might not be the Big Apple, but that doesn't mean you can't see a fabulous performance in one of the city's majestic theaters. Between the Fisher Theatre, the Detroit Opera House, and the Fox Theatre, a night out in Detroit can be just as glamorous as an evening on 42nd Street.
Detroit
olympiaentertainment.com; broadwayindetroit.com; michiganopera.org
067
Wade in the Water
Soak in the sights, smells, and sounds of the beach at Metro Beach Metropark — with its bustling boardwalk. seven miles of shoreline, and plenty of views of picturesque Lake St. Clair.
Harrison Township
metroparks.com
068
Witness the Power of Recycled Art
For 27 years, the Heidelberg Project has kept two blocks on Detroit's east side vibrant, and full of life. Tyree Guyton's infamous art installation keeps inspiration alive in the community by taking recycled items and turning them into unconventional art pieces and displaying them throughout the neighborhood. Tour the grounds, sign your name on a house, and feel a part of this positive, creative cause.
Detroit
heidelberg.org
069
A Fair to Remember
Widely considered the best in America, the Ann Arbor Art Fair draws some 500,000 people every July. Yes, it's madness. But your reward for braving the crowds and scoping out more than 1,100 booths is great. You'll find original works in every medium, meet the artists, and enjoy watching a wildly eccentric and diverse display of humanity. The Ann Arbor Visitors Bureau has all the info. Don't forget your sunscreen and walking shoes.
Ann Arbor
visitannarbor.org
070
Sample a Yemeni Feast
You might think you're an Arabic-food fanatic because you've eaten enough hummus to fill an inflatable pool. But if you haven't yet tried Yemeni food, you're missing out. Its uniquely spicy cuisine has some historical Ottoman and Indian influences and emphasizes chicken and lamb. Hamtramck's Yemen Cafe is one of only a few Yemeni joints between Chicago and New York.
Hamtramck
8735 Joseph Campau; 313-871-4349
071
We've Got Spirit
Sitting in front of the Coleman A. Young Municipal Building on Woodward Avenue is a giant green man holding a gold sun in one hand and a gold family in the other. This is the Spirit of Detroit statue, and he embodies the values of Detroit. Take your picture with him and give yourself bonus points if he's sporting a Red Wings jersey.
Detroit
2 Woodward Ave.
072
Visit the Dorothy Turkel House
There's truly no other house like it. Built in 1955, this 4,300-square-foot, L-shaped Frank Lloyd Wright design is made entirely of concrete and features small square windows on the sides to filter in light. So unique it's listed in the Michigan Registry of Historic Homes.
Detroit
turkelhouse.com
073
Take It to the Top
At the top of downtown Detroit's tallest building, the Renaissance Center, is Coach Insignia, which normally requires reservations for dinner. But if you want the ultimate 365-degree view of the entire region, just go there for happy hour — no reservations required. You'll get a great view of the riverfront.
Detroit
theepicureangroup.com/coachinsignia
074
Music at the Majestic
From Dr. John to the Black Eyed Peas, the historic Majestic Theatre in Midtown has hosted all genres of musical performances. And with two full-service bars, a bowling alley, and a cafe all under one roof, there's plenty to do once the show's over. Be sure to keep your eye out for occasional free shows.
Detroit
majesticdetroit.com
075
Don't Dodge This Park
Dodge Brothers State Park in Sterling Heights has plenty of scenic paths, picnic areas, and play structures to entertain visitors year-round. Across from the park is the historic 1867 Upton House, adding to the picturesque scenery of the park and creating a lively experience for all park-goers.
Sterling Heights
ci.sterling-heights.mi.us
076
Tour the Guardian Building
Stroll around the Guardian Building and transport yourself to the glamorous 1920s. Built in 1929, the Guardian stands out with its elegant marble staircases and timeless architecture. It also houses some cool new stores, so when you're done daydreaming, you'd better shop around.
Detroit
guardianbuilding.com
077
Sip Some Cider
Apples are among Michigan's top crops (ranking third among apple-producing states). But come fall, it's time to make cider. Here are just three places to sip and savor: The Yates family installed a cider press in their Rochester Hills farms in 1876. It turned out to be a choice as smart as their donuts are divine — the Food Network featured the mill a few years ago, and it can produce 300 gallons an hour. The Franklin Mill was completed in 1837, the same year in which Michigan gained its statehood. And Blake's historic farm started in 1946.
Rochester Hills, Bloomfield Hills, Armada
yatescidermill.com; franklin-cidermill.com; blakefarms.com
078
Grandma's 3,500- Square-Foot Attic
It's been named by Elle magazine as the best vintage store in the United States. Royal Oak's Lost & Found Vintage offers a wide array of high-quality vintage clothing for women and men. If you're lucky, you might be able to snag something really special like a Coco Chanel suit or a 1970s Dior bag (along with a pretty price), but there are also plenty of very cool, very affordable one-of-a-kind pieces that'll get you plenty of attention from those who can appreciate your singular style. It's Grandma's closet, with a much more fashionable twist.
Royal Oak
lostandfoundvintage.com
079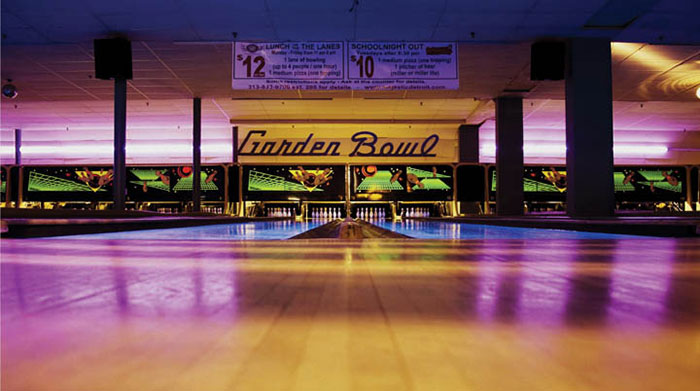 Get the Ball Rolling
Aim for a perfect 300 at Detroit's Garden Bowl. The bowling alley, located in Midtown on Woodward Avenue, was built in 1913 and is the country's oldest functioning bowling center. But you don't really have to bowl. You can also just sit back at the bar, order a pizza, and watch the fluorescent lighting make the Garden Bowl glow.
Detroit
majesticdetroit.com
080
An American Classic
Detroit's rich architectural history is widely known, and the Edsel & Eleanor Ford House is a prime example. Constructed in 1926, it still contains many original antiques. Tours give visitors a taste of the past with a touch of modern conveniences; visitors can also take an "iPod touch tour" of the grounds.
Grosse Pointe Shores
fordhouse.org
081
All the Arb's a Stage
Shakespeare in the Arb, the 12-year-old University of Michigan summer tradition, sets the Bard's timeless stories in Ann Arbor's Nichols Arboretum. The cast moves throughout the property during the production, taking advantage of the Arb's landscape — Shakespearean personages hide behind bushes, gallop down hills, and otherwise experiment.
Ann Arbor
lsa.umich.edu/mbg
082
Tour the Meadow Brook Estate
The story behind Meadow Brook Hall is perhaps not your typical boy-meets-girl story — lumber baron meets widow of automotive aristocrat by the last name of Dodge, husband and wife found Oakland University, and the two live happily ever after in their Tudor-revival, 110-room mansion. Nevertheless, the Dodge and Wilson families' ornate Rochester manor makes a fantastic venue for house and garden tours.
Rochester
meadowbrookhall.org
083
Bikes, Buses, and Brewskis
The founders of Motor City Brew Tours wondered how to give wine-tasting a sudsy spin, and came up with a guided brewery tour that's accessible by bus, bike, or foot. Ann Arbor, Royal Oak, and Detroit brewers provide samples and Q&A time. Bike tours consist of Detroit historical commentary and culminate in a few cold ones — biking under the influence is verboten.
Detroit and Beyond
motorcitybrewtours.com
084
Leave Some Art; Take Some Art
Here's how to participate in Free Art Friday Detroit: If you have an artistic streak, create a piece of art, hide it somewhere in the city, and tweet a clue as to its hiding spot. If your elementary-school art teacher was reluctant to praise your finger paintings, you can scavenger hunt for the art, tweet or Facebook your success, and take it home.
Detroit
fafdet.com
085
More Than a Pretty Tile
Pewabic Pottery, a National Historic Landmark, offers self-guided tours of its exhibition galleries and rooms where some of Detroit's finest potters have crafted since 1903. Pewabic's education department provides art instruction to kiddos and grown-ups alike. You can even learn specialized ceramic skills through their visiting-artist series.
Detroit
pewabic.org
086
Get Curious, Contemporarily
The Museum of Contemporary Art Detroit is half a mile away from the DIA, housed in an abandoned car dealership on Woodward. Its stark white walls, exposed ceilings, and concrete floors provide a canvass for MOCAD's intricate contemporary works. An upcoming MOCAD exhibit, consisting of 15 newly commissioned murals, picks up where Diego Rivera's Detroit Industry murals left off.
Detroit
mocadetroit.org
087
Immerse Yourself in Arabic Culture
The Arab American National Museum is the sole museum in the United States dedicated to Arab-Americans, and it's the only Smithsonian affiliate in metro Detroit. Its Dearborn location is fitting, considering that 40 percent of the city's population is Arabic, but the museum's reach extends outside our peninsula. A recent exhibit explored lower Manhattan's Little Syria, an immigrant community that was later demolished to make way for the World Trade Center.
Dearborn
arabamericanmuseum.org
088
Stick a Feather in Your Cap
Trade in your gutter balls and pizza for steamed mussels and feather bowling, a popular Belgian pastime on the east side. A longtime tradition at the Cadieux Cafe, feather bowling features wooden balls that look like wheels of cheese and a feather at the end of the lane. Leagues play twice a week. And just because it's not traditional bowling, it doesn't mean some silver-haired shark in a polyester shirt won't kick your butt.
Detroit
cadieuxcafe.com
089
Call in Sick for Opening Day
The Detroit Tigers' season opener at Comerica Park is a rite of spring every Detroiter should experience at least once. Even if you can't nab a ticket, there's plenty of people-watching, watering-hole-visiting, and general merriment to go around.
Detroit
detroit.tigers.mlb.com
090
Move It Like This
True, the People Mover takes you from point A to point B, but it's also a great way to see the city from a different vantage point. Each station has its unique art, whether it's a mural, Pewabic tile, or a flood of neon lights. There's always something new to see in Detroit, so let the People Mover be your guide.
Detroit
thepeoplemover.com
091
Beyond Books
With more than 7 million books, the Detroit Public Library is the largest in Michigan. Browse its special collections, like the E. Azalia Hackley Collection of African Americans in the Performing Arts. Among other items, this collection features over 600 pieces of sheet music. Gaze upon the many murals depicting Michigan, Detroit, and our automotive history.
Detroit
detroit.lib.mi.us
092
Go Christmas Shopping in Midtown
It's a Cultural Center "open house" every December as some 75 Midtown venues — including the Detroit Institute of Arts, the Michigan Science Center, the Charles H. Wright Museum of African American History, and the Detroit Historical Museum — open their doors to the public free of charge on Noel Night. Activities include horse-drawn carriage rides, holiday shopping, family craft activities, and live performances. This year's event is scheduled for Dec. 7.
Detroit
midtowndetroitinc.org
093
Dare to Dally
Dally in the Alley started in 1977 as a counterculture party in the back alleys of the Cass Corridor. While it's popularity has grown, this unique arts and music festival is still as independent as ever. Organized by community leaders, the Dally takes place on the first Saturday after Labor Day every year, never failing to draw thousands of visitors who appreciate its quirky vibe.
Detroit
dallyinthealley.com
094
Rockin' on the Riverfront
Summer means free classic-rock concerts are shaking the Detroit riverfront. Listeners of 94.7 WCSX-FM have a chance to win VIP seats, dinner from Andiamo, and a meet-and-greet with the band.
Detroit
gmrencen.com/happening/rockinontheriverfront.axis
095
Improve Upon History
The Detroit Historical Museum underwent an impressive renovation last year, adding five exhibitions and improving existing ones. The Innovation Station allows visitors to create their own pop flavor. Stroll the Streets of Old Detroit and salivate at the "new" Sanders store. Ordering a sundae isn't recommended, however; that ice cream's been sitting there since the 1870s.
Detroit
detroithistorical.org
096
Experience African Culture in America
Visitors to the largest exhibit at Detroit's Charles H. Wright Museum of African American History begin their journey in Africa, experience hardship while crossing the Atlantic Ocean, and witness the struggles and triumphs of African-Americans as they built Detroit and America. The Liberation Film Series presents a cinematic approach to black culture.
Detroit
thewright.org
097
Get Your Kicks … in the DCFL
Join a team in the Detroit City Futbol League. Historic Detroit neighborhoods are represented by the adult co-ed soccer teams. The coveted Copa Detroit, presented at the end of each season, is awarded on athletic merits as well as altruistic ones. Teams can rack up community points through service projects to bolster their season record. Not a player? Come watch, or go root for Detroit City FC, the city's minor-league soccer team.
Detroit
detroitcityfutbol.com; detcityfc.com
098
All Sixes and Sevens and Nines
If you're feeling lucky, you don't have far to go to roll the dice. Greektown Casino, MGM Grand, and MotorCity Casino offer Vegas-style gaming. Card games are plentiful, and each casino offers plenty of slot machines — not to mention great restaurants and entertainment.
Detroit
motorcitycasino.com; greektowncasino.com; mgmgranddetroit.com
099
Celebrate the "Best of Detroit"
Sure, this might belong in the Shameless Self-Promotion Hall of Fame, but come celebrate our readers' choices at Hour Detroit's annual "Best of Detroit" party in June. It's the hottest party of the year, and it supports local charities, as well.
Detroit
hourdetroit.com
100
Be Part of a Living Christmas Card
There's plenty to do year-round at Greenfield Village, but Holiday Nights has become a popular seasonal event. There are candlelit paths, horse-drawn wagon and Model T rides, live reindeer, ice skating, and more — including, yes, chestnuts roasting on an open fire.
Dearborn
thehenryford.org
101
Help Inch Detroit Forward
For a minimum donation of just $12, local website My Inch of the Earth will let you "claim" your favorite part of metro Detroit. Users can purchase an inch from anywhere in the world (as long as it hasn't already been claimed by another user) and then select a charitable organization to donate the money to.
Metro Detroit and Beyond
myinchoftheearth.com
Enjoy!