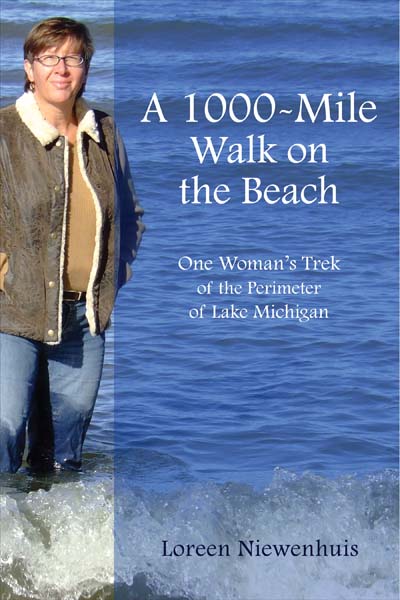 Like a siren's call, Lake Michigan seemed to beckon Loreen Niewenhuis from the time she was a child. In 2009, at age 45, she decided to get to know the lake better, embarking on a 1,019-mile hike, which began and ended in Chicago. Although she witnessed color-suffused sunsets, stately lighthouses, aqua waters, and desert-like expanses of sand, Niewenhuis also experienced the wrath of nature, blisters, even a gallstone attack. The 64-day adventure covered four states and resulted in the book A 1,000-Mile Walk on the Beach: One Woman's Trek of the Perimeter of Lake Michigan (Crickhollow Books, $16.95). Niewenhuis, who was brought up in Plymouth and South Lyon and who now lives in Battle Creek, worked as a medical researcher (she has her M.S. from Wayne State), but she also holds an M.F.A. from Spalding University in Louisville, Ky. Her affection for words is apparent in this vivid description: "…the lake was the color of worn denim, the whitecaps frays in the fabric." Her novella, Atlanta, will be published later this year. We spoke recently with Niewenhuis about her Lake Michigan odyssey. For author appearances, go to laketrek.com.
This was not only a physical trip, but a metaphorical journey into your psyche. What did you learn about yourself?
I learned that the boundaries I thought I had for myself — the things I thought I could and couldn't do — well, I really kind of blew through those. I expanded what I'm capable of doing, not only physically, but mentally. I feel now that I can take on any major projects in the future.
You endured a lot of physical exertion and pain. But on the bright side, you lost weight.
By the end, I lost 22 pounds.
A skeptic might say you were in a midlife crisis, but you actually wanted to do this for some time. The timing just happened to be right because your boys were getting older.
Yes, and I did it in segments to be there for my boys and family. It's not like I left the house for 64 days straight. I integrated it into my life.
You had a rocky start through grimy industrial sites in Indiana. Did you think then, as you waded through trash and broken glass: What have I gotten myself into?
Oh, yeah. But I designed the trek in a way so that it would be the first thing I'd go through, and then it would be behind me. I knew what lay ahead, that the beautiful beaches and sunny days were ahead of me. But I wanted to know the lake entirely, so I didn't feel it was valid to skip that part.
In your book, you mentioned people's disregard, even contempt, for the environment. How has your trek heightened your awareness of the environment?
I think we're all aware of our environment around where we live. … But by hiking the entire shoreline, I became aware of the holistic picture of the lake. So it's not just what one community does to the lake, it's everything that's happening that's going to determine whether the lake is healthy or not.
There were areas that had cougars and bears and, for most of the journey, you were alone. You even walked through scary parts of Gary, Ind., and the south side of Chicago. Were you ever frightened?
There were times when I felt I was in an unsafe area, so I tried to carry myself with purpose and walked a little faster.
You met many hospitable strangers, and you write that people are friendlier in the U.P.
[Laughs] Yes, I think they're happy to see anyone up there, especially after the long winter. Near the lakeshore, it seems that if people are out there, they already have some sort of connection to Lake Michigan. As I met people and told them what I was doing, they almost to a person said, 'Wow, I'd love to do something like that, because I love Lake Michigan.' So it was lovely to connect with people like that, not to talk about me, but to talk about the lake.
What was the peak and the valley of your trek?
At least physically, having the gallstone episode near the end was the low point. The high point was completing the trip. I had about 10 people walking with me for the last 10 miles and another 30 or so waiting for me at Navy Pier. There were many lovely spots I saw along the way, but having come full circle was the high point for me.
What most surprised you on your odyssey?
I think getting to know the geology of the lake and how varied it is from place to place. The west side of Michigan is mostly sand, but over in Wisconsin, it's eroding clay cliffs and tall grass for miles. There were times when I could have used a machete to hack my way through the jungle-like landscape.
At various stretches, you were joined by friends and family, but for about 80 percent of the time, you were alone. Did you ever experience loneliness?
No, because I always had the lake right there. And I was able just to think and commune with the rhythm of the lake.
Facebook Comments