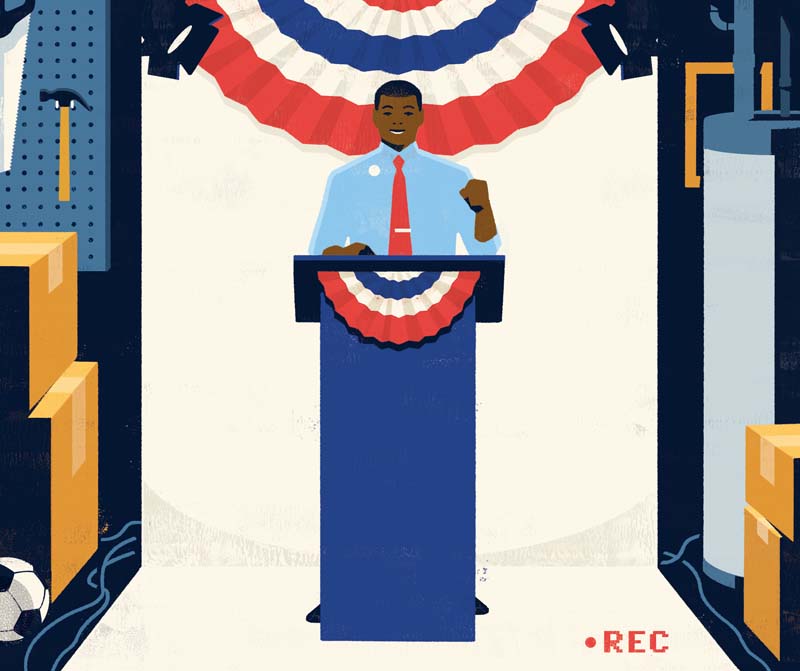 In a TikTok video posted May 17, Solomon Rajput executes a choreographed dance deploying moves like the whoa, the wave, and the dab. But he is not using the platform to entertain. The screen text overlaying his performance reads: "This is my mom. She came here from Pakistan as a teenager with nothing. Now her son is running for Congress and might become the first Pakistani American congressman in history."
Rajput, a 27-year-old who put medical school on hold to run for Michigan's 12th congressional seat, is challenging Rep. Debbie Dingell in the Democratic primary on Aug. 4. Like many other challengers and nonincumbents, Rajput has had to get creative with campaign tactics in the face of a global pandemic.
In the absence of the traditional approaches to improving name recognition and getting out the vote — shaking hands, knocking on doors, and attending both high-energy and low-key gatherings — candidates must focus on social media, Zoom fundraising, and improving how they present themselves on video.
"Communicating with voters via social media has stepped up," says Susan Demas, editor-in-chief at nonprofit political outlet Michigan Advance. "You can't do face-to-face meetings with donors. I have to think it's a lot harder to convince people to buy into your campaign."
Some candidates have managed to hit up donors despite pandemic restrictions. Demas pointed to Julia Pulver, a Democrat unopposed in the primary who hopes to unseat Republican state Rep. Ryan Berman in Oakland County's 39th District, who organized a Mother's Day fundraiser she billed as a "Get Out of Zoom Free" card. In the description for her YouTube video advertising the event, Pulver exhorted supporters: "Donate at the link below, and you can tell everyone you have a very important Zoom meeting to attend for Julia Pulver for State Rep, but then … you don't actually have to show up!" Pulver says her campaign raised $500 off that gimmick, although YouTube only showed around 20 views of the video, as of mid-June.
Demas says the 2020 COVID-19-tainted campaign climate works better for most incumbents who already have a supporter and volunteer network as well as more money to spend on advertising.
Sen. Peter Lucido (R-Shelby Township), who is running for Macomb County prosecutor, says he has been primarily using email to reach out to voters and that campaigning in the era of COVID-19 chaos is a challenge. "Going on TV is too expensive," says Lucido, 60. "Candidates have a limited window as well as a limited way of dialoguing with voters."
Lucido — who came under fire after an allegation in January that he made sexist remarks to a female reporter prompted two other women, including a fellow state senator, to go public with similar accusations — says he has done several town halls via telephone and has turned to Twitter and Facebook to reach supporters.
Candidates are joining as many virtual meetings as they can, forcing them to up their on-camera game. Alex Bronson, a 29-year-old Democrat running to unseat Republican state Rep. Steve Marino (R-Harrison Township) in Macomb County's 24th District, says he has turned his office into an amateur television set. When it became clear the pandemic would interfere with campaigning efforts, Bronson ordered lights, a camera, and a high-quality microphone. The owner of a painting business, Bronson plans to pique voter interest by posting do-it-yourself instructional videos about topics such as drywall repair.
"I looked up to see what YouTubers do to improve their videos," Bronson says. "I wanted to make sure I could present myself well."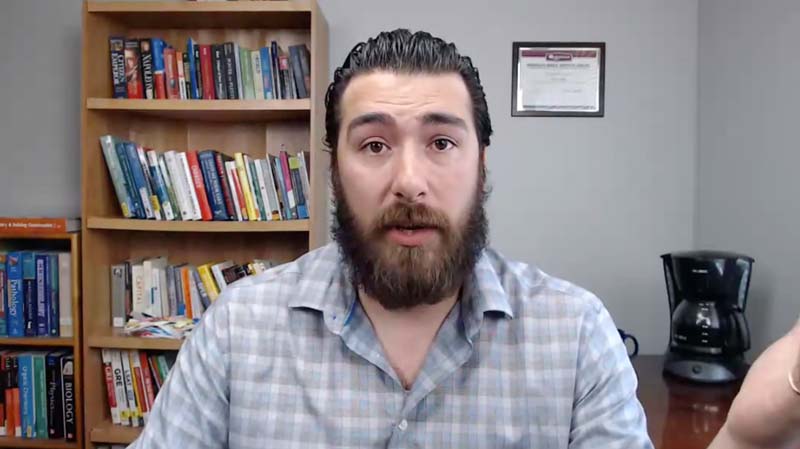 For some challengers, virtual communication doesn't come so easily. Gabi Grossbard, a 48-year-old running for the GOP nomination to take on U.S. Rep. Andy Levin (D), says his strength lies in face-to-face interactions — something he thinks is especially important for unknown candidates. Although Gov. Gretchen Whitmer's stay-at-home order did not go into effect until March 24, Grossbard says in-person events began to slow down as early as March 10 — so people have been finding alternative ways to gather signatures to get on the ballot. He had unexpected success leaving clipboards at people's doorsteps and coming back later to gather them.
Grossbard's Ram truck now is festooned with "VoteGabi" signs to send a visible message without close contact. "When you meet candidates, they make an impression that you remember when you get into the voting booth," he says. "I've had to get creative."
Other campaigners are backing off some efforts given the financial stress caused by recent layoffs. Eric Esshaki, 35, running for the Republican nomination to face U.S. Rep. Haley Stevens (D) this fall, says he took a month off from fundraising out of respect for the small-business owners and other people whose livelihoods have been in jeopardy.
Anthony Carbonaro, who also was planning to run against Dingell in the primary, says he dropped out because his main methods of collecting signatures  for the ballot — knocking on doors and approaching shoppers outside stores — are no longer acceptable.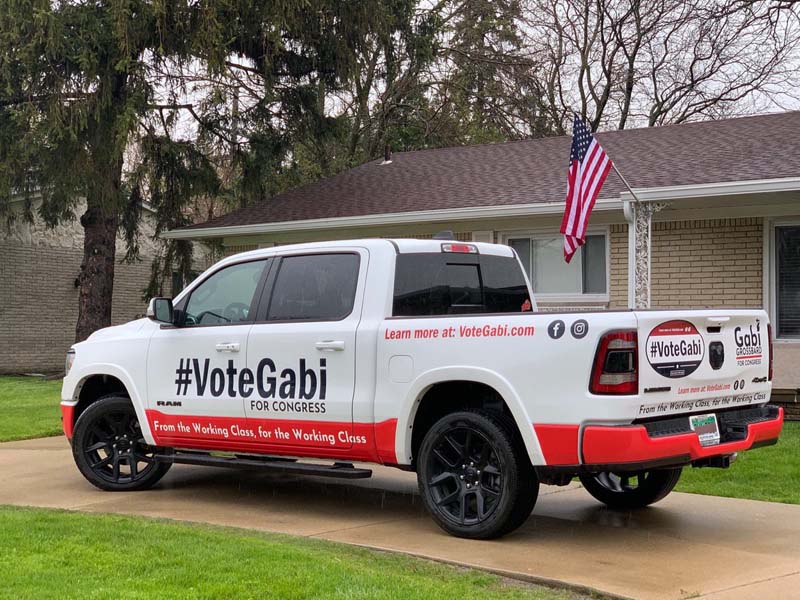 Now, as restrictions begin to lift, candidates are stuck in wait-and-see limbo. No one knows whether in-person events will be held before Aug. 4, much less Nov. 3, or whether an increased push to encourage voting by mail will impact overall turnout.
"I don't buy that [mail-in voting] will be an automatic win for Democrats," Demas says. "There are a lot of rural voters who are Republican who benefit from it."
Dingell's opponent Rajput believes the pandemic's restrictions have forced new approaches that are broadening his reach. TikTok, for example, was an unlikely new tool to connect with younger voters, he says, and social distancing motivates him to touch base with voters more often through text and phone calls. "Having things be remote has been a really great way to get interest from people outside our district and build a bigger volunteer force," Rajput says. "Our campaign is actually bigger now — by a lot."