Talk about a reverse commute. Rather than joining the Friday freeway exodus to Michigan's cabin country, some choose a road less taken, one toward a city pied-à-terre, where culture, dining, and sport replace beach and woodlands.
"I just adore a penthouse view," buyers of so-called urban cottages might sing (echoing the Green Acres theme song). "Dah-ling I love you, but give me Park Avenue."
Following are a few real-estate options for a metropolitan getaway.
---
Living On the Water
Riverfront Towers
100 Riverfront Dr., Downtown Detroit
Three modern high-rises set on a gated, resort-style riverfront property are neighbors to Joe Louis Arena. The towers, which were built between 1982-1992, range in height from 26 to 29 floors.
They're angled to provide panoramic river views, which is the big-draw asset, along with the 24-hour manned security, fitness center, pool, on-site market, restaurant, parking garage, and tennis court.
A recent snapshot of available condos in the complex showed prices ranging from $70,000 (700 square feet with one bedroom and one bath) to $350,000 (2,148 square feet with bamboo floors, three bedrooms, and three baths).
The market has become more appealing for second-home shoppers "because prices have dropped so much that it's less of a stretch," says Ryan Cooley, owner of O'Connor Real Estate and Development in Detroit.
"For an urban cottage, Riverfront is one of the best," he says. "It has views of the water and it's secluded, yet downtown. The People Mover is actually connected to the building." Typical downtown and Midtown house hunters continue to be primarily younger, partly because they often have jobs downtown. However, Cooley adds, "People are liking the idea of an affordable place as an easy way to downsize."
---
Living in a Warehouse
55 West Canfield
55 W. Canfield, Midtown Detroit; 313-744-5638, 55westcanfield.com
This Midtown Detroit residential development in the 90-year-old former Graybar Electric Co. warehouse is in the process of converting from leased units to for-purchase residences.
Cathy Doig, the owners' representative in charge of marketing and sales, says 17 loft residences will be made available for sale over the course of the first release. Units range in price from $104,900 to $149,900, and in size from 718 to 1,025 square feet.
Doig says west-facing lofts have balconies, and three live-work residencies are available on the first floor. A green alley is being developed, and a yoga studio is planned for the street level. Amenities include secured parking. The neighborhood includes boutique shopping, restaurants, the Detroit Medical Center, and Wayne State University. The building is listed on the National Register of Historic Places as part of the Cass Farm (multiple-property submission).
---
Living Near Art
The Park Shelton
15 E. Kirby (at Woodward in Midtown/Cultural Center); 313-872-7275, theparkshelton.com
The former Wardell Hotel, where visiting Hollywood celebrities once stayed, is a popular residential building just north of the Detroit Institute of Arts and across Woodward from the Detroit Historical Museum and the Main Detroit Public Library.
One-bedroom unit prices start in the low $100,000s; two-bedroom condos start in the $160,000s.
"We can do combined units, which can go for $320,000 and higher, says Mike Martorelli, sales and leasing manager.
Amenities include 24-hour security personnel on-duty, a new parking garage with secured access, a rooftop solarium for exclusive resident entertaining, a sun deck with skyline views, an exercise room and sauna, and street-level retail including the Peacock Room (apparel, accessories, and gifts), Wasabi Korean & Japanese Cuisine, Fourteen East Café, and Leopold's Books.
---
Living with History
Book Cadillac Residences
1114 Washington Blvd., downtown Detroit; 313-658-6400 (The Loft Warehouse), bookcadillacresidences.com
The high-profile restoration of the Book-Cadillac Hotel brought restaurants, event space, and New York-style living to the corner of Washington Boulevard and Michigan downtown. Atop the new Westin Book Cadillac are 44 condominiums for sale (12 currently vacant, others leased but available for purchase). Occupants include professionals and downtown fans who frequent city restaurants and sports venues, says Jerome Huez, president of The Loft Warehouse.
Prices range from $189,900 (one bedroom) to $1.2 million  (the penthouse). Square footage goes from 946 to 4,470.
Hotel-style amenities available to owners/occupants include dry-cleaning pickup and drop-off, access to Westin catering, fitness area, indoor pool, private residential lobby, attached covered parking garage, reserved owners' parking, and private elevators.
---
Living in an Auto Garage
Willys Overland Lofts
This residential-reuse building has an automotive history and an enviable location just down the block from one of Detroit's most popular bakeries.
Amenities include a common rooftop space, many individual balconies and terraces, secured parking for residents and guests, and a street-level art gallery. There's also flexibility. Units may be combined while available space allows.
"Most residents came here from metro Detroit suburbs," says real-estate agent Austin Black II, president of City Living Detroit. Other owners include people who have relocated to Detroit and natives returning to their home state.
Of the 74 total units, 16 have been sold, eight are under reservation, and three are under purchase agreement at press time. Prices range from $142,900 to $644,900, square footage: 940 to about 2,800.
The 1917 building was constructed as a sales-and-service facility for the Willys Overland Motor Co. Later, classic Willys models were sold out of the first floor and serviced on the upper levels. In the late 1940s, Davidson Brothers Dry Goods Co. briefly used the site as a warehouse. The Detroit Public Schools bought the building in about 1950 for use as a warehouse space and shop facility.
Today, the six-story Willys (two floors were added to the original structure) is attractive for its proximity to Wayne State, the Medical Center, cultural institutions, and downtown.
---
Living in the 'Circus'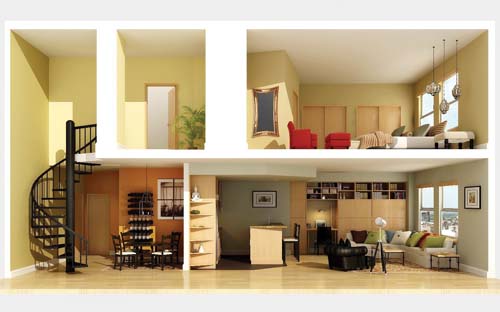 Broderick Tower
10 Witherell St. (at Woodward); 313-596-6000; brodericktower.com
The newly renovated 34-story building at Grand Circus Park near the stadiums, theaters, and other entertainment venues was built in 1928. Architect Louis Kamper created the structure in a neoclassical, Chicago School and Beaux-Arts design. David Broderick, who owned the building for 13 years, was an insurance broker. Today, it's owned by Motown Construction Partners.
At press time, rentals were $865 to $1,865 with about 37 remaining of the 125 total available apartments. The majority of renters are young professionals, says Chris Lillevand, head leasing agent. As of April, about 75 percent were moving to the Broderick from the suburbs, Lillevand says.
---
Your Guide to: Urban Cottages
Sarah Ormerod is chatting on her cell phone as she leaves the Gratiot Central Market, where she likes that her regular butcher calls her "Baby."
The topic of discussion: Why she and her husband, Mark, world travelers who are not from Michigan, bought a "vacation" condo five years ago in Detroit.
At that time, the couple (she's from Colorado, he's a native New Zealander) had been living in the Middle East, where they both worked.
"I read the Sweet Juniper blog," Ormerod says. "I'd been reading it online for years and it paints a very accurate picture of Detroit.
"Mark thought if he brought me here, I'd stop talking about Detroit. When we got here, he was like, 'We have to live here.' "
Through Ryan Cooley, owner of O'Connor Real Estate and Development in Corktown, they found a 2,500-square-foot, three-bedroom, three-bath condo at Indian Village Manor that was affordable enough for them to pay cash.
Cooley helped them get a contractor to gut and redo the kitchen (which now has marble counters reclaimed from the former Cass Tech High School) and fellow O'Connor agent Lauren Bruyninga picked paint colors and light fixtures. "Thank goodness she overruled me," Ormerod says. "She did an amazing job."
Today, the couple, their young daughter, and the family dog spend summers and several weeks at Christmas in Detroit. They also have a home in Houston and will return to the Middle East, where Mark works as a geophysicist for Shell, before retiring, they say, full time in Detroit.
For now, they're taking advantage of their summer home.
"We spend a lot of time out back on the RiverWalk," Ormerod says. "It's like every night is happy hour."
They also frequent nearby Belle Isle, where they watch Detroit City Futbol League neighborhood soccer games.
"I have girlfriends who knit on Wednesdays, she says. "I'm trying to eat my body weight in Supino's pizza; we do the Dequindre Cut [walking/biking path]." In short, she says, they found what they were seeking: "big-city stuff with a small-town feel."
***
Before summer had even begun, Catherine Teifer and her husband had big Thanksgiving plans: watching the parade from their windows overlooking Woodward, attending the Lions game with more than 20 friends and family, and sitting down to a turkey dinner for 26.
All they needed was a location, which they'll have just after Labor Day, when they move into their apartment on the 28th floor of the Broderick Tower downtown.
The Broderick will be the second Detroit pied-à-terre for the couple, who live on 10 semi-rural acres Downriver and also have a home in Florida, where Teifer's husband, John Hancock, golfs.
Teifer says her affection for downtown dates to childhood, when she and her grandmother would board a bus in Trenton and ride to Hudson's for a shopping excursion.
"In 2009, I started dreaming about having a place downtown — a place where we could be a part of the excitement, a place to entertain," she says. They first leased at the Carlton, a building popular with musicians in the 1920s and '30s. But while attending Tigers games at Comerica Park, she says The Broderick kept "looking over their shoulders."
When they took a tour of the in-progress renovation project, they decided to combine two units, giving them three bedrooms, three and a half baths, and views of Woodward Avenue and the ballpark.
"The Broderick is perfect for us," Teifer says, citing valet parking, three street-level restaurants, the People Mover, and Grand Circus Park across the street. Another plus, she says: "Most of our neighbors are young, and that's what's going to inject new life into the city."
***
Bernie and Steve Olmsted are also anticipating Thanksgiving in Detroit. It's the Southern California couple's favorite weekend of the year. From their balcony at the Willys Overland Lofts in Midtown, they have a view of marching bands unloading in preparation for the parade.
Bernie, a Michigan native, grew up in Hartland and married a Californian. A place in Detroit suited their need to see family and their son, a University of Michigan student.
"My husband is like a kid in a candy shop here," Bernie says. "This mature CPA wants to explore everything. To be a bike ride away from baseball and live by the parade — he loves it." The couple, who visit their condo about four times a year, walk to the DIA, go to Henry Ford Museum, and "pub crawl" a bit downtown.
"We wanted to be part of the energy," Bernie says.
***
Susan Taylor-Meyers and her husband, David, don't need to book a flight to access their city escape. It's a 30-minute drive from their Harrison Township home to their one-bedroom, two-bath condo in Midtown's Park Shelton. They bought their unit five years ago after deciding against a cottage in Charlevoix or "the Thumb."
During their regular Detroit stays, they attend games, go to the Hilberry and Bonstelle theaters, watch the Detroit Derby Girls, and participate in Noel Night.
"Last weekend, we went to the Tigers game on Saturday and Brunch with Bach [at the DIA] on Sunday," Susan says.
Fellow Park Shelton residents Rich and Sheila Neuenfeldt drive from Grand Blanc to their 900-square-foot condo. They use the city address as a getaway together or separately and with their children.
"My husband likes to spend Friday night and get to Eastern Market early," Sheila says. They go bike riding, he jogs, and they went as a family to see the Oscar short films at the Detroit Film Theatre inside the Detroit Institute of Arts.
"We use the roof every time we're there," Sheila says. "My daughter wants to have her 16th birthday up there.
"Last Sunday, I took a mat up there, sat in the sun, and organized my iPad."
The couple say they will eventually consider full-time city residency, Sheila says. "That's how we started out in Chicago."
***
Dr. Rob Colen, an orthopedic trauma surgeon with a home in the suburbs, wanted a part-time residence convenient to the Detroit Medical Center, where he works several days a week.
"When the agent showed us the corner panoramic unit on the 24th floor [of Riverfront Towers], I remember just standing in front of the window staring at the incredible view," he says. "All you could see was water and Windsor. The sensation was as if you were on a giant cruise ship."
In the seven years since buying their 1,300- square-foot condo, he and his wife, Rita, have used it for entertaining as well as taking advantage of its proximity to work, sports, and events.
"Every year, we watch the fireworks explode right in front of us," Colen says. "My wife and I always joke that when we take out-of-town guests to the condo, all we see is the back of their heads as they stare out the window at the incredible view."
---
If you enjoy the monthly content in Hour Detroit, "Like" us on Facebook and/or follow us on Twitter for more frequent updates.

Facebook Comments