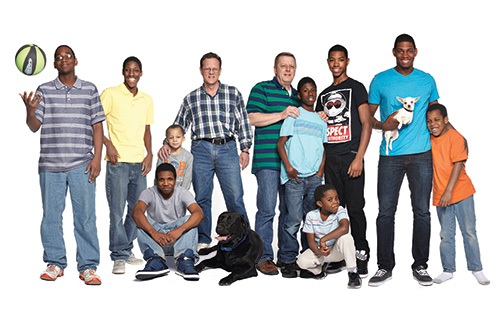 If only the gay marriage debate had reached the tipping point 20 years ago. That's when a local couple started living their version of the American dream. They had a commitment ceremony, pursued a family, a home, and social acceptance. They wanted to raise their kids with Christian values in the Lutheran church. It was something so normal, at least to them. Supporters of gay marriage could've easily said at the time that this was exactly the point.
But Clint McCormack and his partner, Bryan Reamer, are not political people. More than two decades later, it's also clear that the way their family has come together transcends the clichés of political rhetoric — and, apparently, reality television. When the Oprah Winfrey Network produced a special last year about the couple and their 10 adopted kids, any hopes of turning it into a full-fledged series were dashed when producers told them they weren't "dramatic" enough.
That's hard to believe as I enter the kitchen of their suburban home in Farmington Hills one Saturday morning. Behind the facade of the typical family chaos for a clan this large (getting the kids, ages 4 to 20, to eat their McDonald's breakfast even on paper plates would've been a lost cause) is a history of dramatic life decisions that most couples, gay or straight, wouldn't have been willing to make. "All I've ever wanted in life is to be a good father," McCormack says, hugging his 7-year-old son, Hayden, as we sit at the dining room table.
And so it began for McCormack and Reamer, as it does for many people who can't have biological children of their own. The pair adopted their first child at birth from a young mother in California. It was a fairly traditional adoption scenario, aside from the fact that gay couples in Michigan still can't adopt children together (single people can, so only Reamer is listed as the legal parent on the birth certificate).
But the baby, who they named Keegan, was also black. Over the years, McCormack and Reamer would adopt nine more children, all of them African-American. They would become mired in dealing with an overburdened foster-care system — and the kinds of questions that have a way of making even the most liberal-minded squirm. Surprisingly, the couple says their sexuality — though still questioned to this day — hasn't been as much of an issue as race when it comes to others who are suspicious of their choices. "'Don't you think that child would be better off with black parents?'" McCormack remembers a black neighbor asking him years ago as he drove down the street with one of his sons in the car. "'I don't know,'" McCormack remembers replying. "'The black mother picked us to adopt her child, so you tell me.'"
It was a characteristically sarcastic response from McCormack, who is outspoken and fiercely protective of his family. He's anything but politically correct, too, and it surprises me when he says they made the children they adopted at older ages change their names. "We've always been up front with all our children," McCormack says. "And we always told them that when they came to live with us, they were going to start new and better lives. They needed to have new names, too."
Their son Mark, for example, who joined the family when he and his twin brother were 7, grew up in the foster-care system with different first and last names. Mark is 20 now and in school to become a nurse. He shrugs off the question of whether changing his name was hard. What was hard, he says, was growing up without a true family.
"I know if I hadn't left foster care," says Mark, "I definitely wouldn't be the person that I am today."
Listening to the tales of these two fathers, it's hard to imagine where some of their children would've ended up had McCormack and Reamer not chosen a complicated, inconvenient path to parenthood. The legal hassles, the difficult medical histories, the severe abuse and neglect that some of their children experienced in the foster-care system — all of these things could've made the couple say no. "We never planned on having this many kids," McCormack says. "We don't see ourselves as saviors. But these kids needed us, and we needed them."
There's also the inconvenience of age. McCormack and Reamer are both in their 50s. Their youngest child, Cooper, whose mother simply walked out on him at a Detroit hospital after giving birth, is 4. And yet, they're contemplating taking in two more foster children. "I really don't want to [live with young] kids in my home until they bury me," Reamer says to McCormack with an exaggerated eye roll. Reamer is a financial analyst who works full time to support the family. He's the home's self-professed "voice of reason," and he's the one parent in the equation who's been contemplating the logistics of the future, should they decide to adopt more children. McCormack, a stay-at-home dad, doesn't seem as concerned. "So what if we're 70 and we've still got kids running around," McCormack tells Reamer, whispering to me that he's got him wrapped around his finger.
It turns out that Reamer was actually the one who would convince McCormack that they needed to adopt their fourth son, Caleb, now 14, despite his overwhelming medical problems. Caleb is the child, they say, who truly forced them to confront what it meant to make a commitment to those who need it most. And though Reamer and McCormack might bicker back and forth like an old married couple, it's clear they continue to live with a shared sense of purpose. "I know my limits," Reamer says. "Clint didn't want to adopt [Caleb] because he was afraid he would die. And I was like, 'Ya know what? We need to do right by this kid.'"
This is the experience that would end up exposing them to the realities of not Michigan's foster-care system, but instead New Jersey's. After McCormack and Reamer adopted their first baby, Keegan, they knew they wanted him to have siblings. So they went to a non-profit firm in Ohio that helps connect potential parents to foster-care children across the country who need to be adopted. This is how they first met Mark and his brother Kenny, who at the time were living with an older foster parent in New Jersey. She was not willing to adopt them, however, and because New Jersey law allows gay couples to adopt, McCormack and Reamer happily invited the 7-year-old twins to become Keegan's brothers.
That made the McCormack-Reamer family five people strong, but the New Jersey foster-care system didn't stop calling. "We realized that the system was so overburdened," McCormack recalls. "New Jersey had so many kids with no place to send them." This is when they met Caleb, a frail little 3-year-old at the time who had been born 12 weeks prematurely and had "failed to thrive" since birth. In fact, McCormack says he looked more like a 1-year-old when a social worker dropped him off at their doorstep one weekend for a visit. They would soon learn that Caleb had a mild case of cerebral palsy and that 30 percent of his brain was "white matter" devoid of neurological connections. He also couldn't talk and needed to wear braces on his legs. According to those who had taken care of him, there was little hope he would get better.
"I just broke down and cried," McCormack says. "I told Bryan, 'We're not doing this.'" The Ohio agency backed him up, telling the couple that Caleb's issues were just too complex.
But Reamer says he saw "something" in the child's eyes. "I could tell there was someone in there fighting to get out," he says. "I told Clint we weren't going to abandon him."
And so they didn't. Months later, when they met Caleb and his social worker at an airport in New Jersey to take him home to Michigan, she handed them a trash bag with all his belongings in the world: two diapers, one sock, a T-shirt, and some medicine. "She told us to have a nice day and walked away," McCormack says. "We threw that trash bag away at the airport, and I started working my ass off to make sure this kid would have a good life."
Though today Caleb is in the sixth grade (at 14 he should be in the ninth grade), McCormack and Reamer say he's basically overcome the physical and mental disabilities that at first seemed so daunting. The kids who joined the family after Caleb — some at birth, some through foster care — have had their own unique struggles, too, McCormack and Reamer say. But it's all been worth it.
"They've been teased for being a part of a gay family," Reamer says. "They've been teased for having white parents. But they've got two parents who love them. We've learned to roll with the punches."
To do that, they're just drowning out the noise one day at a time. Much of that noise, they say, has come from people they know who still haven't accepted the family choices they've made.
"We finally had to decide that whatever happens outside our own house really doesn't matter," McCormack says.
Facebook Comments