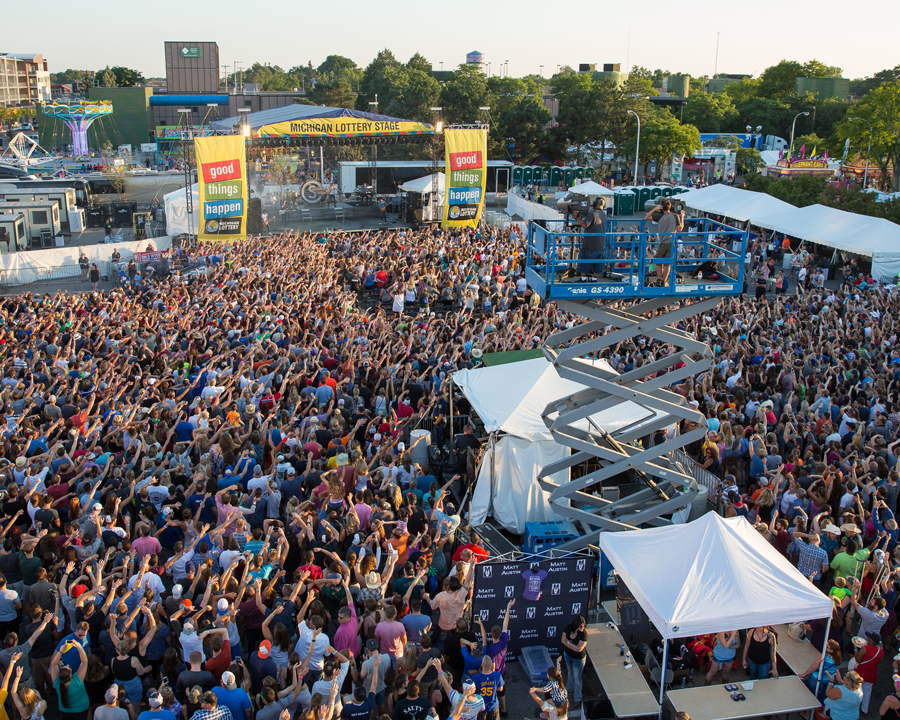 Celebrating its 20th anniversary this year, Ford Arts, Beats, and Eats will return to downtown Royal Oak this Labor Day Weekend and feature performances by more than 200 local and national music acts, 135 art show booths, and food from more than 40 restaurants, caterers, and food trucks
Jon Witz, producer for Ford Arts, Beats and Eats, says the festival spent $100,000 more than previous years' entertainment budgets to secure acts such as reggae rock group 311, The B-52s, George Clinton and The P-Funk All Stars, Grand Funk Railroad, The Orbitsons, and Thornetta Davis.
"This milestone year features the most show-stopping, chart-topping lineup of musical acts attendees have ever seen at Ford Arts, Beats, and Eats," he says.
Alongside the performances, which will take place across nine stages, attendees can indulge in dishes from festival newcomers — Sedona Taphouse in Troy, Bonefish Grill, Carrabba's Italian Grill, Lazy Bones Smokehouse in Roseville, The Nosh Pit, and Greenspace Café's food truck. Green Lantern Pizzeria and Lounge, Cool Jacks, Café Muse, Andiamo, Srodek's Polish Deli, Lockhart's BBQ, Vintage House Banquets and Catering, and Treat Dreams are also featured in this year's food selection.
"We are bringing the most expansive lineup of food this year to celebrate 20 years as one of the best foodie festivals in the region," says Witz. "…We really have something for everyone to enjoy."
New attractions at this year's festival include a display of artwork by the Ziibiwing Center for Saginaw Chippewa Indian Tribe, an interactive exhibit that will feature family-friendly art workshops, and a yoga event called Priority Health Practice for a Purpose.
Returning to the festival, this year's Juried Fine Art Show will display a range of for-sale creations by local artists. The Kids Zone, Kroger Arts and Scraps tent, carnival rides, Detroit Red Wings Hockey Skills challenges section, Kids Stage, a variety of workout classes, and the Meters Made Beautiful program are also making comebacks.
Funds raised at the annual four-day festival are expected to bring Ford Arts, Beats, and Eats' total dollar amount of donations to charities past the $5 million mark. Along with this contribution, Flagstar Bank will host the festival's annual Food Drive, which benefits Gleaners Community Food Bank of Southeastern Michigan.
Food Drive donors can receive one free admission to the festival by bringing three or more nonperishable items to Flagstar Bank locations through Sept. 1. Standard admission fees range from $3 to $7, and children under 3 years old are free at all times.
---