With its main Southern-style structure checking in at 6,000-plus square feet, a recent estate hit the market with a lot going for it. The property's history dates to before the turn of the century — including the time boxer Joe Louis lived there while training for his world championship title defense in 1939.
Resting on nearly 15 acres of prime Novi/Northville area real estate, it's been home to a series of notables — most recently the late "Cadillac King," Don Massey, who died in 2011. While today's local advertisements rely on billboards and TV ads (think "Call Sam" or "Jeff Sells") in Massey's heyday, commercials plugging auto dealerships ruled the airwaves.
Those of a certain age will surely recall radio spots with Massey's folksy, Southern drawl intoning variations on a theme: "Hi. Don Massey of Don Massey Cadillac on Ann Arbor Road in the magnificent community of Plymouth, Michigan." Massey launched a notable empire of nearly 20 dealerships nationwide from the Plymouth location. The Tennessee-born entrepreneur moved to Detroit then bought a used-car lot in 1961 before opening the Cadillac dealership in the mid-1960s. By the time he sold his empire to Sonic Automotive Inc. in 2002, Massey was the country's largest Cadillac dealer, achieved through his superior salesmanship and attention to detail.
Mark Naszradi, executive manager of what's now Suburban Cadillac of Plymouth, first stepped on the lot as a teenager. "A friend said, 'My dad's picking up a new Cadillac. Do you want to head with us?' " he recalls. "In 1978 I walked into the showroom of Don Massey Cadillac … then sold my first one in 1987." Naszradi continued to work for Massey at several locations, including running a Florida dealership, until the empire sold to Sonic.
Massey preferred hiring from within; many current dealers went through the ranks in Plymouth. "Working with him was like having a Harvard-level education in the car business," Naszradi says. Massey's slogan — "your caring, servicing, selling dealer" was put in that order on purpose, Naszradi says.
Legends abound. Once Massey visited a Denver dealer, but "was so disappointed with the service," he bought the dealer out to "do him a favor … so he wouldn't defile the Cadillac name," Naszradi says. The Cadillac King insisted his salespeople be well-groomed and -dressed. Often, bonuses wouldn't be cash, they'd be a visit to a high-end clothing store. Clothes were a tool, says Massey's daughter, Brenda. And to him, the customers were king. "The key to my dad's success is that he remained gratefully happy to be in a business he loved," she says. "In all my life, I never heard him complain about a customer." As for constantly hearing Dad on the radio? "It was like hearing him at home. He was a very upbeat, optimistic person."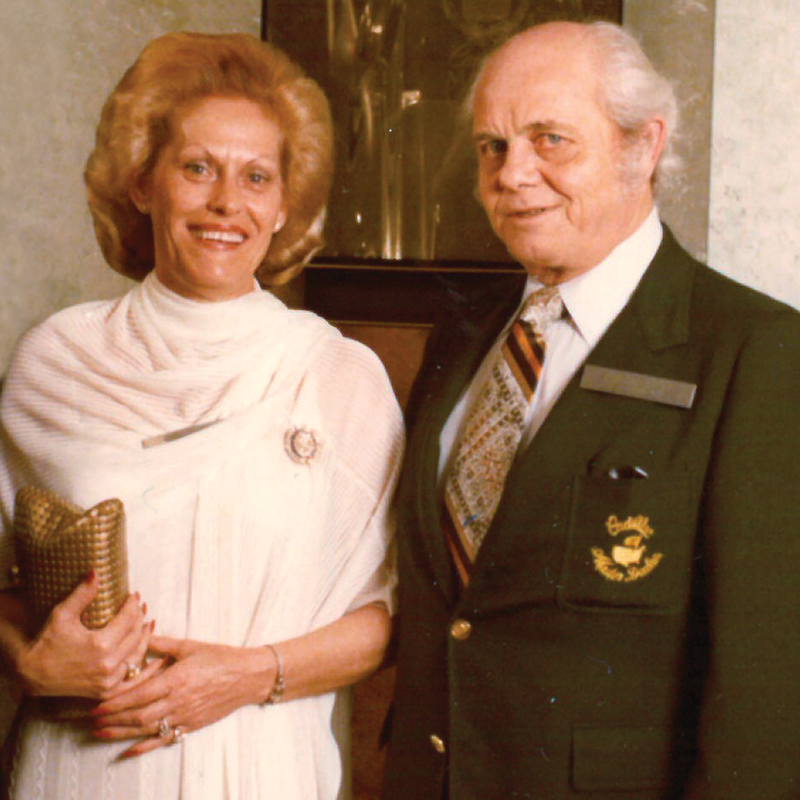 Massey's life wasn't all storybook happiness. In 1983, his wife, Joyce, suffered a traumatic brain injury in a tragic car accident. After a two-week coma, she regained consciousness, but her ability to speak, eat, and move was seriously impaired. He cared for her until her death in 1993.
Massey's wish was to form a foundation in Joyce's memory. Brenda, as president, made substantial donations in 2015 to University of Michigan's University Hospital's adult emergency department, creating The Joyce and Don Massey Family Foundation Emergency Critical Care Center.
His generosity extended to Madonna University, as well. Brenda recalls one of the sisters would explain the university needs, and "he never could say no." He donated a number of Cadillacs for raffles, with proceeds going for scholarships.
The Massey Estate is off Eight Mile Road, but the surrounding neighborhood evokes the area's rural roots. Just a short walk down the road are Parmenter's Cider Mill, Northville Winery and Brewing, and, since 1827, Northville Lumber.
The Massey Estate property isn't technically in Northville, says real estate agent Anthony Gargaro. Everything south of Eight Mile is considered Northville except this slice of Novi property.
According to the Chase Farms Homeowners Association, the property was originally founded by the Yerkes family in 1826. In 1922, after a fire destroyed the original structure, former prosecuting attorney for Wayne County George Yerkes built the current structure.
Massey isn't the only entrepreneur with auto roots to live here. In 1937, Yerkes' son Robert sold it to William Chase, inventor and owner of Shatterproof Glass. Chase also farmed the land until 1960, retiring after Eight Mile construction cut his farm into pieces. Development of the Chase Farms subdivision north of Eight Mile didn't begin until 1990.
Chase died in 1985 and the house sold to Larry Bennett in 1989. The founder of Premiere Video, an avid golfer and member at nearby Meadowbrook Country Club, sold Massey the home in 1997. Although Bennett and his wife extensively remodeled the estate — including stripping paint, replacing windows, and bricking driveways — Massey put his own stamp on it, adding the wrap-around porch and veranda. Naturally, his home needed to look as sharp as his salespeople.
Today, the Massey Estate's asking price is $3.5 million. The grounds include the main home, guest house, outdoor pool, a charming stone bridge, greenhouse, tool shed, and heated carriage house. The main dwelling features a lower-level brick wine cellar, a paneled office off the living room, and a sunroom off the master suite. Part of the parcel is split off from the main grounds: a triangle bordered by Griswold, Old Baseline, and Old Novi Road, with wetlands and a stretch of the Rouge River upstream from Mill Race Historical Village.
The property's future is up for grabs. Someone might love the existing structures and keep it intact, or it could be developed. Although many locals hope the noteworthy house remains unscathed, Gargaro's website poses other possibilities for the dwelling, including parceling the property into sites upwards of 40 homes commanding $700,000-plus.
Today, the Novi/Northville area is a hot commodity. Its central location is just a half-hour from Ferndale or Ann Arbor, and a similarly brief commute to downtown Detroit or Detroit Metropolitan Wayne County Airport. Whoever lives on the property will be within walking distance of downtown Northville. And yes, taking a cue from Massey's memorable radio commercials, it's just minutes away from the "magnificent community of Plymouth."