DuMouchelles Fine Arts Auctioneers and Appraisers
Detroit, 313-963-6255, dumouchelles.com (prices listed are the estimate range given by the auction house)
Hamilton Manufacturing Company Cabinet with Stamping Equipment, $750-$1,000.
Louis Vuitton Steamer Trunk, $1,500-$3,000.
China sets, from $125-$800.
Wedgewood Fairyland Lustre Punch Bowl by Daisy Makeig-Jones, est. $3,000-$5,000.
Max Shaye acrylic on canvas painting, $100-$200.
---
Judy Frankel Antiques Center of Troy
Antiques Centre of Troy, 248-649-4399, judyfrankelantiques.com.
Deco glass bar sets, $1,695 ea.
Orange Capron Vallereuz vase, $2,195.
Ivory tusks, $3,000/pair.
Murano glass "Stone" lamps, $2,495 ea.
French Twig Jardinieres from Ardeches Mountains, $3,295/pair.
---
Vogue Vintage Antiques and Collectibles
Pleasant Ridge, 248-546-1555, voguevintage.net.
Winchendor Mid-century walnut table and chairs, $995.
Brass bangles, $30-$75.
Florentine (Italian) gold-trimmed smoking set, $125.
Embroidered velvet cigarette case, $40.
Vintage buttons and cufflinks, $165-$195.
---
Michigan Design Center Interiors Furnishings
1700 Stutz Dr., Troy, 877-393-0330, michigandesign.com.
Saber-Toothed Tiger Skull, $495, Michael Coyne, 248-649-6540, michaelcoynedesign.com.
"Linyi Fret" embroidered grass cloth wallpaper; "Don't Fret" chair fabric in Lettuce by Mary McDonald; Borghese Bergere Chair, Schumacher Furniture Collection; F. Schumacher & Co., 248-649-4941, fschumacher.com (EDITOR'S NOTE: This is a web correction. The chair was misidentified in the May 2013 print edition of Hour Detroit.)
Ceramic jacks by Kaiser Suidan, $275 ea., Michael Coyne Design, 248-649-6540, michaelcoynedesign.com.
Turquoise leather wingback chair, $9,340, as shown, Baker Knapp & Tubbs, 248-649-6730, bakerfurniture.com.
Martha Sturdy bronze knots, $835-$1,285, Baker Knapp & Tubbs, 248-649-6730, bakerfurniture.com.
---
Scott Shuptrine Interiors Premium Home Furnishings
Royal Oak, 248-549-9105, scottshuptrine.com.
Houndstooth throw, $430.
Aqua Raffia side chest, $2,280.
Black canvas coffee table with cream trim, $949.
Petrified wood side table, $940.
"Stella" dining chair, $450 ea.
---
Leon & Lulu's Lifestyle Store
Clawson, 248-288-3600, leonandlulu.com.
Ceramic owl vases, $25 ea.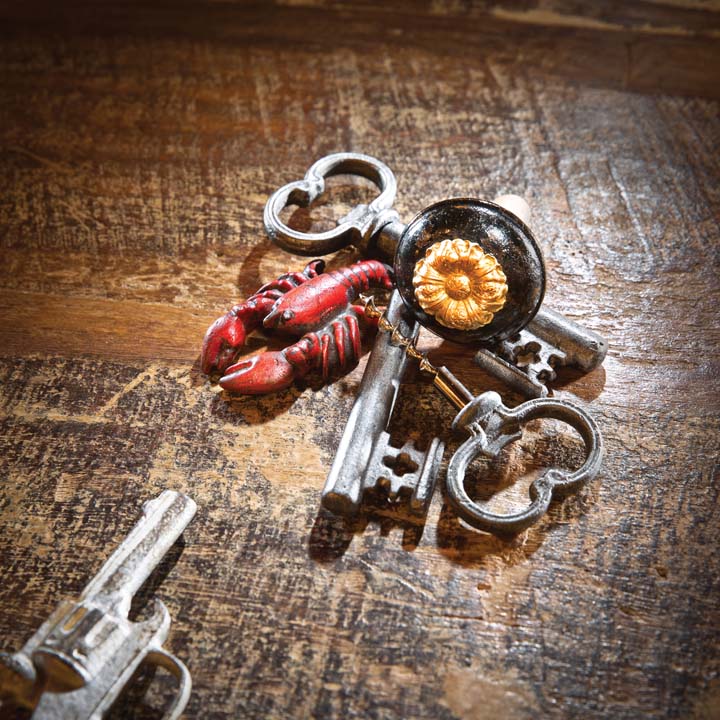 Bar tools (bottle openers/corkscrew/wine stopper), $33-$35
Nostrum bottle glass lamps, $130-$280
Vintage giraffe, $1,590
Silver arrow armillary, $300
Facebook Comments