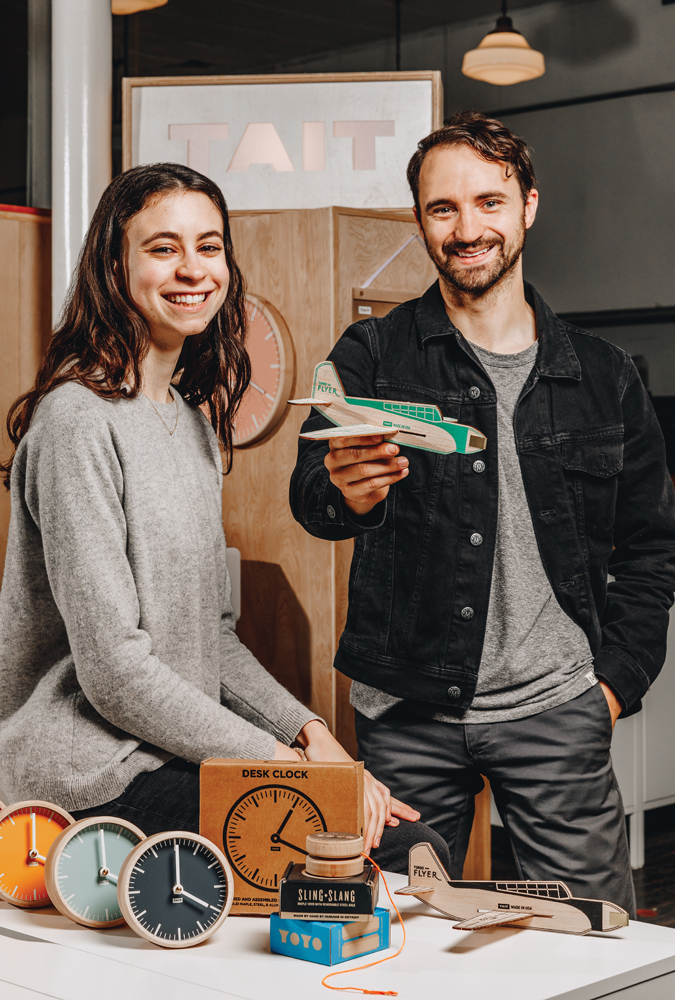 Model airplanes may seem like a nostalgic throwback, but at Detroit-based toy and homeware company Tait Design Co., they're flying off the shelves.
After building up an inventory of balsa plane kits, which he had initially designed as gifts for his young nieces, founder Matt Tait, 35, launched taitdesignco.com in 2013. Today, he and co-founder Audrey Elkus, 22, have sold roughly 40,000 plane kits, now better known as Turbo Flyers, around the world.
Then a sophomore at Wellesley College in Massachusetts, Elkus approached Tait about a summer job at his company. "I thought there was a whole team," she says, later learning that Tait was the sole employee. Since graduating in December, Elkus has now become a full-time partner.
Elkus and Tait work out of what was once a Grosse Pointe Park post office, aptly named Post. Tait goods are assembled in the United States and often, in Detroit. The duo plans to expand their product offering to include wall-clocks, out this month, and a Turbo Flyer ornament to celebrate the holidays. "We're trying make people happier — add a little something to their day," Elkus says.
---
Visit taitdesignco.com for more information.
Facebook Comments