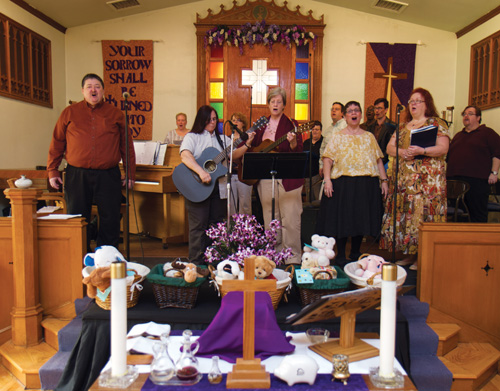 Every Sunday morning in Ferndale, two houses of religion share a roof — and nuanced differences.
Inside one door is the Drayton Avenue Presbyterian Church, which has been a part of the community for 80-plus years. At the other end of the building, a flimsy lawn sign reading Metropolitan Community Church of Detroit (MCCD) beckons worshippers to enter an intimate space where the Christian Ichthys is rainbow colored. The vibrant fish represents a fellowship that has filled a need in metro Detroit for 40 years.
"It's where I found home," says the Rev. Jim Lynch, MCCD's interim pastor. Lynch joined the Metropolitan Community Churches (MCC) fellowship in 1975 and became a clergyman in 1987. He has since worked with MCC branches around the country. As MCCD's 40th anniversary approaches this summer, Lynch says he hopes to see human rights continue to improve.
In the more than four decades since the Rev. Troy Perry founded the MCC fellowship, 222 congregations have been established in 37 countries, where they serve thousands of people regardless of sexual orientation or religious background.
"The MCC has found its freedom to develop an identity that's relevant to its locality," says the Rev. Neil Thomas, 46, senior pastor at Metropolitan Community Church Los Angeles, which was the first MCC location. "[MCC] enables a relevant local response to the needs of its community."
In addition to religious service, Thomas says MCC also provides community assistance in the areas of homelessness, green issues, poverty, immigration, substance abuse, and relationship counseling.
At MCCD, member families are mixed and matched in a variety of pairings. It's a place, they like to say, where GAY means "God adores you."
"Young adults that are growing up in fundamentalist religious households, and when negative rhetoric is some way reinforced by the rhetoric in the media, when you put those layers on top of someone who is already struggling to find themselves, we now know the consequences," says Thomas, referring to the 2011 rise in lesbian, gay, bisexual, and transgender (LGBT) youth suicides.
"I knew that there was a difference between church law and practice," says Thomas, who has known he was gay since age 15 and came to the MCC congregation from a Mormon upbringing. Thomas adds that, while he hopes LGBT youths can have a strong relationship with religion, sometimes religion can be used to drive people away.
"I believe Jesus meets us where we are, and if we are meant to be something different, he will see us through it," Lynch says. He says people are often forced to choose between their sexuality and spirituality — a choice he calls  "not fair."
Drayton Avenue Presbyterian has licensed space to the MCCD for more than 25 years. Although the churches are unaffiliated and may differ, they share a mutual respect. "I think they're serving a constituency that has been excluded from many other denominations," says the Rev. Scott Miller, Drayton Avenue pastor. He says the welcoming atmosphere of the MCCD and Drayton Avenue Presbyterian is what makes things work.
"Our policy is to welcome all persons regardless of their background," Miller says. "I think [MCCD] still serves a very important purpose because there's still a lot of injustice that has not been resolved and discrimination that has not been dealt with."
---
If you enjoy the monthly content in Hour Detroit, "Like" us on Facebook and/or follow us on Twitter for more frequent updates.

Facebook Comments