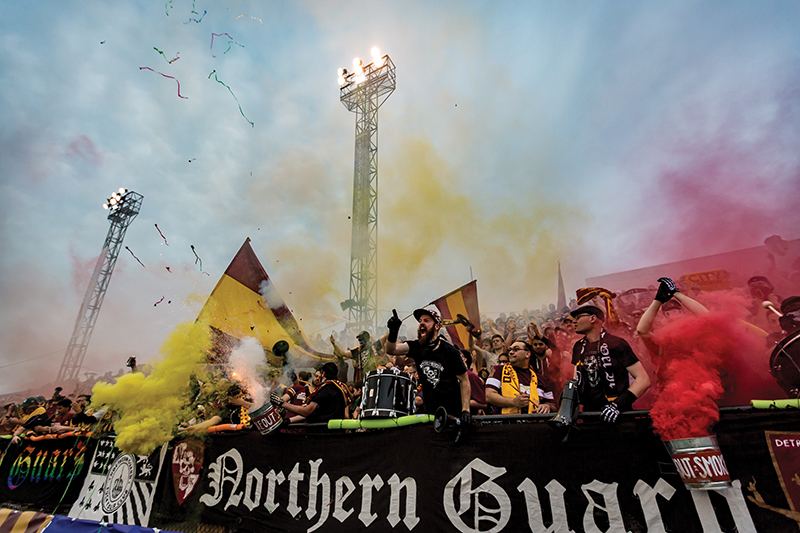 Whatever the antics, the Northern Guard Supporters are one crazy group of soccer superfans. They're boosters on steroids. They're hard-core and singularly dedicated to making as much noise as they can about Detroit City Football Club — the more outrageous, the better.
Fans have been intimately intertwined with DCFC, now entering its ninth season, right from the start.
Before the team got going, the owners reached out to soccer buffs to ask what they'd like to see in a club. Meanwhile, when brothers and lifelong soccer fans Ken and Gene Butcher got wind of the new team, they knew exactly what to do.
"When we heard the news about Detroit City starting up, we pretty much said we want to be part of a supporter group," says Gene, a Waterford firefighter and Northern Guard president. "We knew we wanted to do South American-Eastern European type of support: drums, chanting, nonstop, wild, crazy.
"At the first game, I actually brought a bunch of smoke bombs into the stadium and lit them all up. As we grew bigger, it kind of got more intense — more smoke, more drums, and on it went. We haven't stopped since."
In fact, Northern Guard "exploded," Gene Butcher says, attracting more than 1,000 fans to the team's initial games at Cass Tech High School, where they played the first three years. After DCFC raised money for renovations at Keyworth Stadium in Hamtramck, the team moved and the crowd grew even bigger with seating for nearly 8,000.
There are no membership dues. As for criteria to join?
"A lot of people ask, 'What are the requirements to be in the Northern Guard?'" Gene Butcher says. "They are: sing loud, support, support hard, just love the club. No racists, no homophobia, no sexism. None of that nonsense. We won't tolerate hate."
Northern Guard doesn't claim a membership count. It's just a loose-knit group of diehards who have become like family over the years, says Dean Simmer, who lives in Corktown and is one of the Northern Guard "capos" leading chants during games. Besides raising money for a variety of Detroit-based charities, they do the same for each other, taking up collections for car repairs and throwing baby showers.
They rallied around member Amanda Jaczkowski after she was critically injured by a truck while bike riding in 2017. In a new video from Eightfold Collective, City Til I Die, she says one of her primary objectives after the accident was to get well enough "to be able to stand up on a stepladder for approximately 90 minutes."
"That was my goal for recovery," she says in the film. "I'm going to get back in the stands."
And she did.
Kurt Schneider, one of Eightfold's founders, notes, "As I got to know some of the group members, what really fascinated me about them was the fact that behind all of the smoke, masks, and F-bombs was one of the most loving and supportive communities that I had ever seen."
Standout DCFC Supporters
DCFC head coach and general manager Trevor James, who has coached and scouted throughout the U.S. and Europe, says Northern Guard is "unlike anything you ever saw anywhere else." Their reputation precedes them, and they were a factor in his decision to take the job in January 2019.
"It really made me want to do it," he says. "They help the club in any way and help players have a great experience in Detroit."
That makes Northern Guard a huge recruitment tool, he adds.
"The players know they're going to be playing in front of 6,000 to 7,000 people," he says. "Some teams, they don't get 100 people or 200 people to games."
And at game time, Northern Guard provides motivation.
"The players want to play in that atmosphere and don't want to let people down," he says.
When they can, Northern Guard members attend away games, too. Simmer recalls a game in Pittsburgh once where only about 18 people in attendance weren't part of the Detroit contingent.
CEO and team co-owner Sean Mann tells a story about a Cincinnati game where DCFC scored a come-from-behind winning goal with about 50 Detroit fans on hand.
"Our fans started setting off smoke bombs, and sure enough, the fire department showed up — absolute pandemonium," he says.
"Every step of the way, there have been experiences like that."
But the point is that Northern Guard has been there every step of the way.
"Once we kicked a ball, really, the core of the Northern Guard kind of showed up out of the blue," says Mann, noting that members hang out at DCFC's Clubhouse bar-restaurant near Belle Isle with players and staff and that many have his cell phone number.
"Outside of Major League Soccer, only five or six teams have as big or bigger fan bases than we do."
Waiting out the virus
If anything can rain on Northern Guard's parade, it could be COVID-19.
Because of the pandemic, the spring season for the men's team, which just went pro this year in joining the National Independent Soccer Association, was cut short just as it started. DCFC's new amateur women's team was also sidelined going into the summer.
"It's a huge punch in the gut right now," Gene Butcher says.
Still, hope looms.
As of press time, the women were scheduled to play in a showcase July 24-26, and Mann says plans for the men's fall season are in the works.
What that will look like — and if fans will attend — will depend on guidance from the governor's office.
"The anticipation is nonstop," Butcher says. "We can't wait for the team to be back on the field."
Facebook Comments