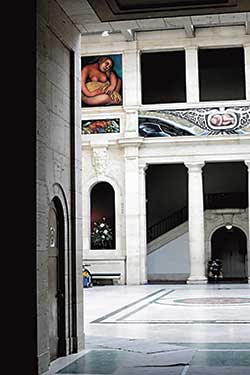 32 REASONS TO VISIT THE DIA
1. Get surreal: Visit art's wild side by examining DIA-owned works by Tanguy, Miro, and Ernst.
2. Walk the walk: With gallery space enlarged by 30 percent and an improved navigation system, you'll get a lot of healthful walking in; think of it as art for the heart.
3. Put your thinking cap on: Buy a The Thinker (after Rodin's sculpture) baseball cap from the newly expanded DIA Museum Shop.
4. Get to the point: Try counting the little dots (without going loco) in a pointillist painting like Willard Leroy Metcalf's The White Veil.
5. Chow down: Taking in all those paintings works up an appetite. The Café DIA serves up culinary arts for famished visitors.
6. Catch a flick: The museum doesn't house just fine art; the art of cinema thrives there, too. The renovation and expansion project includes a new loggia and entrance for the Detroit Film Theatre, in operation since 1974.
7. Go Dutch: With masterworks by Rembrandt, van Ruisdael, and others, The Dutch Golden Age, which explores such facets as how commerce affected art and what landscapes signify, is a prime example of how the reinstalled galleries allow visitors to look at art in a fresh and unexpected way.
8. Get out: Not all of the DIA's collection is inside. Examine some of the sculpture on the outside grounds, such as Tony Smith's Gracehopper.
9. Say hurray for Cret: Although the emphasis is now on the DIA's new sections, don't neglect to appreciate the design of Paul Philippe Cret (say Cray), the French architect responsible for the 1927 Beaux Arts-style central building.
10. Wave the flag: The DIA houses one of the top collections of American art in the world, from Whistler and Cassatt to Sloan and Sargent, so do your patriotic and cultural duty and visit the American galleries.
11. Go off the wall: Look (really look) at Rivera's Detroit Industry murals and find something you never saw before.
12. Get some class: With two art studios and a kiln as inspiration, take a class in the new Education Center.
13. Go outside the frame: If you tend to gravitate to the same galleries, expand your horizons and visit one you've never paid attention to in the past.
14. Make Fridays fun: The museum stays open late on Fridays, with musical performances, storytelling, artist demonstrations, special tours, and other activities.
15. Get naked: Find as many nude paintings and sculptures as you can without blushing.
16. Have a 'Nightmare': Look at Fuseli's bizarre The Nightmare, and try not having a bad dream.
17. Love your mummy: Walk like an Egyptian to the mummy exhibit.
18. Face facts: Take a gander at van Gogh's 1887 Self-Portrait, and be proud of the fact that the DIA was the first major museum to purchase a van Gogh.
19. Find a knight in shining armor: In the Great Hall.
20. Order Italian: "The Grand Tour of Italy" is among the new museum attractions. The galleries showcase the kind of art that 18th-century gentlemen once saw (and sometimes collected) while traveling in Florence, Rome, and Venice.
21. Be neighborly: Take a short jaunt over to the College for Creative Studies (John R and Kirby) to see the Josephine F. Ford Sculpture Garden, a collaboration between the DIA and CCS. The DIA has lent 10 of its sculptures to the garden, including Beverly Pepper's Normanno Wedge I and Raymond Duchamp-Villon's Le Cheval Majeur.
22. Look up: Tintoretto's Venetian masterpiece The Dreams of Men, out of view for 36 years, has been reinstalled as it was intended — on the ceiling.
23. Learn: Ongoing gallery talks and lectures take you past the broad strokes and leave visitors feeling a bit more enlightened.
24. Give a pat on the head: Artie the Donkey is the only artwork that visitors are allowed, and invited, to touch. He's on the second floor of the South Wing, right off the elevators.
25. Smile: The merrymaking (and funny pants) in Pieter Bruegel's The Wedding Dance is infectious.
26. Drop in: Museum workshops allow visitors to channel their fresh inspiration by creating something of their own, a puppet or percussion instrument, for example.
27. Pencil it in: Bring a sketchbook and writing tool, take a seat, and try your hand at rendering your version of great works.
28. Talk back: Tell curators what you think via four new gallery response stations.
29. Dress for success: Check out fashion through the ages that earned men and women a permanent place in cultural history.
30. Play favorites: Encourage youngsters to find a touchstone, a favorite piece of art that your family can return to time and again.
31. Paper view: The best of the DIA's graphic arts collection — more than 100 prints, drawings, and photographs — including Michelangelo's double-sided chalk and pen-and-ink drawing of 1508 showing decoration schemes for the Sistine Chapel ceiling — will be on display Nov. 23-March 2.
32. Bach for more: Spend a Sunday morning at Brunch with Bach, the long-running concert-and-brunch series at the DIA.
MIXING IT UP
Art works have been grouped differently to allow for context. New, and sometimes unexpected, pairings are designed to lend greater understanding of art and relationships.
"We're trying to arrange the art in ways that are more meaningful to a broad audience, not just arranging them according to categories known to art historians — style and period — so that people can relate to art in ways that make sense," says Jennifer Czajkowski, the DIA's associate educator for interpretation.
One fresh grouping, for example, will include Man with a Green Beard (oil on canvas, circa 1920) by German expressionist Karl Schmidt-Rottluff, Man Crossing a Square on a Sunny Morning (painted bronze, 1950) by Alberto Giacometti, and Waterfront (oil on canvas, 1940) by J. Francis Criss.
They're grouped together in the modern suite, Czajkowski says, because they illustrate how modern artists look at new uses of color, subject matter, and people.
The Schmidt-Rottluff painting is a vibrantly colored portrait of a man that Czajkowski says "uses the emotional impact of color to evoke a mood."  The Giacometti sculpture is a very elongated figure of a man that plays with perception to capture the essence of a person walking. Czajkowski says it's an example of "how modern artists are simply trying to replicate the essence of a living, breathing person."
And the Criss landscape is an industrial scene. "In the past, landscapes would have been pastoral scenes," she says.
There's another layer that adds even more significance to new displays. "Over the paintings, we're projecting very gentle phrases to convey what the art is about," Czajkowski says. "The idea is to give visitors a little nugget, something to think about while they look at the art. Not just,  'Oh, that's pretty,' or 'I like that.'"
A CHANGE OF SCENE
Gallery walls have been painted in striking colors with nearly 61 hues in the south wing alone, and hundreds altogether. DIA staff began the interior-redesign by seeking input from visitor panels who participated in daylong sessions that tapped their opinions on museum displays. The focus groups were shown images of many different gallery installations and then asked to comment about the color and lighting. The panel preferred strong colors that enlivened gallery spaces, particularly with accent colors marking thresholds and transitions.
Armed with that feedback, gallery designer Barbara Charles worked with curators to determine colors for their collection areas. Comparing art with paint samples, they chose colors that worked aesthetically within the context of art history. Hues include those that might be seen in a 19th-century American home, for example, or in public architecture of 18th-century Rome.
The new view also includes standardized display heights throughout. All works will now be viewed at 5 feet off the floor, which is more comfortable for those shorter than 6 feet tall.
PUSHING THE ENVELOPE
If there's any doubt that the DIA is setting a new course, consider this: Tattoo artist Chris Nuñez will be applying his craft, in the form of temporary ink designs on the well-groomed hides of willing guests at the grand reopening gala, Arts Alive!, on Nov. 10. His presence, along with the Barcelona-based hair sculptors called Osadia, shakes up tradition by taking a youthful approach to classic art-museum culture.
"We wanted to bring in a broad spectrum of the arts that appeals to all different demographics," says museum spokeswoman Pam Marcil. "We wanted this gala to be a complete departure from other Under the Stars galas." Tattoos and hair sculpting are symbolic of the more interactive museum experience, one that will include four gallery response stations where visitors can share feedback on the art they've viewed.