The Detroit Institute of Arts' masterpieces have been threatened recently with the possibility of being auctioned off to pay part of Detroit's debt in bankruptcy court. It is still unclear if they are safe. But despite the situation, Bruce Weber, who has had photos featured in Vogue since 1978 and most recently shot Shinola's national ad campaign, has partnered with Condé Nast to offer an exclusive DIA exhibit titled Detroit: Bruce Weber. Since 2006, Weber has visited Detroit sporadically. The exhibit celebrates the rich culture of Detroit and its residents. In an exclusive interview with Hour Detroit, we asked Weber about his time spent in the city and his view of how it's changed.
Q: What is it about Detroit that intrigued you?
A: I first visited Detroit in 2006 while on assignment for W Magazine with Kate Moss. … I was struck by how warm and welcoming everyone was. … People from all different walks of life — students, stylists, writers, athletes. … I felt that welcoming spirit, which as an outsider working in a new city meant everything. I returned in 2013 [for] Shinola. The owner, Tom Kartsotis, has a great love and respect for the city. … His enthusiasm carried over to everyone who worked on the job. Shortly after we finished, I spoke to Anna Wintour at Vogue and told her she should really visit Detroit. … She said, "It's funny you say that — at Condé Nast we have been wanting to do a project there. Would you be interested in doing an exhibition?" That's how the partnership with the Detroit Institute of Arts got started.
Q: You've said, "When a kid grows up in Pennsylvania and ends up in the arms of Elizabeth Taylor, Allen Ginsberg, a pet alligator, and a dog named Palomino, he's got to have a story . …"
A: My dad was a great photographer and filmmaker, as was my grandmother and uncle. … We would get together and take pictures and make home movies in the backyard. I experienced the same family feeling with the projects I have done so far in Detroit.
Q: Any stories from your time in Detroit for W?
A: When Dennis Freedman (then creative director of W Magazine) and I were working on planning our first trip to Detroit, we asked Jennifer Venditti to help us with casting residents. … We were going to be photographing Kate Moss, and wanted to find a gentleman who could play her love interest. [She] spent lots of time traveling around meeting people, and sent back this amazing photo of a young guy wearing a suit — he had amazing long hair pulled back in a ponytail and an incredible face. We asked Jennifer, "Tell us more about this guy, he looks really special." She said, "Oh, no, that's a young woman named Aungelique — I met her at her prom with her date. She's an amazing poet." We decided immediately that she would be Kate's date for the W story. Aungelique was incredible. … I ended up publishing a small volume of her poetry titled Live Here, Rent Free. I also paired Kate up with a boxer from Detroit named J'Leon Love. … We met up with him first at Kronk Gym. His mother and sisters were watching him practice in these elegant outfits — they looked like they were headed to church, but there they were in this gym. So one moment it was Kate and Aungelique, the next moment Kate and J'Leon. Everyone on that job had so much fun.
Q: What did you intend for the Shinola campaign?
A: I don't really ever go into any job or experience with an agenda that's too strict. … I like to approach [it] like an adventure story and allow for surprises and discoveries along the way. The people we met who worked for Shinola … were as excited about making something beautiful as I was.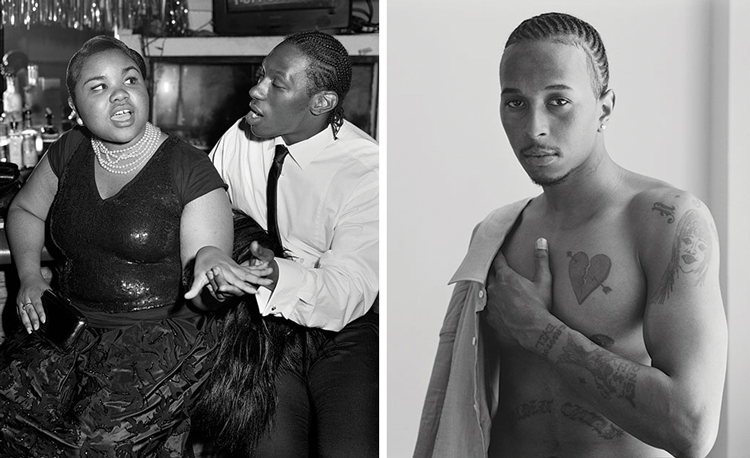 Q: As an outsider with a photographer's eye, what is your view of the Motor City?
A: I did feel a change in Detroit. … I noticed lots of little gardens where once there had been empty lots. New buildings seemed to be going up. … There was a lot of hope in the air. When I was there last, I met and photographed another talented poet, Natasha Miller, who uses the word magical to describe her hometown. I have to agree with her.
Q: Eight percent of photos from the 2014 World Press Photo Awards were disqualified due to manipulation. What is the current state of photography?
A: I'm old school in lots of ways — I still shoot all my pictures on film. It's all I know. I have nothing against digital photography [but] I like the anticipation of traditional film — waiting for your negatives to be developed, and then the contact sheets arrive like a great Christmas gift, wrapped up in a bow. Sometimes you open the box and it's the perfect gift, and sometimes you find something you'd rather just give away to someone else.
I don't like to retouch my photographs. To me, the manipulation of pictures in that way is discouraging. I can't imagine doing that with photographs like the ones that appear in this exhibition — it would take the life out of them.
Q: Which photographers do you collect?
A: Some from galleries, some from exhibitions and auctions, and others from flea markets. A famous designer asked me, "How will I know if a photograph is right for my collection?" And I told him, "If it makes your heart beat a little faster." I like to collect old expedition photographs from Antarctica, the South Seas, the Himalayas [and] works by Edward Weston, Paul Strand, and Walker Evans.