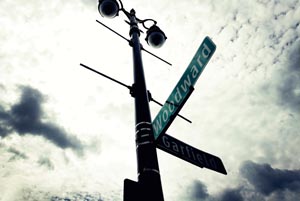 On a sunny weekday morning, a landscaper waters fledgling maple trees that line a bustling urban thoroughfare in front of a recently restored building. After dousing each trunk, he drives the watering truck a few feet, avoiding the cars that sit on the newly bricked parking area. His reflection appears in the building's front windows, which display wooden shelves supporting worn containers of old-fashioned remedies such as zinc oxide, spearmint leaves, and arnica root. The display — and the Albert Kahn-designed Garfield Building itself — reflect a time when scenes like this were not uncommon in Detroit. And, if developers and Midtown boosters have their way, the up-and-coming Sugar Hill Arts District will soon attract more creative displays, as a growing number of artists set up shop in the area.
A one-and-a-half-block district bounded by Woodward, East Forest, John R, and Garfield, Sugar Hill was once the bastion of Detroit's African-American jazz scene — one of the few districts where white and black could mingle — until the 1960s, when Detroit's urban-renewal policy led to a 40-year deterioration of the area. Things began to slowly turn around about 10 years ago, when the vacant Garfield Building was revived as a Rite Aid at street level with lofts above. In 2003, Sugar Hill was placed on the National Register of Historic Places. Three years later, a former car dealership across the street was transformed into the Museum of Contemporary Art Detroit (MOCAD). Now, the N'namdi Gallery Art Complex on Forest nears completion, and other developments are beginning to see the light of day.
"With MOCAD opening, and the N'namdi Gallery, it really made sense for us to make them anchors for creating an arts district around them," says Sue Mosey, president of the University Cultural Center Association, a group devoted to the development of Midtown. "We're constructing a walkway system that will tie the whole district together. It will have lots of landscaping and pedestrian lighting and places for public art." It will also act as an outdoor performance space for musicians and a patio area for Seva, the Ann Arbor-based vegetarian restaurant that's opening a second location in Sugar Hill.
"Our main focus at first will be lunch, because of the proximity to the medical center," says Seva owner Jeff Jackson. "We will hopefully offer something different [to the area]." Because a portion of the restaurant will be in the N'namdi Gallery, the décor be more modern than its Ann Arbor location.
Much of the Sugar Hill development is centered on Garfield Street, which cuts through the district. Last June, 71 Garfield opened with apartments and 20 live/work artist studios. The super-green building employs geothermal heating and cooling, solar power, LED lighting, and a rooftop water-collection system to minimize environmental impact, and to garner the tax credits that helped make the project possible. Funding came from a HUD loan, a community development grant from the City of Detroit, a $2.5-million grant from the New Economy Initiative of Southeast Michigan, and funds from the Michigan Council for the Arts and Cultural Affairs.
Next to 71 Garfield, plans for what is dubbed The Sugar Hill Building call for 20,000 square feet of retail space, a parking deck, and 44 units of housing, which, Mosey says, should be ready by next year's end.
If location is the most important element of real estate, then Sugar Hill certainly has that in its favor. The district sits just four blocks south of the Detroit Institute of Arts, two blocks southeast of the Wayne State University campus, and it borders the VA Medical Center. The first phase of the planned M-1 light rail would stop just two blocks away and the district anchors the southeast corner of the Midtown Loop, a two-mile pedestrian greenway linking Midtown's scattered highlights.
"Having people walking and biking more in the neighborhood will help the district," Mosey says. "There's been a lot of new business development [in Midtown] in the last three to five years, and a lot more is coming in now."
If everything goes as planned, over the next decade Sugar Hill will develop into the sweet center of Detroit's creative corridor.
Facebook Comments