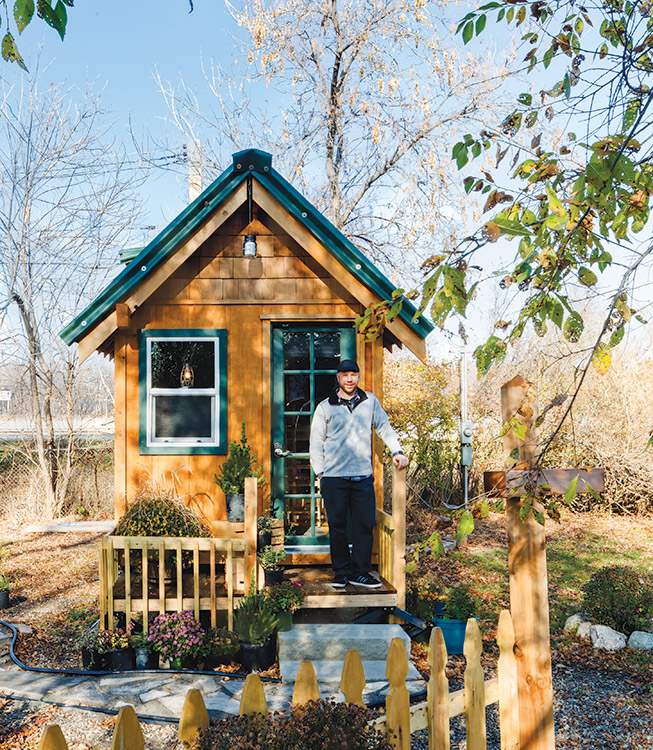 For the holiday season, Richard Brown has only one decoration: a green stocking.
It's not because Brown hates the holidays. It's because when you live in 165 square feet of usable space, you get selective about your possessions. But Brown's tiny house isn't bare; colorful, contemporary prints adorn the walls, a shelf holds a diverse collection of books that includes Wood Pallet Projects and Men Are From Mars, Women Are From Venus, and a little pillow that says "home sweet (little) home" beckons visitors to sit down in the Ikea-style chair.
Before he downsized his possessions to the essentials, Brown had a typical suburban life, living in a conventional 1,200-square-foot house in Southfield. But after some life-changing events including the end of a relationship, it was time to figure out next steps. For a year and a half, he weighed his options. Get an apartment or condo? Rehab a house?
But as he did more research, he kept seeing tiny houses, "which made sense," he says. He learned how to build from a custom homebuilder in Colorado, then started building in his parents' driveway in Plymouth. After the house was done, he moved to Whitmore Lake, where he's lived for two years.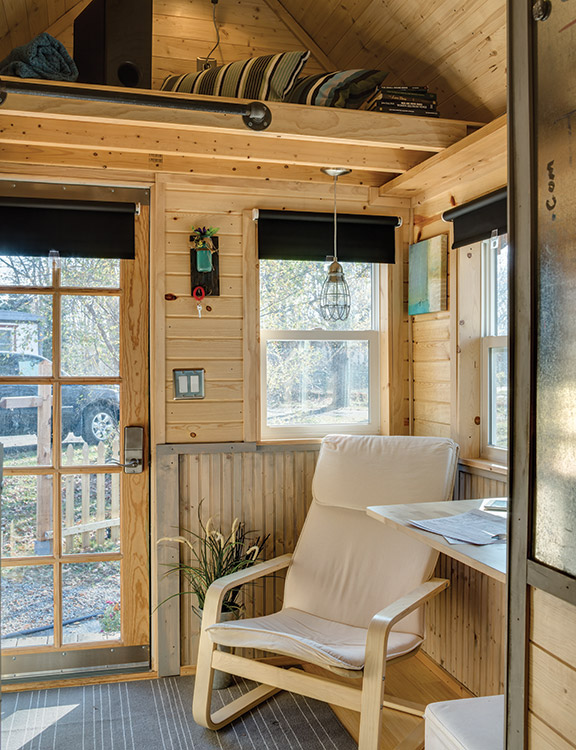 Tiny houses are more of a trend in areas where affordable housing and space are at a premium, such as in Seattle or Portland, Ore., and it's attracted a lot of attention among those interested in leading a minimalistic lifestyle. Tiny houses can be anywhere from 80 square feet to practically palatial at 400 square feet. They can either be on a foundation or on wheels, such as the ones built by Tumbleweed Tiny House. The company recently held a workshop on building your own tiny house in Ann Arbor that drew about 100 participants. Locally based Facebook groups are dedicated to the idea of owning a tiny home.
"The tiny-house movement — the idea to live a big life in a small Henry Thoreau-like cabin — has become almost a trend or fashion in recent years," says Roland Graf, a University of Michigan professor who taught with graduate student Cameron Van Dyke an experimental architecture class at U-M's Stamps School of Art and Design in 2014 to design and build a tiny home for the homeless community in Ann Arbor (see sidebar below). Their project generated a lot of interest, including from the TV series Tiny House Nation and the students, who wanted to build their own homes instead of paying rent while in school, Graf says.
It's not just budget-conscious students interested in tiny houses. Brittany Roberts, who lives in Clinton Township and also started her own group on Facebook called Building Tiny House in Michigan, dreams of building a tiny home for her family of four and can see herself living there long term. "The whole tiny-home journey in my opinion is about letting go of all material things and enjoying a more simplistic lifestyle that puts values on morals, lifestyles, unity with the earth and people," she says.
But as interest grows in fitting entire lives in less than 200 square feet, so do the potential headaches of figuring out how tiny homes fit in with building codes and regulations.


Jonathan Bellows' tiny house brings him a lot of pride — and a lot of heartache. The former Flint resident began building his 130-square-foot tiny house in 2009 on his sister's property in Flint. It took him about a year to build the home and he lived on his sister's land for a while. But then his sister sold the house so he had to move. For a while he was "squatting" at his uncle's property, but then the uncle sold the house, forcing him to move again.
He started going to town hall meetings to get approval to put his tiny house on a permanent site and kept hitting roadblocks. There was no way to do it legally in southeast Michigan, he says. He then focused his efforts on finding wooded property where he could put his house, and where it would be difficult to spot from the road. He purchased 4 acres of land and moved the house there.
"I knew full well what I was doing," he says of putting his house on the land even though it wasn't technically legal, adding that "there is just no legal pathway" to having a tiny house in southeast Michigan. But he was committed to his home.
He moved his house to his new property in September 2011. In January 2012 he came home one day and found a sticker from the township, he recalls. Bellows called the township and was informed that he couldn't live in the house, which was deemed an illegal dwelling. If someone was still living there in 30 days, it would be taken away. He moved to Oregon and left the house behind.
"It was heartbreaking to leave," Bellows says, his voice heavy with emotion as he describes feelings of relief and sadness over the situation. The structure sat vacant for a few years until a couple recently bought it, and they moved the tiny house to their property "somewhere in Ann Arbor."
Three years after Bellows had his zoning issues, Roberts finds herself facing the same barriers as she seeks to build her tiny house in metro Detroit, saying the biggest legal challenge she has encountered has been the minimum square footage. She's contacted several communities, including Rochester, Richmond, and Capac, all of which have minimum square footage requirements ranging from 800 to 1,000. Roberts adds if there was a way around this aspect, building a tiny house would be "smooth sailing."
After some research on some local governments' codes regarding tiny houses, Hour Detroit found there aren't many rules on the books specific to this kind of structure. In Troy, the zoning ordinance doesn't permit tiny homes in any of the single-family neighborhoods. Zoning districts have minimum requirements for lot size and floor area per unit, says Troy Planning Director Brent Savidant.
"For example, the R-1A district requires a lot area of at least 21,780 square feet and a minimum floor area of 1,400 square feet. The reason for this is to ensure consistency and compatibility and protect property values in residential neighborhoods," he says.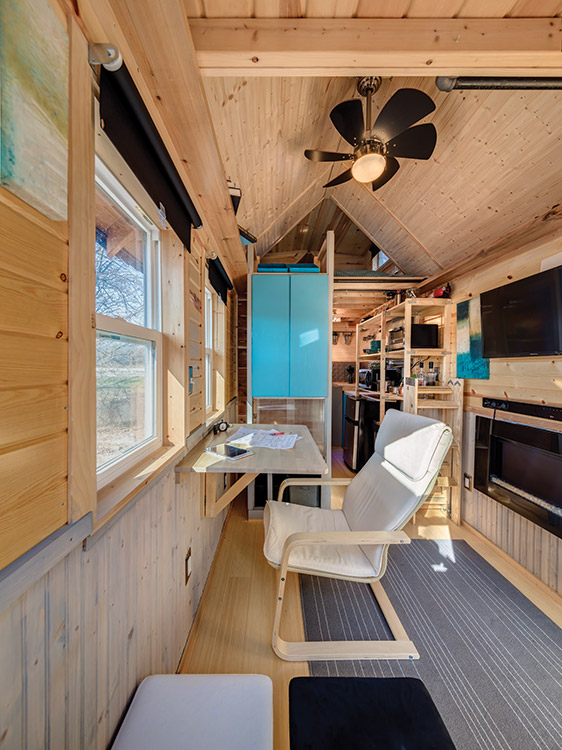 "Imagine a residential neighborhood with an average home size of 2,000-square-foot homes, (then) suddenly having a tiny house that is 90 percent smaller than every other home in the neighborhood. It would look out of place and potentially detract from the character of the neighborhood, as well as potentially reduce property values of neighboring homes."
Savidant says Troy is not a part of "the tiny-house discussion simply based on economics. Tiny houses tend to be located in more rural areas, where land prices are less."
The city of Ann Arbor has been the center for most of the interest in tiny houses in southeast Michigan. The council passed a resolution in June directing city administrators to advise on the practicality and legality of tiny homes in Ann Arbor.
Stephen Kunselman, a former Ann Arbor councilman whose term ended in November, sponsored the resolution in June after efforts to build a tiny-house community on city property fell through after safety concerns were raised. The goal of the resolution was "to try to dispel a lot of misinformation and misconception on what tiny houses are," Kunselman says, adding problems arise when people think " 'I can build my dream tiny house and put it on a piece of land within the city limits' not knowing that we have zoning regulations that require certain size lots or certain size structures."
Before settling in Whitmore Lake, Brown found the best arrangement in the mobile park community where his two tiny houses are located (the other one is a model home for sale).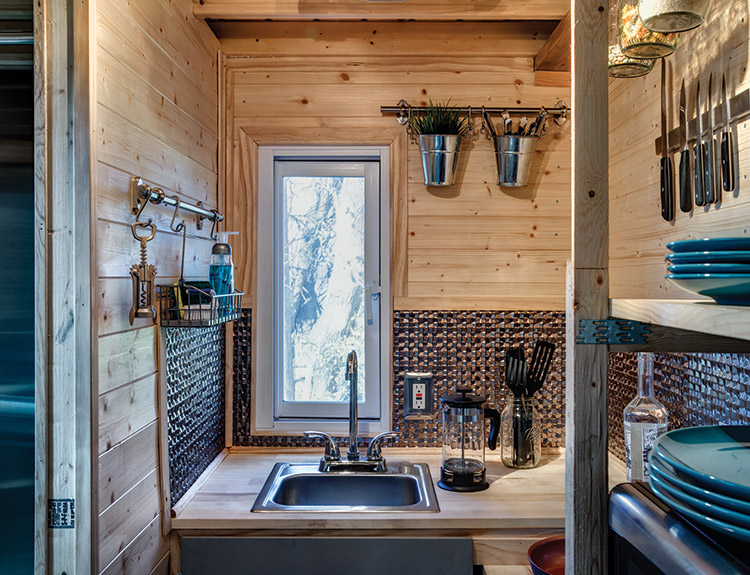 Another issue Brown notes is that people think it's easy and cheap. He spent about $20,000 for his house including materials and furnishings, but "you have to remember I was the labor," he says. "That's a huge cost people don't realize but I also spent hundreds and hundreds of man hours doing legwork, sourcing materials. That's not an easy undertaking."
Despite the challenges, he envisions redeveloping the land in Whitmore Lake where he wants to have a tiny-house community.
He custom builds tiny houses (so far, no orders but he entertains a lot of inquiries), but for the two he has built so far, they reflect his personal style. The exterior features cedar clapboard siding but it's not a little log cabin. Inside, there is a modern industrial feel, with exposed wood fasteners and a metallic backsplash in the kitchen, as well as features such as the entertainment system, LED lights, and a sleek heating element.
He also tries to repurpose materials such as the cabinet doors reclaimed from another project, recycled shipping pallets, and even an air duct used as a magnetic/dry erase board.
Bellows took it a step further by living nearly off the grid. He's proud of what he built: a home with solar panels, car batteries for electricity, a rainwater catching system – and a sawdust toilet. For the uninitiated, that's typically a bucket to do your business, sawdust to cover it up, and a lid.
Living green is a goal for Roberts, who, if she is able to find a place for it, wants to have similar features to Bellows' former home. Even if she had a million dollars to build her dream home, "I most likely wouldn't build any different than I currently plan to," she says.
"It is about trial and error, the DIY attitude, about being independent, no relying on society to supply your electricity or your heat or water. All things we use daily to 'survive.' Being self sufficient and not relying on anyone but ourselves is our goal."
Whether there is a top-end entertainment system or a waterless toilet, tiny-house owners and dreamers alike share a common goal: figuring out what's most important in life.
"So many people work all day to pay bills for a home that they never enjoy because they're constantly working," Roberts says. "Building a tiny home we would save so much money; we would be able to work less and spend more time homesteading with our family, which we love. We would have the financial opportunity to travel and learn and grow."
Tiny-house enthusiasts make it sound attractive, but they're still not a big deal in metro Detroit. Realtor Ann Peterson, who focuses on Oakland and Macomb counties, says she hasn't seen much tiny-house developments in metro Detroit but says she's seen several homes along the waterfront in Caseville in the Thumb.
"I don't think it's too far off in the future," she says of tiny houses, which is drawing interest among people who are looking for more affordable options and something to call their own.
There is a different mindset here, Brown says of why tiny houses haven't taken off here. "It's the Motor City, everyone has their space and car they drive everywhere. It's a little bit different than an urban sprawl environment where they're running out of affordable land in California or Vancouver so they're looking for alternatives.
"Those areas as well are a little bit more pedestrian friendly in terms of biking, mass transit. That's why (tiny houses have) been a little slow here … (but) it's coming."
*Hour Detroit intern Spencer White contributed to this report. 
---
Housing for the homeless: Two local organizations are looking at tiny houses as a way to address the issue
Tiny houses may have been glamorized by HGTV marathons and magazine spreads, but for advocates fighting homelessness in southeast Michigan, it's more than a trend — it could be a possible solution to the problem.
"It could be a game changer for poor people," says Rev. Faith Fowler, the executive director of Cass Community Social Services, a Detroit nonprofit that helps the homeless. They are in the beginning stages of planning a tiny-house community on their campus on the north side of the city with the goal to build their first house in the spring.
In Ann Arbor, the nonprofit M.I.S.S.I.O.N. A2, which works to support self-governing tent communities in Michigan in an effort to fight homelessness, envisions building a tiny-home community on their 3.5-acre property on Stone School Road.
The project grew out of Camp Take Notice, a tent community of homeless people. Roland Graf, a University of Michigan professor, and U-M graduate student Cameron Van Dyke have been working with Camp Take Notice and M.I.S.S.I.O.N. for several years. He learned that Camp Take Notice had similar plans to build a tiny-house community like the ones in Portland, Ore., and Seattle.
"This was reason enough to examine the tiny-house movement more closely and offer a class that tries to learn from, and respond to, the particular situation of Camp Take Notice in Ann Arbor," Graf says.
In fall 2014, the class was tasked to design a low-cost structure to address the challenges members of the Camp Take Notice community faces such as space constraints and lack of shelter and heat.
The whole process from conception to final product took a semester, with roughly the first half dedicated to research and design and the second half to building.
The Outlook, as the 80-square-foot house was named, was disassembled and ready for the organization. At the moment it's in a cargo container at M.I.S.S.I.O.N.'s property at Stone School Road as the organization tries to figure out the tiny-house community plans and get approval from city officials.
"It was certainly disappointing that we couldn't properly install The Outlook on site," Graf says. "Having said that, we knew about the risks involved in this project. That's why we understood The Outlook from the beginning both as a building and as a vehicle to raise awareness among different stakeholders in the planning process. … The reality is, local politics, especially in regards to zoning, can easily become a bigger design factor than wind and weather today."
Interim M.I.S.S.I.O.N. Board President Lynn McLaughlin says they are hoping to gain approval for their tiny-house plans by spring, after which M.I.S.S.I.O.N. will start fundraising. They envision building up to 100 tiny houses on the property, with clusters of 10 "spartan" structures surrounding a communal area that will include the bathroom and kitchen. The goal is that each resident will have their own tiny-house residence to help protect against the elements while having a sense of community with the shared spaces.
"Our goal is simply for those people who want to move out of a tent and into a more stable environment and move upward in the housing arena … that we could provide them with some sense of security," McLaughlin says. — Dorothy Hernandez 
---
Special delivery: shipping containers find new life as condos, plus more options for alternative housing
Containers are being reused and repurposed for all types of buildings, such as restaurants, offices, and shopping centers. It's also becoming a housing alternative, similar to tiny houses for those looking to downsize with an eye toward sustainability and green living.
In Detroit's Corktown neighborhood, developer Three Squared has completed the model development Trumbull Squared, which features two units. The units have a modern, industrial feel with exposed, corrugated metal, an open concept, and clean lines. In the works is Kaline Squared with eight units and the Rosa Parks condo development, which will have 25-30 units.
There are several advantages to cargo architecture, says Kelley Singler Fowler, vice president of operations for Three Squared. They include the environmental impact (reusing and repurposing containers that would have sat unused in a yard), timing (it took six hours and 15 minutes to put the nine shipping containers in place for the Trumbull development) and pricing (a one-bedroom unit at Kaline Squared would start at $140,000).
The project has drawn interest from across all ages from young professionals and millennials to retirees, Fowler says. Corktown was a natural choice for the area's first residential shipping container project because there is high demand but low inventory, Fowler says.
Micro apartments are big /// In Royal Oak, city commissioners approved last summer Amber on 11 Studios and Lofts project by Amber Properties at 1207 E. 11 Mile Rd. As of press time, the city is reviewing the developer's engineering plans and if everything goes according to plan, building design will start over the winter. Plans call for 315-square-foot apartments. In Troy, attached micro-units are allowed in some of the zoning districts. Officials recently approved a similar project, Amber Studios and Lofts on Livernois. The plan calls for 35 single-person studio apartments (sizes range from 355 square feet to 542 square feet). They won't break ground on this property until next year, once the Royal Oak development is done.
What is a Yurt? /// Used as an ancient shelter by Central Asian nomads, a yurt is a circular structure that consists of a durable fabric cover, tension band, and a wood frame. Original yurts were made out of wood, felt, and braided horse hair and were designed to be transported across the plains. These days, yurts are made from more modern materials such as polyester and aluminum rivets with heat-treated and fine finished wood. It's often used as a "glamping" (glamorous camping) option, but it's also become another small living alternative