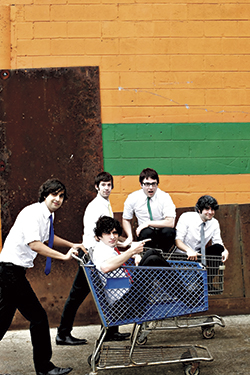 What's the logical thing to do with a University of Michigan education?
Start a band and name it after the suburban Detroit food court where you loitered as a kid.
That's the Cliff's Notes story behind Tally Hall, a pop/rock group with a moniker cribbed from a former Farmington Hills mini-mall spot. As its name suggests, the five-member band isn't afraid of a little schtick.
They've become known for their color-coded neckties, with each member always sporting the same hue. Rob Cantor (he's yellow) offers an explanation: "We wanted to look a little different than other college bands. And we wanted something classy and timeless. We didn't want to look back at pictures of us and say, 'Ugh, that was so 2003.'"
They may be on to something. Earlier this year, Tally Hall signed with Atlantic Records.
"Everything is going really well," Cantor says. "We have a lot of resources we didn't have before. We're working with a producer that worked with Bob Dylan and we're thrilled by this."
Of course it wasn't just bright ties that got them signed to a major label, or that put them on the bill for this summer's Lollapalooza in Chicago, or got their songs played on a few TV shows. Cantor likes to think their brand of accessible, slightly goofy music had something to do with it.
"We like to laugh and joke like everyone does," Cantor says. "There is darkness in our songs. And oftentimes humor and darkness show up inside the same song."
The chaps started Tally Hall at U-M, where they studied a range of disciplines from molecular biology to literature. Only one, keyboardist Andrew Horowitz (green tie), studied music composition. Zubin Sedghi (blue), Joe Hawley (red), and Ross Federman (silver) round out the ensemble.
Last April, their new boss tweaked and re-released their 2005 album, Marvin's Marvelous Mechanical Museum, named for a popular arcade at the same mini-mall.
After Lollapalooza, they'll tour on Marvin's, Cantor says. They're also working on an Internet show.
"It's comedy, it's bizarre, there is a lot of surreal stuff, a lot of absurdism," Cantor says. "But it's also a lot of work."
That shouldn't be a problem. How hard can it be after molecular biology? — Terry Parris Jr.
Facebook Comments