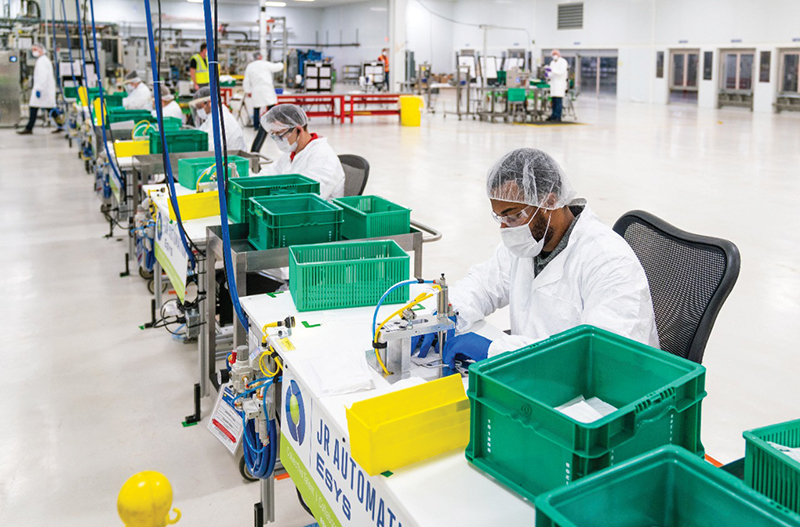 ---
Our annual Best of Detroit issue is usually an entirely lighthearted affair — a chance to rejoice in the restaurants and bars, retailers, entertainment venues, and personalities that make this city such a dynamic place to live. While our readers poll results provide plenty of that this year, we also wanted to recognize greatness that could not be captured in a ballot with a special feature package focused on locals and metro Detroit natives who have made a difference during the pandemic. This story on Dr. Rajiv Shah is part of that special feature.
---
Michigan is responsible for several monumental contributions to America and the world. We invented the assembly line, Corn Flakes, and traffic lights, and we popularized the idea of a five-day work week. Aretha Franklin, Diana Ross, and Madonna are products of the Mitten State.
Still, our proudest moment came in the 1940s when we earned the ultimate badass nickname, "The Arsenal of Democracy," for deftly transitioning auto plants to produce the machines of war that were used to defeat the Nazis. To those Michiganders who didn't live then — which is most of us — that era has long seemed hard to imagine. Government, industry, and labor working in lockstep to combat an overwhelming foe? Could that happen today?
It can and it did. And that's why Ford Motor Co. and General Motors Co. are deserving of special recognition as the Best of Detroit. When it comes to corporate response to this catastrophe, many have given generously and creatively. But none could possibly do what these Detroit originals are doing.
Anyone who doubted whether Michigan's unique manufacturing could still snap into action for the good of the nation need only look at the phenomenal response from the auto sector since the start of the COVID-19 crisis. The nation's hospitals cried out for personal protective equipment and medical devices as they faced an onslaught of gravely ill patients, and as they did nearly 80 years ago, GM and Ford answered that call.
In late March, both companies moved swiftly to organize the manufacture of gowns, face shields, masks, air-purifying respirators for those masks, and, of course, ventilators. The speed was dizzying.
On March 24, Ford and the United Auto Workers announced they would gear up using paid assembly line workers who were willing to return from furlough to churn out 100,000 face shields per week at the Troy Design and Manufacturing Co. in Plymouth. By mid-April, they'd cranked out more than 3 million.
Ford also partnered with GE Healthcare to build some 50,000 ventilators at its Rawsonville, Michigan plant by July 4, and with Auburn Hills-based Joyson Safety Systems to convert air bag fabric into reusable medical gowns.
Rival GM was equally busy. On March 18, talks began with ventilator-maker Ventec Life Systems in Bothell, Washington, to convert GM's Kokomo, Indiana, plant into a space to mass-produce the desperately needed devices. It took a month because GM had to source hundreds of components, but by mid-April, the first 20 went to hospitals in the Chicago area and 34 more went to the federal stockpile. Kokomo is expected to build 30,000 ventilators by August.
"The 400-odd parts that go into a ventilator are completely different parts than go into a car, a truck, an engine, a transmission," says GM spokesman Dan Flores. "But with the data of all the different parts, we could go to our suppliers who had expertise in injection-molded parts and say, 'Hey, if we give you the data, can you guys build this for us?'"
Meanwhile, the company tasked JR Automation in Holland, Michigan, and its subsidiary, Esys Automation in Auburn Hills, with building customized machines capable of manufacturing as many as 1.5 million face masks a month at GM's mothballed Warren, Michigan, plant. Also at Warren, GM is cranking out about 120 gowns a day, as well as some 50,000 face masks each week in partnership with Summit Polymers in Kalamazoo and Argent International in Plymouth.
"It turns out we have a supplier in Goshen, Indiana — GDC — that makes sound-deadening insulation for vehicles that is chemically almost the same material that is the filter in most protective face masks," says GM spokesman Philip Lienert. "They were able to tweak their formula and quickly transition to making materials for face-mask production."
The variety and breadth of the effort by GM and Ford make them exceptional. Fiat Chrysler Automobiles pledged in March to make 1 million face masks a month, and Tesla enchanted the tech media by putting out a slick YouTube video showing how it's building ventilators out of Model 3 car parts. (Tesla hasn't said how many it will make, and CEO Elon Musk as early as March 19 suggested the country may not even need them.)
But the carmakers who are echoing their patriotic roots are GM and Ford, who promise to keep building machines and supplies as long as the medical and first-responder communities say there is a need.
"The performance we've shown over the past five weeks is proof that if you have the fundamental skills on engineering and building with a committed workforce and with technology, you can move mountains," Flores says. "We take it very personally because, who knows, it could be the mom or dad or grandma of the employee building the ventilator that needs it."
Facebook Comments