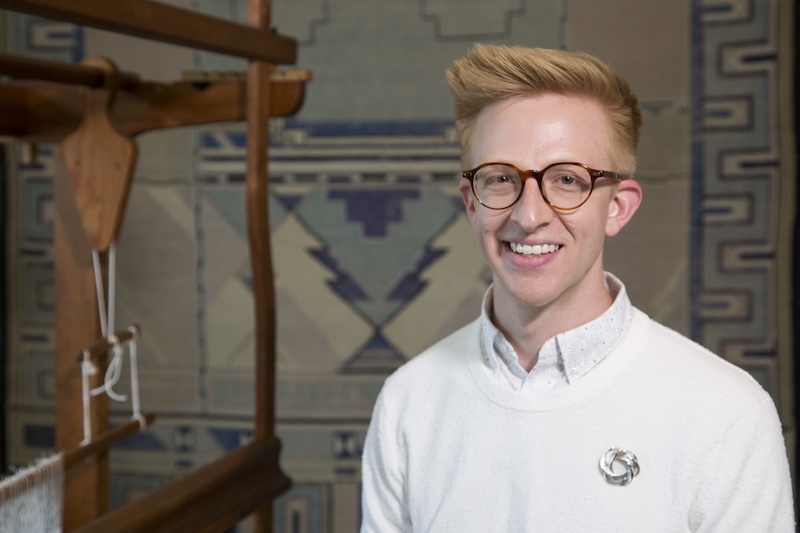 "Hello everyone, and welcome back to another 'Live at Five!'" Many folks have looked forward to this weekly greeting from a cheery Kevin Adkisson, associate curator of the Cranbrook Center for Collections and Research. So many folks, in fact, that "Live at Five" was voted Best Virtual Museum Experience.
Through rain, snow, and social distance, Adkisson has led live tours of the campus on Cranbrook's Instagram and Facebook pages since it closed to the public last March. Phone in tow, he's ventured outdoors or walked through the halls of Cranbrook buildings giving tours ranging from about 20 minutes to an hour. He shares facts about the artists, architects, occupants, and traditions behind Cranbrook's beloved artworks, museums, schools, and homes. His tour of the Frank Lloyd Wright-designed Smith House last May is the most popular "Live at Five" to date, with more than 30,000 views. 
Viewers also have gained insight into specific design details they might not have come to appreciate otherwise, such as architect Eliel Saarinen's use of single design motifs around the campus or the Pewabic Pottery tile installations at Thornlea, the home of Henry Scripps Booth (the son of Cranbrook's founder) and his wife, Carolyn. 
Adkisson's passion for Cranbrook and for sharing its history in a meaningful way shines through in his tours, which at press time were still taking place Tuesdays on Instagram Live and Wednesdays on Facebook Live. "There's no one like Kevin Adkisson!" Best of Detroit voter Gretchen Wilkins of Bloomfield Hills says. "He brings such personality, fierce intelligence, and humor to the deep history of our local art, architecture, and human stories."
To watch Kevin Adkisson's videos, visit @CranbrookCenterforCollectionsandResearch on Facebook. 
---
See who else made this year's Best of Detroit list — our annual reader voted poll of the top things, places, and people in the metro area — here. 
Facebook Comments