It's something retailers and the international couture community have known for years: Detroiters know fashion. Just check the beautiful people on parade at the Auto Show Charity Preview, Sunset at the Zoo, and the Fire Ball.
It's a scene worth noting, which is why we asked metro Detroit fashion journalist Chuck Bennett to name names for our first-ever best-dressed list. A popular fixture at all the parties in town, Bennett consulted his little black book and offered 29 names — only a fraction of the people worthy of the honor.
We thank our high-profile group for making time to be photographed. Their portraits appear in no particular order on the following pages.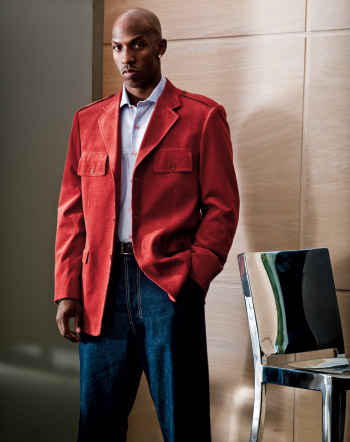 Chauncey Billups
Bloomfield Hills, Detroit Pistons
Billups likes everything coordinated when he gets dressed, even if he's just wearing jeans. In fact, one of his favorite looks is jeans with a beautiful sport coat and a highly detailed shirt. His style is conservative with a flair, and sometimes outright fashion-forward. Billups has all of his clothes custom-made. His suits are crafted in Denver at Clothing by André. His more casual looks, including his jeans, are made by Ray Hines and Herman Masters at Paul Cicchini Custom Clothier in Birmingham. It's important, he says, that his clothes not only look good, but feel good as well. He spends a great deal of time selecting the softest, most luxurious fabrics for his garments.
The Rev. Marvin Winans
Detroit, pastor of Perfecting Church
Because he represents people as a pastor, the Rev. Winans understands the importance of looking the part. He considers his style of dress as conservative with an avant-garde edge, and he favors suits from Detroit's own Tayion Collection. He says he hates shopping, but when he does, he's looking for the best deals, often traveling to New York to make deals with the vendors. He loves hats, and feels a man's outfit is not complete without a chapeau. He developed his fashion sense from watching movies and from observing his dad. "Style was always important to my father," Winans says.
Monica Del Signore
Bloomfield Hills, owner of Bacco Ristorante
The first outfit that Del Signore was proud to wear was a minidress with thigh-high socks. She was in kindergarten. She's come a long way, now preferring to be seen in Versace, Chanel, and Prada, with Vlassis Holevas being her current favorite for evening wear. Her passion is shoes and she adds, "I can't find anyone to beat Manolo Blahnik for style as well as comfort." Del Signore loves to discover unique finds when she travels. At home, she shops at Neiman Marcus. Her favorite pair of shoes is her knee-high Swarovski crystal sandals that she purchased at Dolce Moda several years ago. "I think my sense of style has been a work in progress from a very early age," she says. "I can't imagine a day without style, whether it be dressing myself or dressing a table for dinner. It's the beauty of life."
Clyde Downer
Royal Oak, IT manager
"Dressing well is all about your image and how you are perceived in the world," Downer says. "People tend to treat well-dressed people with more respect." Downer's appearance starts with clothes that are chic but classic. Then he adds his own twist: funky jewelry or accessories. His favored labels include Ted Baker, Calvin Klein, Hugo Boss, Theory, and Nicholas K. He shops at Saks Fifth Avenue, Nordstrom, and Dolce Moda. "I've been into fashion since I was a kid," he says, which makes sense. As he explains, "My grandparents were tailors and seamstresses."
Jeffrey Hillman
Royal Oak, retail leasing specialist
Hillman says that to dress well, you have to feel comfortable in what you're wearing, and for him, that means different things at different times. "I have a lot of styles and moods," he explains. "I dress according to those moods." He admits to being a jeans-and-T-shirt kind of guy at heart. On a daily basis for work, however, he sports a funky business-casual look. His wardrobe includes a lot of jeans, an intense collection of leather jackets, and pieces by John Varvatos — his favorite designer. Hillman enjoys shopping at small boutiques, particularly Dolce Moda in Royal Oak.
Danny Victor
Clarkston, attorney
"I really do like clothes," Victor says. "I enjoy the ritual of laying my clothes out the night before, and tweaking them with accessories the next day." He takes the mundane and makes it unique, sometimes with details as simple as the type of pocket treatment or a button fly instead of a zipper on a conservative pair of trousers. He likes to mix bold patterns and bright colors. When shopping, his first stop is always Carl Sterr, where he can indulge his love of shoes and shirts. Victor says he first developed his interest in clothes from his father, who was always well dressed. "And now, working with Carl [Sterr], we're taking that style to a new level."
Kem Owens
Lathrup Village, Motown recording artist
Kem (as he's known professionally) sees dressing well as a character defect of vanity. He remembers spending a lot of time being creative as a child to make sure all of his outfits were cool and accepted by his peers. Today, Kem sets trends. He invests a lot of his own design ideas into suits and outfits that he has custom-made at Fashion International in Southfield — particularly clothes he wears on stage. He also shops locally at Saks Fifth Avenue, Neiman Marcus, and Dolce Moda in Royal Oak. He likes Prada, Armani, Salvatore Ferragamo shoes, and Puma active wear. "I spend a lot of time working out, so I like clothes that are fitted," he says. Since becoming a celebrity, Kem also accepts that he must be "dressed" at all times. "Even when I wear a sweat suit," he says, "it has to be a really nice sweat suit."
Rosalind Reed
Detroit, lawyer and poet
"The way you dress acts as an imprint," Reed says. "The first thing people come in contact with is what you're wearing." Reed, the consummate fashionista, describes her style as "jambalaya," a mixture of vintage and couture. Her favorite designers are Balenciaga, Chanel, Alaia, and Simply Greta for spring/summer and holidays. Her favorite stores are Bergdorf Goodman in New York and Linda Dresner in Birmingham. She is often the muse for Greta Wallace of Simply Greta. Her signature is hats. "You can change your whole persona by simply changing your hat," Reed says. She says she has been intrigued by fashion for as long as she can remember.
Jessie Doan
Grosse Pointe Farms, stay-at-home mother
"I think Jasper Johns said, 'Self-description is a calamity'," Doan says. "But if I must describe my own style of dress, I'd have to just say eclectic."  It's a style she developed while growing up in a small town in Australia. And it's a penchant underscored by the diversity of her favored shops. She happily shops at Linda Dresner in Birmingham, Neiman Marcus, and the Grosse Pointe Neighborhood Club Thrift Store. Her favorite designers are Martin Margiela, Victor Wolf, Balenciaga, and Collette Dinnigan. Her passion of the moment, she says, is Darcy Miro jewelry.
Stephanie Germack-Kerzic
Grosse Pointe Farms, philanthropist
Germack-Kerzic's very presence bespeaks elegance and sophistication. She advises people to avoid trends in favor of pieces that can be worn many times. She loves suits with skirts, but also enjoys wearing Burberry jeans and high heels. Her favorite designers are Yves Saint Laurent and Roberto Cavalli. "I admire the style of many people, including Jacqueline Kennedy [Onassis], Cynthia Ford, and,  of course, Mrs. Obama," she says. One of her favorite pieces is a dark green Christmas skirt by YSL she purchased many years ago. "I still feel it is an important piece in my wardrobe." Her favorite place to shop is Neiman Marcus.
Anna Sobiechart
Royal Oak, Latin and ballroom dance instructor
Sobiechart recalls growing up in Europe and going to fashion shows with her mother when she was a little girl. "My mother was always into fashion, so I came into it naturally," she says. She's drawn to clothes that are simple, conservative, and sophisticated, so it's no surprise that her fashion icon is Jacqueline Kennedy Onassis. She also says she loves all Italian designers. Sobiechart buys most of her clothes at Dolce Moda in Royal Oak, and her mother still sends her special pieces from Europe. She especially gravitates toward pretty dresses.
Kiko Davis
West Bloomfield Township, real estate agent
Although she says she's a chameleon when it comes to dressing, Davis, wife of business and entertainment mogul Don Davis, calls her overall look "hopeless romantic," with individual pieces that are "feminine, sexy, and elegant." Davis is fond of Dolce & Gabbana, Versace, and Dior. And she confesses a weakness for Marc Jacobs handbags. Saks Fifth Avenue personal shopper Bessie Sneed helps her assemble her look. Davis also shops at Ariada, Anthropologie, Roma Sposa, and Paulina B-H. "I love evening gowns," she adds. "There's a tribute gala to my husband in March, and I'm already going nuts trying to decide what to wear."
Lisa Maas
Royal Oak, public relations executive
As the owner of a PR firm, Maas handles the images of her clients. She says that dressing well conveys a message to them that she is in control of the image she wishes to project about herself. That image, according to Maas, can be anything from a banker to a rock star. "I call my look 'mod-bod-con'," she explains. "It is sexy and body-conscious in a modest, tailored way." Her favorite designer is Azzedine Alaia ("He is the master"). She likes to shop at Barneys in New York, and Linda Dresner in Birmingham.  She acquired her style from her mother, who, she says, is still a good dresser. "She had an amazing leopard coat when I was growing up," she recalls. "I wish I had it now."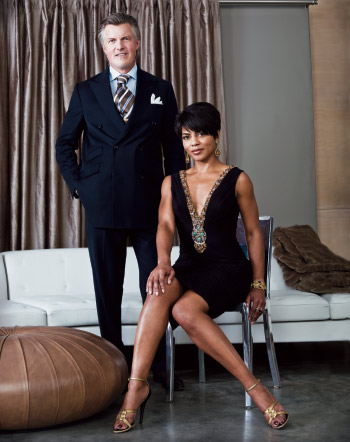 Carl Sterr
Birmingham, third-generation fashion retailer
Sterr is the epitome of elegance and panache. He believes that dressing well displays the readiness of a person's approach to whatever business or social situation may arise. "It is an opportunity to present your best side," he says. Sterr's style of dress is a combination of English and country Italian. He enjoys finding obscure tailors and garment makers in the Italian countryside, and bringing their goods to his Birmingham boutique. Most of the clothes he wears are available at his store, Carl Sterr. During the summer months, he loves white-linen suits; in the winter, his favorite piece is a leather outerwear jacket.
Rhonda Walker
Birmingham, WDIV news anchor
"It makes me feel good to know that I took the time to look good," Walker says. "I like a complete outfit every time I get dressed." Walker is most fond of classic pieces that she can wear for years. And although she wears a feminine tailored look during the day, she likes to wear sexy dresses at night, and always aspires to be glamorous. Her favorite designer is Valentino ("head to toe"), and she does the bulk of her shopping at Neiman Marcus. Her fashion icons are Jacqueline Kennedy Onassis, Princess Diana, and Jennifer Lopez. Her passion? Footwear. "I'm always buying shoes. I have hundreds of them," she says. "But everything I wear must have some element of glamour."
Geoffrey Fieger
Bloomfield Hills, trial lawyer
Fieger says he dresses in a manner that makes him feel comfortable. That usually means an impeccably tailored navy suit with a custom-made white shirt and navy tie for court appearances and a pair of nice-fitting jeans, a T-shirt, good boots, and a blue-jean jacket for casual occasions. His suits are made at Paul Cicchini Custom Clothier in Birmingham, using fabrics that are carefully hand-picked by his sales associate, Rick DePanicis, who also helps with shirts and sport coats. Among Fieger's favorites is a plush vicuna sport coat that he recently had made to give the blue-jean look an elegant edge. He says if he had to select a favorite designer, it would be Ralph Lauren. When he travels, he buys jeans, usually Lee, Wrangler, or Levi's. His favorite item in his closet is his Lee blue-jean jacket. "This has been my style sense since I was a teenager," Fieger says. "I know what works for me."
Marvin Beatty
Detroit, co-owner, Greektown Casino
Marvin Beatty remembers the first time he realized he had a knack for putting together some snazzy outfits. The moment occurred when he paired a beige-and-brown parka sweater with chocolate gabardine pants and brown Gypsy split shoes.  "Now if you know clothes, you know what era that was from," he says with a laugh. Today, Beatty continues to cleverly coordinate his clothes, always dressing appropriately for the occasion, but with a little flash of style that's all his own. (He has a passion for suits and boots.) Beatty has most of his clothes custom-made by Nick (Nick the Tailor) Cirino, Detroit.
Jean Dubin
Bloomfield Hills, charity volunteer worker
Dubin's clothes are classic but avant-garde, high style and sometimes edgy. "I've always just loved clothes," she says. Or, as her friends like to tease: Her favorite item of clothing is anything she can put on her back. Dubin's favorite designers are Chanel, Azzedine Alaia, and Prada, which she usually finds at Tender, Linda Dresner, Neiman Marcus, and Saks Fifth Avenue. She developed her well-honed sense of style at an early age and attributes her good taste to her mother. "I remember wearing designers as a teenager, like dresses by Courreges and Pucci," she says.
Mary Campbell
Birmingham, interior designer
Campbell is a naturally remarkable dresser who manages to look great in everything she wears. Her style is eclectic, but her favorite designer is indisputably Chanel. A mother of three and grandmother of four, Campbell shops at Saks Fifth Avenue and Neiman Marcus, where she likes to get to know her sales people. She has a fondness for sharp jackets, but loves dresses, too. Her sense of style, she says, comes from her mother, who worked in retail and always looked well-put-together.
John Martenson
Trenton, funeral director
Martenson knew he liked wearing suits the first time he put one on for his senior high-school dance. He says his dad tells him where to buy and his wife tells him what to buy.  His favorite place to shop is L'Uomo Vogue. He likes collecting neckties and watches and prefers suits with an Italian cut. He says that dressing is an expression of who you are, an extension of your personality. For him, that means "I'm a suit-and-tie kind of guy."
Julia Greer
Bloomfield Hills, gastroenterologist
Greer likes clothes that are understated but feminine. She sees fashion as an art form. Her favorite designers are Lanvin and YSL, and she most enjoys shopping at Linda Dresner, Neiman Marcus, and Tender. She loves shoes, adding that a good pair can be a quick fix for any outfit. "I love shopping for shoes," she says. "It's better than lunch." Her style came from her mother, who made clothing. Today, one of her favorite outfits is a blue Lanvin gown that she once wore to a charity ball. "When I wore that gown," she says, "I felt empowered with confidence and liberation."
Amanda Apfelblat
West Bloomfield Township, chiropractor
As a representative of the chiropractic community, Apfelblat feels there's a certain professional image she must portray. But she does like to include some girlish qualities in her appearance. She likes colorful dresses, Giorgio Armani, and shopping at Saks Fifth Avenue with her husband. Apfelblat says she developed her sense of style while poring over fashion magazines. "It's where I get ideas to build upon," she says. Among her proudest and early moments in fashion: "When I wore an Armani business suit to a chiropractic convention."
Horatio Williams
Grosse Pointe, CEO On Time Transportation, founder of Horatio Williams Foundation
Williams remembers a very special Easter when his mother bought him a blue-to-red iridescent sharkskin suit. "I was just a kid, but I knew I liked being dressed up like that," he says. "I wanted to wear that suit every day." That delight persists to this day. Williams loves suits, with two closets full of them as evidence of his affection. Most of his suits are custom made from Vestry and Fashion International, with many from the Tayion Collection. "Suits are my specialty," he says. "I can do a conservative navy, three-piece banker suit, or I can just as comfortably wear something very fancy with all the bells and whistles." If you don't find Williams wearing a beautiful suit, he will most likely be dressed in an elegant golf ensemble.
Lauren Bean
Franklin, mother
Bean says that dressing well makes her feel pretty and ready to face her day. She likes to mix classic looks with trendy ones. Her favorite shop is Tender in Birmingham. "I love shoes," she says. "Shoes can make or break an outfit.  I can never have too many pairs." She inherited her sense of style from her mother who, she says, "has always been a fancy dresser. I always admire her look." And she remembers her own best moments. Among them, a Calvin Klein dress she bought when she was 25. "When I put it on, I felt I was sharper than anyone in the world," she says.
Jennifer Knapp
West Bloomfield Township, publisher
Knapp thinks the way she dresses expresses her personality before people even meet her. Her style is polished, with a dash of street smarts. "I love denim," she says. Her favorite shopping spot is Dolce Moda, and she loves discovering independent designers. However, she admits a fondness for Yves Saint Laurent. She acquired her sense of style while traveling throughout Europe, and from her mother. "I went to Catholic school, so I always wore uniforms," she says. "But my mother would create fun and dressy outfits for me to wear on weekends and off school times."
Tika Ivezaj
West Bloomfield Township, fashion model
Ivezaj says she has fun with fashion, because it allows her to express the mood she happens to be in. "I can be whoever I want — sexy, classy, edgy — just by changing clothes," she says. Favorite designers are Roberto Cavalli, Zac Posen, Chanel, and Dolce & Gabbana. She likes to shop at various stores, but her favorite is Dolce Moda. She loves handbags: "It's very important to have a hot purse." The first time she got a compliment on an outfit in grade school, she was hooked on fashion. "I had a pair of black-leather pants," she says. "I thought I was so cool."
Danialle Karmanos
Orchard Lake, philanthropist/activist
People often think that, as the wife of business tycoon Peter Karmanos Jr., Danialle's look would be traditional and conservative. Not so. Although she appropriately rises to the occasion, she loves being glamorous and having fun with fashion. Her mood swings from lace and sequins and leopard-print false eyelashes to Uggs and James Perse T-shirts, oversize sweaters, and pants. Her style icons are Gwyneth Paltrow, Selma Hayak, Kelly Ripa, and Charlize Theron. Her favorite designers: Alexander McQueen, YSL, Prada, Azzedine Alaia, and Brioni suits. In Michigan, she shops primarily at Linda Dresner and Neiman Marcus. "I consider it an honor to wear such amazing clothes," she says. "I never take any of it for granted."
Laurie Sall
Troy, insurance agent
Owning her own business means she's always got to put her best foot forward, Sall says. And doing that means she's got to look good. For Sall, that means a style that's eclectic and trendy, often with a mix of old and new. It's a look that has evolved from early childhood. Her first hot fashion look, she says, goes back to age two, when she was delighted to sport a shantung pant-and-blouse set. Today, her favorite designers are Lanvin, Peter Som, and Thakoon. And she's proud to say that 90 percent of her wardrobe is purchased in metro Detroit, with 70 percent from her favorite store, Tender. She especially loves fancy overcoats, and says, "I buy a new coat every year, fur or otherwise."
Facebook Comments