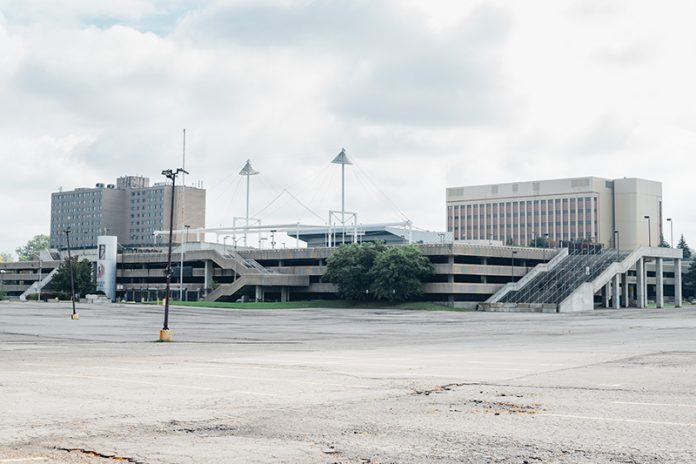 Fourteen years ago, the city of Pontiac — once a bustling company town that was home to the now-defunct Pontiac Motor Division of General Motors Co. and several GM plants that at their peak employed 30,000 hourly workers — was devastated by GM's bankruptcy. Over the course of two years, beginning in 2009, Gov. Jennifer Granholm and then Gov. Rick Snyder appointed three emergency managers who were charged with resuscitating a dying city that for years had been the victim of corporate and county disinvestments, population loss, high unemployment, and rising crime rates.
Over the last 50 years, Pontiac's downtown has had businesses including trendy restaurants and art galleries come and go while 1970s megaprojects such as the municipally owned Pontiac Silverdome and the Phoenix Center complex at the heart of the city ultimately became decrepit eyesores that failed to produce meaningful economic development or prosperity for the residents who for years suffered from inadequate city services, poor roads, blight, and an aging housing stock.
However, today, Pontiac appears to be undergoing a systemic transformation.
The county seat of Oakland County since 1820, Pontiac has a rich history, beautiful architecture, and historically designated neighborhoods and is now home to United Wholesale Mortgage (the nation's largest mortgage company and the city's largest employer, with approximately 6,000 employees) and the Amazon distribution and fulfillment centers that employ over 3,000 at the former Silverdome site.
Although downtown entertainment venues including The Crofoot Ballroom, the Pontiac Little Art Theatre, the Flagstar Strand Theatre, and Erebus, a four-story, nationally recognized haunted house, remain popular and two new restaurants (Kegger Burger and Biscuits and Bourbon) recently opened on Saginaw, Pontiac's main street, there are still empty storefronts and very little foot traffic during the day.
Yet it appears that is about to change.
Since the current city leadership was installed in 2022, there has been a comprehensive vision shared among the City Council, the county executive, and the Oakland County Board of Commissioners, while residents, businesses, and developers are seeing significant progress thanks in part to an influx of federal, state, and county funds that points to what may become a true Pontiac renaissance.
In just his second State of the City address this past July, Mayor Tim Greimel, a former civil rights attorney, state representative, and county commissioner, enthusiastically declared that "Pontiac is poppin'" as he described initiatives that have been implemented.
They include increased code enforcement to combat blight and protect tenants, a federally funded home repair program, new street lighting, road repairs, economic development, and additional community events. And a reconstituted parks and recreation department has launched many youth enrichment programs, embarked on parks beautification projects,
and begun implementing plans for a new youth recreation center. ("The emergency managers had closed the parks and recreation department and closed all four recreation centers.")
"One of the biggest challenges has been that the emergency managers utterly gutted city staffing and services, and the previous mayoral administration had not taken any meaningful steps to rebuild them," says Greimel, who was elected to office in 2021. "Upon taking office, the first task that Deputy Mayor Khalfani Stephens and I set upon was rebuilding staffing capacity and dramatically improving city services to improve the quality of life for our residents so that they can finally enjoy the city amenities that [they] have long deserved. Property values are increasing, and crime is down."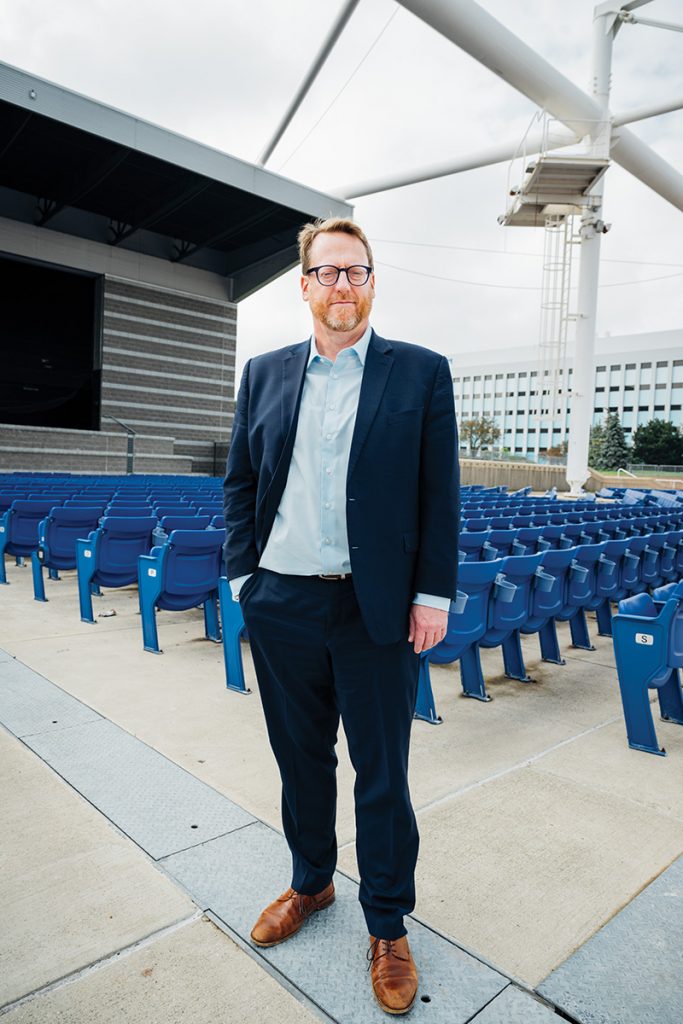 Judith Odum, a 74-year-old retiree from Blue Cross Blue Shield, has been a resident of Pontiac for more than 50 years.
"This is one of the most exciting times since living here because the city has turned around immensely, and it's been remarkable," she says. "The government now keeps us informed and reaches out to see what we want. I live across the street from a park that used to be dead and unkept, and now I hear children running and playing. There was never anything for my two granddaughters to do, and now there are activities throughout the week."
In August, Oakland County and Pontiac officials announced a plan intended to transform the city's downtown with the help of a $50 million state grant, the largest allocation for a district project in the state budget.
The county announced that it will demolish the Phoenix Center garage and amphitheater and retire Pontiac's debt related to it; move up to 600 county employees into one of two adjacent office buildings that it purchased; build a new parking garage; and convey a minimum of 2 acres to Pontiac, which will determine how the land can be used to benefit the residents as a community space.
Oakland County Executive David Coulter and Greimel were ecstatic at the news conference announcing the project.
"I have heard from investors and private developers who want in and are taking notice of this because you will now have hundreds of folks downtown that weren't here before — plus, you are opening up Saginaw Street," Coulter said.
"For years, the Phoenix Center has been a decrepit, blighted structure that obstructed our main street and bifurcated our downtown, so this project will reconnect our central business district while bringing in more foot traffic with the relocation of so many county employees," says Greimel, who also confirmed that the Michigan Department of Transportation will be reconfiguring the one-way Woodward Loop.
"The Loop has been a one-way superhighway that almost serves as a moat around the downtown, so this new two-way reconfiguration will be pedestrian-friendly and make the downtown more accessible," he said.
In June, the U.S. Department of Transportation awarded Pontiac a $16.3 million grant for pedestrian improvements along 4 miles of Pike Street as part of the Clinton River Trail that will include the installation of the North Spur Trail, a pedestrian and bicyclist trail along the former Grand Trunk-Belt Line Railway.
Since last December, Deborah Younger has served as Pontiac's manager of economic development, and she has recently been working with developers who want to convert the historic former Pontiac State Bank Building and the former Oakland Press building to residential and commercial use.
"We're getting increasing inquiries from developers and businesses about investing in Pontiac, and that is a good position to be in," says Younger, who after launching the federally funded home repair program (which received more than 2,000 applications over two days) has been focused on attracting more residential development, creating a land disposition policy to meet the high demand to purchase vacant Pontiac-owned property, and launching a workforce development program.
"Property values have been increasing, so if you want to get into Pontiac, now is the time," Younger says. "We're seeing interest from residential, retail, commercial, and chip manufacturing sectors."
Younger acknowledges that over the years, some speculators acquired properties and did not develop them because either they were waiting for values to increase or they may have had difficulty securing financing to develop the properties.
"We've hired a staff person whose job is to work with those owners to get some movement on those unused properties," she says. "Timing is everything because development begets development."
Shannon Woolman is the co-owner of the recently opened Kegger Burger on Saginaw Street next to Fillmore 13 Brewery.
"People are happy to see another business down here, and I'm excited about the Oakland County project because it will bring more people downtown," Woolman says. "So many people go to Royal Oak and Ferndale because they built up their downtowns, and we need to do that in Pontiac."
Elected to the Pontiac City Council in November 2021 and named president of the council by his peers upon taking office, 39-year-old Mike McGuinness, who previously served on the Pontiac school board and continues to serve as the executive director of the Oakland County Historical Society, is optimistic but clear-eyed regarding Pontiac's future.
"As the Oakland County development project moves forward and we adapt our historic downtown buildings for new uses, we also need to provide affordable housing because we have thousands of residents who have acute needs and financial barriers and we need to serve them," he says.
"We know from experience that there is no silver-bullet megaproject that will cure all," he adds. "There also must be well-functioning leadership, quality public services, new economic activity, job training and opportunities, entrepreneurial support, new residential construction, and older residential rehabilitation. And it must be in coordination with one another."
Only time will tell if Pontiac will finally attain the sustainable renaissance that residents and businesses have longed for — for far too long.
---
This story is from the November 2023 issue of Hour Detroit magazine. Read more in our digital edition.