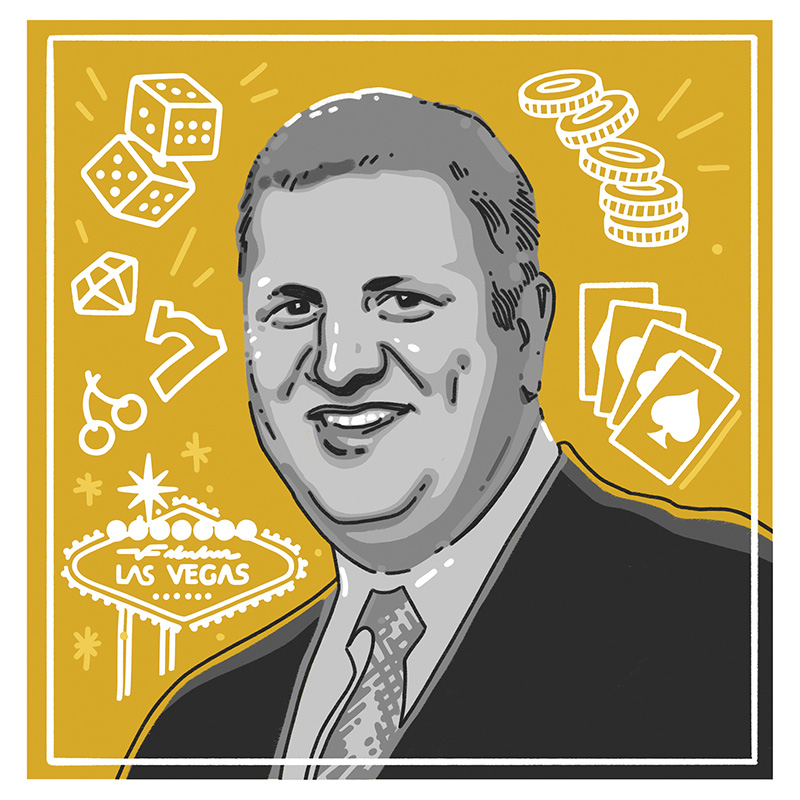 For those of us who follow such things, Derek Stevens' rise to prominence in Las Vegas is more proof that there's still room in the world's most famous gambling mecca for new figures to come out of nowhere and take their place in a canon that stretches from Bugsy Siegel and Jackie Gaughan to Steve Wynn and Sheldon Adelson. In October, Stevens joined those ranks by opening the $1 billion Circa Resort & Casino, the first major resort built from the ground up to open in more than a decade, with a six-tiered swimming complex and a world's-biggest sportsbook so grand you'll wonder why nobody thought of it before.
Stevens, 53, is a Grosse Pointe native who, with his undergraduate degree at University of Michigan and his MBA from Wayne State, seemed likely to settle into a cushy life as CEO of Cold Heading Co., his family's Warren-based nuts and bolt supplier to the auto industry. Yet Stevens became fascinated early on by the business of Vegas and saw revival and profit potential in the long-moribund downtown cluster of casinos. Overshadowed by the huge, glamorous resorts 2 miles south on the Las Vegas Strip, downtown provided Stevens chances to buy undervalued properties and real estate. He also owns the classic Golden Gate, which just turned 115, and The D Las Vegas, rebranded from Fitzgerald's in honor of Stevens' first initial and his hometown's nickname.
Stevens, a full-time Nevadan these days, spoke to Hour Detroit about what drew him to Vegas, how he's paid homage to metro Detroit, and why the Michigan casino market isn't for him. 
Hour Detroit: So, what's it like to open a major casino in the middle of a pandemic?
Derek Stevens: This was a more than five-year project. Most of the design was completed by end of 2018, and then we built in 2019 and 2020. The project had its own momentum, and we were focusing on completing the project and then opening. One of the things that gave us a little bit of an advantage is that my operating team and myself own and operate two other casinos. We had the ability to reopen those in the beginning of June, so we knew what it took to operate safely. 
OK, but it's still a pandemic. Who's going to casinos these days?
We had to shut down our other casinos on March 18 and were able to reopen in June. There was a massive surge of people who wanted to get back in. By the time casinos in Nevada reopened, there had already been a handful of casinos in North Dakota, Arizona, and California, so we studied how they did it, but the crowds were — and are — substantial.
I never saw any viral videos on YouTube of drunk people at casinos fighting over whether to wear masks. How did that go?
When we reopened in June, there was no mask requirement. Then a couple weeks later, there became a requirement to wear masks for table games. That was a little bit difficult for some customers to get their heads around. By end of July, there was a mask requirement for everyone coming into the casino. That was stressful. But by September, the masking element was no longer an issue. Everybody wears masks. It's normal. It's the opposite now — if you were to walk in without a mask, you'd have a total of four seconds to be told you have to have one on or you can't be in here. There isn't any argument about it anymore.
How does the CEO of an auto parts supplier become a Vegas casino magnate?
I managed our investment portfolio, and I thought I should move our investment portfolio to a state without an income tax. I always liked Nevada, and I moved it to Las Vegas. But I'm an operator and I love operating businesses and growing teams. I knew in Las Vegas I'd want to get into an industry that I would enjoy. We made our first casino investment in 2006 into the Golden Gate. I got to learn the various aspects of the business that way.
What lessons did you take from the auto industry that helped you manage through the current economic crisis?
One thing I learned from the auto parts business is you just don't leverage yourself too much. You gotta be able to deal with a declining market that might last a month, it might last two-and-a-half years. You have to put yourself in a balance sheet position where you can get through a slow time. I was focused, as we were building Circa, on how we'd handle a shock similar to 9/11. That's probably why for us getting through this — we have a disproportionate equity. It's important to save enough to get through some dark times.
Beyond renaming the Fitzgerald's as The D Las Vegas, what other Michigan touches have you given your casinos?
I recruited a couple of Detroit entrepreneurs to come out for The D. When I was getting my MBA at Wayne State, I lived downtown at Riverfront Apartments, and I used to stop in at American Coney Island. The owners, Chris Sotiropoulos and Grace Keros, became pretty good friends, so I asked them to open up and the American Coney Island has been a spectacular success at The D. Then, for Circa, I got them to create Victory Burger & Wings Co., their first new concept. I also needed to have a steakhouse in The D, so I got ahold of [metro Detroit restaurateur] Joe Vicari, so we have Joe Vicari's Andiamo Italian Steakhouse at The D. Also, at Circa, the top level of the sportsbook is the Overhang Bar, which was inspired by when I was a kid going down to Tigers Stadium and sitting in the overhang section.
At Circa, you have a deli, Saginaw's, from the co-founder of Zingerman's. Why not just have a Zingerman's?
I always thought Zingerman's was a great, high-quality brand, so I cold-called these guys for quite a while. Paul Saginaw and I met up in Vegas and we decided Paul would do this one himself. They do exclusively sell Zingerman's product, though, at Saginaw's and at the hotel's coffee shop.
Why did you invest so heavily in the sportsbook when everyone can now place
bets on their phones?
The sports betting industry is really a super-high-growth industry. We've seen what's happened with FanDuel and DraftKings, and the future of sports betting is definitely going to be on everybody's mobile device. But the one thing I think maybe is misunderstood is the importance of a great brick-and-mortar sportsbook. Everyone has the ability in 23 states to have a sports wagering app on their phone, but if you're in Pennsylvania or New Jersey or Michigan and you really become a sports bettor, when you come to Las Vegas, you want to see the world's largest sportsbook. For us, it's an attraction. I view an increase in legalized wagering in other states as great for the sports betting industry and great for the sports franchises, the fans, and the food and beverage components for people who are at games. The very first time you put $20 on a game, you watch the game a little bit differently. 
Do you have any interest in coming into the Detroit casino market?
I've enjoyed many nights at Motor City, at Greektown, at MGM, and even across the river at Caesars Windsor. But that element of the casino business is quite a bit different than what we're in. It's almost apples and oranges, which doesn't mean apples are better than oranges. It's just different. My customer is a 48-hour to 72-hour customer who has different needs and requirements. I need to have a broad range of restaurants and attractions. Detroit casinos have a lot more splash play — people coming in for a couple of hours after a Red Wings game or before a Tigers game or hanging
out in Greektown.
A couple years ago, you famously put a $12,500 bet on Michigan to win the NCAA
March Madness. Their odds were 80-to-1, which would have won you $1 million if they hadn't lost in the Final. Are we going to see another U-M bet?
I have not placed the bet this year, but I'm thinking about it. Michigan is really, really good this year, but they're 10-to-1 to win it right now. I like to take shots where they're more than 20-to-1 or 30-to-1 payout. Right now, I don't see the value at 10-1. But we'll see how it plays out. Maybe we'll get there this year, but it depends on the odds.