When Jackie Thompson, a longtime interpreter for the deaf, signs for Detroit Mayor Mike Duggan's COVID-19 news conferences, she knows how vital her role is. She's a lifeline for people like her deaf mother and younger sister. Relaying essential information to metro Detroit has become especially important throughout the pandemic, during which Americans have been inundated with potentially life-saving information daily for nearly a year.  
While Thompson, 47, has been a certified interpreter for 25 years, signing has been a way of life since she was a toddler and her mom first taught her basic survival signs such as asking for food or something to drink. A Detroit native, Thompson grew up in a family home with her mother, younger sister, grandmother, and aunts and uncles until around third grade. Within the large household, Thompson, her mother, and her younger sister formed a small family within the family, as they were the only three who knew how to sign. 
Thompson recalls feeling responsible for her mother and younger sister, taking on an assertive role early on to interpret for them. Over the years, she's helped raise her younger sister's five kids — only one of whom is not deaf — and adopted one of them.
Interpreting professionally was something Thompson hadn't considered while growing up, but her family values and innate desire to help people eventually led her to her career. "I like to be useful. I've always been that way," Thompson says. "So, I don't even know that I made a conscious decision that this is my purpose. I think it's just what needs to be done. You're not getting what you need; I'm able to give it to you. I'm able to [be] that bridge for this person and this person to communicate."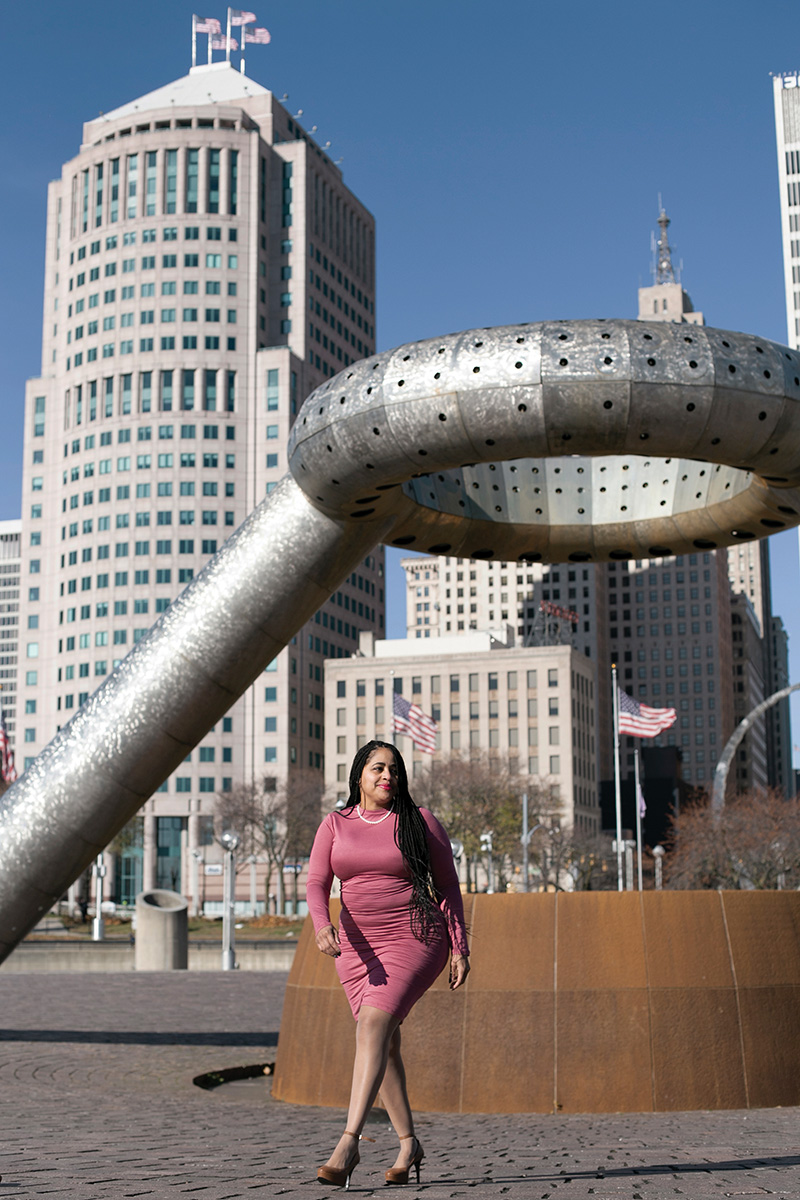 And a strong bridge she has been for the deaf and hard of hearing in the community. Thompson worked as an interpreter for the Detroit Public Schools' board of education for nearly 20 years, and she taught American Sign Language classes for families of deaf students for nine years. As a freelance interpreter, Thompson works with Detroit-based Blessed Hands Interpreting Services, Deaf Community Advocacy Network in Sylvan Lake, and the national video relay service Purple Communications. She has interpreted for the Miss Deaf Michigan pageant and for Henry Ford Hospital's Facebook Live streams. But it was in the past year, standing behind Duggan during his widely watched COVID-19 news conferences, that she became a familiar face. 
The virus has presented new challenges and exacerbated existing ones for many of the nearly 37.5 million Americans who have some type of hearing loss. Masks make it extremely difficult to interpret facial expressions, a key component to communicating while signing. And lip-reading is impossible. Closed-captioning services across platforms are not always available or accurate. Restrictions on hospitals and medical facilities prevent interpreters, family members, and visitors from entering buildings to assist loved ones with hearing loss. "An isolated group is being even further isolated by the pandemic," Thompson says. 
Even before the pandemic, people with hearing impairments were often overlooked and discriminated against, Thompson says. And that's why she'll keep at her work. "The biggest thing is don't count deaf folks out," she says. "Because folks are folks." 
Facebook Comments