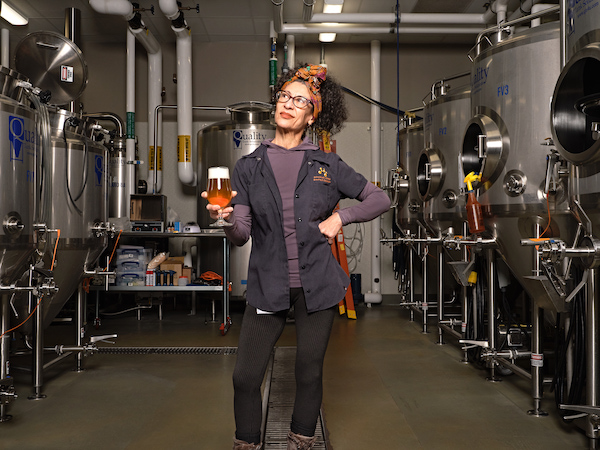 It's 4 p.m. on a Tuesday afternoon, and I'm sipping an award-winning Kölsch in a community college lounge. Next to me, Annette May lifts her hefeweizen up to let the fluorescent light filter through it, revealing a golden haze.
She tucks her nose deep into the half-full glass, takes a good sniff, and considers what she's sensing. "Good bit of banana, a little bit of cloves," she says. "Nicely done."
May is the first female certified cicerone in the U.S. and a faculty member at Schoolcraft College. Today she's checking out the first pour of the beer her students made for their 200-level brewing and distillation technology course.
The college's seven-course certificate covers a broad overview of the skills required to be a successful craft beer entrepreneur in an increasingly crowded market.
In Schoolcraft's program and at Midtown Detroit's Nain Rouge Brewery, seasoned professionals give eager students a crash course in what it takes to go from an enthusiastic homebrewer to a large-scale producer of consistent brews.
The traditional approach to learning the craft of brewing has, for many centuries, been an apprenticeship model. Newcomers work closely for months or even years with an experienced brewer, learning each step of the process while honing their senses and technical skills.
Now, schools like Schoolcraft and Eastern Michigan University work with brewers and offer stand-alone certificates, associate degrees, and bachelor's degrees in all things beer. These programs are a modern blend of hands-on, on-site apprenticeship and rigorous coursework in chemistry, biology, operations management, packaging, and marketing.
David Hale, brewmaster and production manager at Nain Rouge, was part of an early cohort to experience this type of blended instructional program at the University of California Davis' renowned program in the mid-'90s.
When he first started, he says, he was affronted by the sheer amount of time he and his fellow apprentices spent mopping muck off the floor. Now though, he sees the importance of these exacting standards.
Brewing is often a long slog followed by a flurry of activity. Then, he says, "If we did everything right, … we let the yeast do the rest of the magic."
A good brewer, May tells me, combines technical knowledge and passion. "It's very much something that people do for the love of it," she says, because "there's no real money to be made in brewing" at the small-scale local level. It's a hot, sweaty, "wet, dirty job," according to May, and it sometimes requires brutally physical work.
Despite the challenges, the program at Schoolcraft certifies about a half-dozen students a year, from the occasional student right out of high school to industry professionals looking to advance their careers to older adults who are considering opening a brewery after retiring.
Both Hale and May see a steady stream of students interested in learning the tools of the trade. They're also thrilled to see some diversity finally manifesting in an industry suffering from an extreme lack of it.
Only 1 percent of craft breweries in the U.S. are Black-owned, and Black workers account for only 4 percent of staff. And although 23.7 percent of craft breweries have partial female ownership, only 2.9 percent are entirely women-owned.
The overwhelmingly white, male industry is making strides to become more representative of beer drinkers in the U.S., and both Schoolcraft's program and Nain Rouge's focus on helping women and minorities claim the spaces they were denied in the early years of the craft beer renaissance.
For Hale, the future of the industry is right in the front yard of his Midtown brewery. Nain Rouge is pioneering a partnership with EMU's four-year fermentation science program to give students from the Midtown neighborhood a chance to break into the industry. The pilot program offers jobs, training, and education to Detroiters interested in careers in craft brewing.
So far, Hale says, "One of the great things about the program is, if you think you want to be a brewer, before you drop everything — your day job and your career — this is a great opportunity to see what it's really like."
Though it's hot, sweaty, technically challenging, and creatively demanding, there's no shortage of enthusiasts looking to try their hand at the business of craft brewing. The Kölsch brewed by Schoolcraft students won a silver medal in the prestigious 2018 World Beer Cup, and that's enough to prove to me the value of education.
---
This story is part of the March 2023 issue of Hour Detroit. Read more in our Digital Edition.