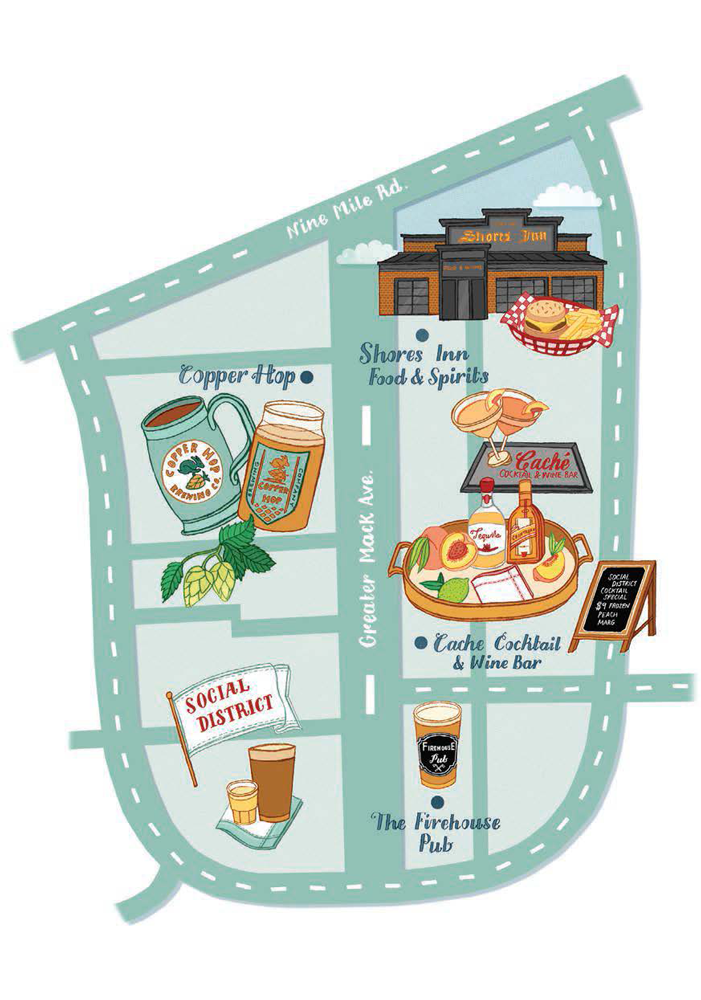 Not long after the bar opens on a May Saturday, Caché Cocktail & Wine Bar owner Dave Harden checks in with beverage director Joe Schubert. Schubert is pureeing peaches and berries for the evening's specials: frozen sangria and peach margaritas. It's going to be a busy night, but they're both hoping the rain will hold off. The first social district event of the summer season is about to kick off in downtown St. Clair Shores.
Featuring concerts and a family-friendly vibe, the Downtown St. Clair Shores Social District attracts residents and visitors with food trucks, arts and crafts vendors, and game booths. Summer and fall events take place two Saturdays a month from 5 p.m. to midnight, during which Greater Mack Avenue is closed to vehicle traffic.
Plans for the downtown social district started in early 2021, alongside the development of a new Downtown Development Authority. In late summer 2021, a few test events laid the groundwork, with cornhole tournaments, outdoor concerts, and food and drink specials from Shores Inn, Firehouse Pub, and Copper Hop Brewing Co. These events proved popular enough, says Copper Hop owner Ryan Balicki, that downtown business owners set up regular meetings to make sure they could hit the ground running this summer.
"From a sales standpoint," Balicki says, "[the social district events are] usually at least double what a normal Saturday would be for us. So it's definitely proved helpful."
That's one of the reasons that Harden (who also owns Butter Run Saloon) decided to open a second bar, Caché, in the social district. "There are a lot of great bars in St. Clair Shores, and the Nautical Mile [the marina area] does a great job bringing people in," Harden says. "I wanted to come in and try and develop the downtown district a little bit more."
The popularity of the events and the lack of grumbling about pedestrian-only traffic show St. Clair Shores' growing appeal to younger residents. Adil Yamin is a district manager for liquor company William Grant & Sons; for his job, he visits bars and restaurants all over metro Detroit. In 2019, Yamin and his now-wife, Chloe, were living in Sterling Heights and Royal Oak. When Yamin found an old fixer-upper in St. Clair Shores, he says, it was a no-brainer.
"I grew up fishing and hanging out in St. Clair Shores with my dad," he says. "When I started dating [Chloe], we would go to Butter Run and a few other places and hang out." Now, they walk to the downtown social district with their infant son just about every time there's an event. "It's always been that quiet waterfront community. But over the last few years since I've been here, I'm seeing more and more bars and restaurants with more elevated food."
Caché's Schubert is happy to hear that. After spending years as a downtown Detroit craft bartender, he jumped at the chance to shape the program at Caché. "I'd say 95 percent of the people that come in the door have walked here," he says. "That's how we designed the space and the bar — to be a neighborhood lounge."
The influx of young people, and young families, has helped the Downtown St. Clair Shores Social District establish itself as a new dining and drinking destination in metro Detroit. Balicki, like Yamin, has a young family and is glad to see the crowds at Copper Hop on social district days. From the brewery, he says, "It's really cool to see the people coming in and out, the street in front of our business being packed with people that are drinking and playing and kids getting their face painted and playing."
---
This story is from the August 2022 issue of Hour Detroit. Read more in our digital edition.