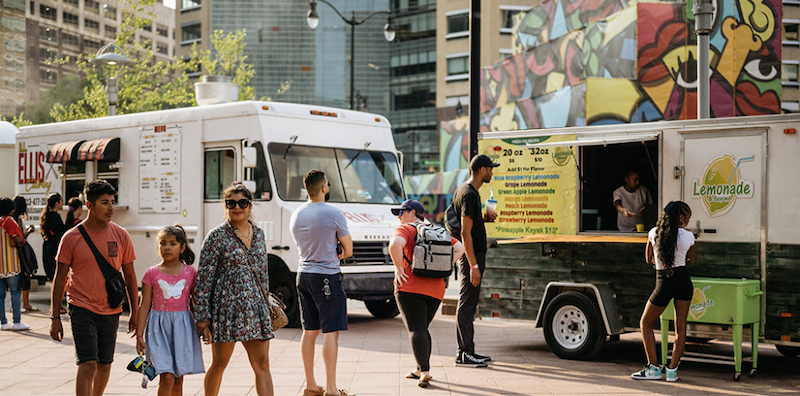 Downtown Street Eats is presenting more than 80 food trucks and carts in Detroit for its 2022 season. Beginning May 16, the trucks will be stopping at Cadillac Square and the Woodward Esplanade from 11 a.m. to 3 p.m. each weekday.
The opening week lineup will welcome Lemonade & Beyond, Los Dos Amigos, Smoke Ring BBQ, and Stix & Stones Pizza on May 16. Then Little Brothers Burgers, B.L. Ellis Catering, House of Mac, and Impasto are scheduled for May 17; Lemonade & Beyond and Los Dos Amigos for May 18; Rolling Stone Wood Fired Pizza for May 19; and House of Mac, Little Brothers Burgers, and Los Dos Amigos for May 20.
Locals can also expect to see trucks such as Detroit's Original Seafood Truck, CIA Cheesteak Institute of America, Motor City Sweet Treats, The Egg Hunt, and Khalipha's Mobile Kitchen in the coming weeks.
"I'm ready. I'm ready to meet new customers and feed people," says Andrea Jackson in a press release. She goes by "Chef Khalipha" and is the owner and operator of Khalipha's Mobile Kitchen. "We have the best halal soul food in town, and I want the world to know. Cooking is my passion and what I was destined to do. Our two-year anniversary is in July, and my plan is to continue spreading love and joy through my food. Being a part of Downtown Street Eats is an opportunity to do just that, while also helping to increase the visibility of my business and expand my customer following."
Now in its 10th season, Downtown Street Eats is curated by the marketing firm Ask Jennyfer and created, programmed, and managed by Downtown Detroit Partnership. The DDP also hosts beach parties, fitness classes, live music, and other family-friendly events.
For more information, visit downtowndetroit.org/events.
Facebook Comments