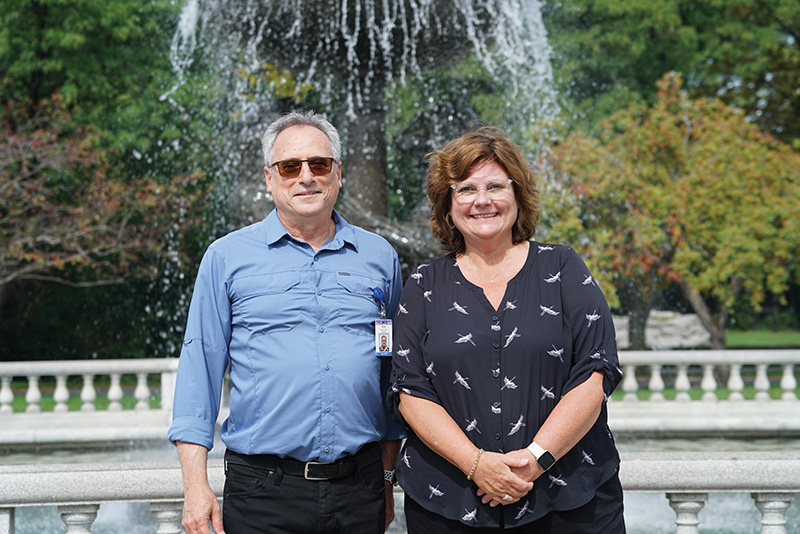 An under-the-weather elephant changed the course of new Detroit Zoo Director Hayley Murphy's life. In the early 1990s, the upstate New York native was a veterinary student at Cornell University when a local zoo contacted the school looking for someone to check out an ailing pachyderm.
Murphy volunteered and emerged with a different dream. "My plan was always to be a veterinarian and eventually have my own practice, but I thought checking on an elephant was a very unique opportunity," she says. "I ended up falling in love with the whole concept of taking care of animals in a zoo setting, especially seeing up close the connection children have to them. I realized that's the environment I wanted to work in and have never looked back."
It's been a meteoric career. She moved from part-time gigs at zoos in Massachusetts and Rhode Island to a job as director of veterinary services at Zoo New England and then Zoo Atlanta. In 2018, she became Zoo Atlanta's deputy director. She also became a top-tier cardiac primate researcher, too.
In September, the 56-year-old celebrated her biggest career milestone yet when she was named director of the Detroit Zoological Society, or DZS. Murphy, the first woman at the helm, succeeds Ron Kagan, who held the position for nearly 29 years. "I saw earlier this year that Ron was retiring and felt the Detroit Zoo was the perfect place to take the next step in my career," she says.
Under Kagan, the Detroit Zoo became a national leader in animal welfare, drawing praise and honors from the likes of the People for the Ethical Treatment of Animals. Most notably, in 2005 Kagan closed the elephant exhibits and sent them to a California sanctuary on grounds they suffered in Michigan's inappropriate climate. The zoo also earned the World Association of Zoos and Aquariums 2020 Environmental Sustainability Award.  
"One of the Detroit Zoo's biggest strengths is its great reputation for animal welfare and ethical care along with working incredibly hard to provide the most natural habitats possible," Murphy says. "I also love how the zoo is such an anchor in the community because animal welfare, education, research, and community engagement are so important."
Kagan announced his retirement in January and left the post this summer. Many of the zoo's most popular attractions opened during his tenure, including the Arctic Ring of Life, North America's largest polar bear habitat; the Polk Penguin Conservation Center; and Amphibiville. Annual visitation doubled under his tenure to 1.3 million by 2019 and DZS membership tripled.
Board Chair Tony Earley is optimistic. "Not only is [Murphy] a superb zoo executive, her accomplishments as a scientist will allow the DZS to continue growing as a leading animal and environmental research institution," he says.
Murphy's scientific work also connects her to the Detroit area. She and Beaumont Michigan Heart Group cardiologist Ilana Kutinsky have been studying the cardiac health of primates and ways to improve it for two decades. In 2000, they started the National Gorilla Cardiac Database to track ailments in captive gorillas. It eventually expanded to include chimpanzees and orangutans. In 2010, the pair founded the Great Ape Heart Project, the world's first coordinated clinical effort to target heart disease in all ape species living in zoos.
Murphy and Kutinsky recently worked together at Zoo Atlanta in July, implanting a cardiac monitor in a 17-year-old orangutan. The pair also studied the heart health of gorillas at a preserve in Cameroon in 2013, and Murphy has made solo trips to Rwanda and Tanzania. "It's so exciting that we will finally be living in the same area and won't have to get on a plane for us to see each other," Murphy says.
Murphy is relocating with her husband, also a veterinarian. She's not planning big changes any time soon. "Like any incoming CEO, I'll work to get a feel for the organization, its current policies and procedures as well as get a handle on who does what," she says. "Looking at ways to strengthen community support will be a priority, but I'll go through a golden period of learning before really starting to plan for the future."
---
What's New at the Zoo
A few things to look forward to at the Detroit Zoo in 2022
KidZone
A 7-acre attraction that includes play spaces with current animal habitats, including the barnyard. It will also feature a redesigned and expanded home for prairie dogs. Winter family activities will be offered. The opening date has not
yet been announced.
2. Polk Penguin Conservation Center
Closed since September 2019 for waterproofing repairs, the facility is due to reopen soon. The penguins have not been available for public viewing since that closure.
3. Reforestation
The DZS has begun a multiyear reforestation project that calls for approximately 2,000 trees to be planted, across zoo grounds. The organization is also partnering with local organizations to plan community tree plantings.
---
This story is featured in the November 2021 issue of Hour Detroit magazine. Read more stories in our digital edition.
Facebook Comments