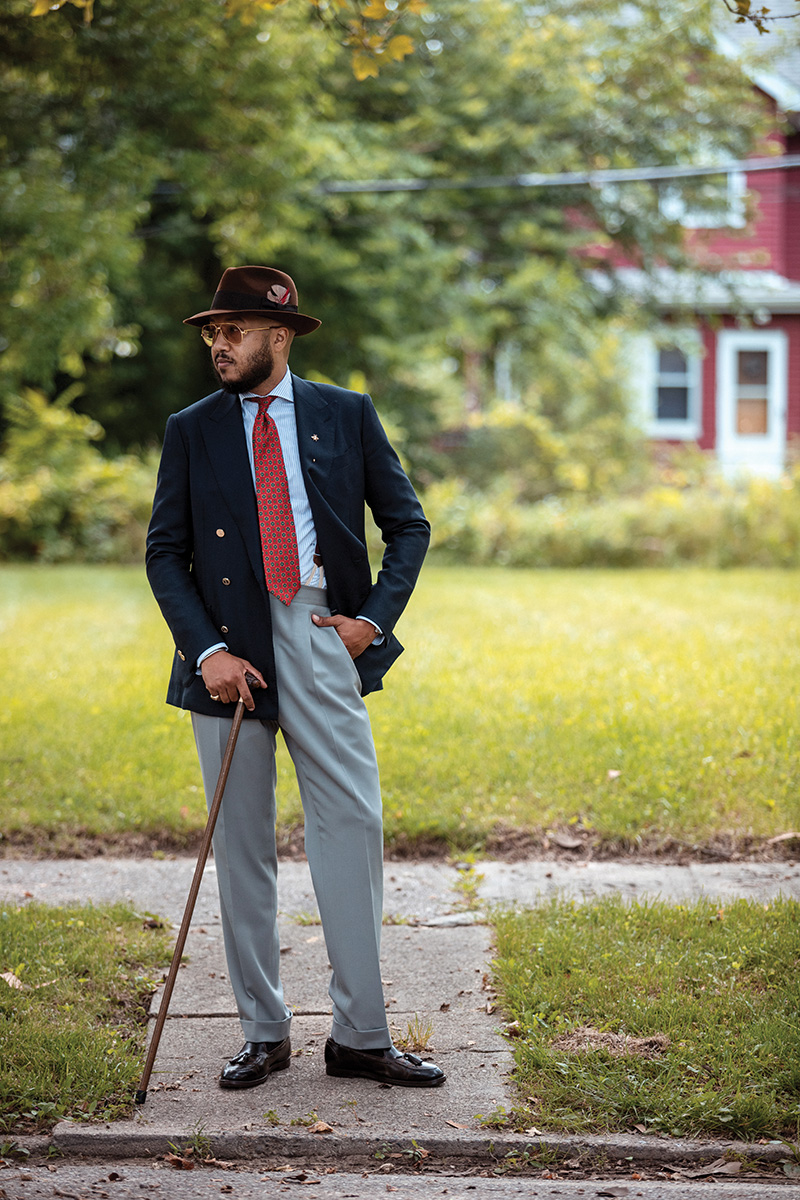 Nine times out of 10, when you run across Nelson Sanders Jr., he'll be wearing a suit. He says he hates the idea of reserving suits for special occasions. The 36-year-old native Detroiter credits his upbringing — particularly his father's tailored style (a simple grocery store run warranted a collared shirt, gabardine slacks, and hard-bottom shoes) — for inspiring his career in the clothing industry and shaping his distinctive look. Sanders started his custom suiting and lifestyle brand, Dandy Detroit, in 2019 after working more than 10 years in luxury retail and four years at a local custom clothing company. 
As a made-to-measure clothier, Sanders meets with clients at his shop inside Détroit Is the New Black to discuss their needs, review sample suits, and take their measurements. Eight weeks and three fittings later, clients receive their handcrafted suit made overseas with fine Italian or English fabrics and tailored in Detroit. To date, Sanders has outfitted local artist Sheefy McFly, former Pistons shooting guard Langston Galloway, and former Lions defensive tackle Caraun Reid. 
Here, Sanders takes a break from dressing the town to explain what's behind his own unique look.
My style is … Classic and timeless. It's heavily influenced by southern Italian style with some '70s inspiration. I love the high-waisted pleated trouser, wide lapels, double-breasted jackets. But on top of that, the Detroit flavor is always going to be somewhere, you know? I'm not afraid of color. I'm not afraid of pattern. I'm always going to represent Detroit in any way I can.
My all-time favorite suit is … The one I wore to Italy — a burnt orange, double-breasted fresco. It was a bold but elegant color, and I got a lot of good reactions from it.
My inspirations: I just nerd out on custom clothing and made-to-measure. One guy in particular, [New York-based creative director] Angel Ramos, his personal style is very similar to mine; he does what I do. His brand is called 18th Amendment. Another guy I get a lot of inspiration from is [Italian clothier] Nicola Radano. He has an accessory brand called Spacca Neapolis. I just like his aesthetic and the way he does things.

I can't leave the house without … My Cartier aviators.
My go-to fall pieces are … A double-breasted navy blazer. And a trench coat.
For a night out … I like to go places where I know people and they know me. If we're saying, "Nelson's going out and having a drink," it's at Monarch Club or The Skip. If we're saying, "Hey, I'm unbuttoning my shirt, I'm just chilling," it's gotta be Queens. Everybody knows your name. I'm a fan of the music and the diversity with the bar staff. My favorite bartender in the city is KaTrell Thomas. He goes by K.T. Wherever K.T. is bartending, that's where I'm at. I also frequent San Morello.
Never let the world tell you … What your inner self knows is best for you. 
Learn more about Dandy Detroit at dandydetroit.com.
---
This story is featured in the October 2021 issue of Hour Detroit magazine. Read more stories in our digital edition. And click here for more MI Style. 
Facebook Comments