When it comes to style, St. Clair Shores-based fashion influencer/journalist/marketing professional Asima Khan loves balancing "a mix of high and lows," she says. "I am 100 percent the kind of girl who will pair a $5 T-shirt with a $1,000 pair of jeans."
In 2017, after years of working in luxury retail at such shops as the Chanel boutique within Saks Fifth Avenue and Stuart Weitzman, both in Troy's Somerset Collection, the Wayne State University graduate launched her blog and Instagram page, As I Make My Mark, as a way to truly "engulf" herself in fashion.
Through Instagram, Khan offers her followers styling tips as well as advice on not just how to wear the latest trends but where to wear them.
Khan, who spent last summer in Paris for a work assignment (she's the full-time project manager at a marketing and sales firm), credits the City of Light for helping to evolve her style.
"I love things that are a little bit more understated but just to the eye are very beautiful," she says.
Last September, Khan attended New York Fashion Week's spring/summer 2023 shows, and today, she's here to discuss — and model — some of the trends she spotted on the runways.
For more from and about Khan, visit her blog at asimakemymark.com and on Instagram @asimakemymark.
The Trend: 3D Florals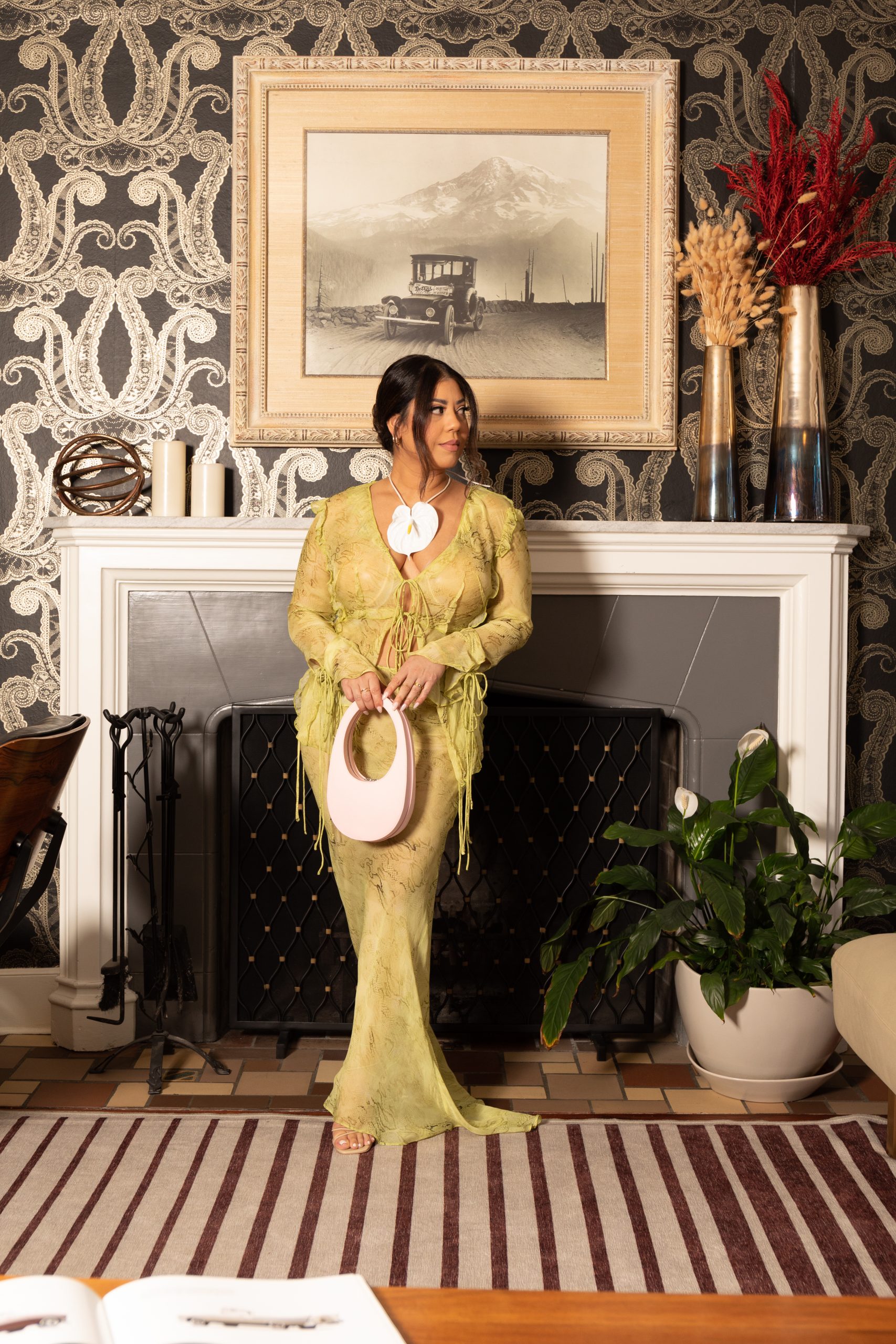 When it comes to warm-weather fashion, florals are a classic, but for this season's blooms, Khan says it's all about those that are 3D.
Khan notes that examples include the romantic rosettes on the strapless pink Valentino gown Zendaya wore to the 2023 Screen Actors Guild Awards and brooch-adorned blazers and floral adornments on T-shirts she's seeing on the runway, red carpet, and street.
"Floral appliques have made a huge comeback from the days of Carrie Bradshaw strutting the streets of New York in season three of Sex and the City."
These sculptural blooms dominated the collections at Zimmermann, Area, and Magda Butrym, Khan says, but it was Loewe creative director Jonathan Anderson's use of a particular variety that received her stamp of approval.
"The anthurium is one of my favorite flowers."
Items to Embrace This Trend
Stine Goya Margila Shirt in Impressionist Garden, $150, at Coup D'état, shopcoupdetat.com; Loewe Anthurium Flower Plant Charm, $450, at Neiman Marcus, neimanmarcus.com; Alexis Bittar Lily Flower Post Earrings, $295, at Neiman Marcus; Aquazzura Zsa Zsa Metallic Flower Ankle-Wrap Sandals, $995, at Neiman Marcus.
Khan's Pro Tip
"I think there are so many ways to express this [floral] trend, … but I'm trying to think outside the box," says Khan, who recommends using accessories. Try a choker necklace, adding a charm to your handbag, or opting for floral-decorated
Complete the Look at Caruso Caruso
Pairing this season's embellished tops with quality denim is a look Khan also approves of, and according to the self-declared "T-shirt and jeans girl," Caruso Caruso in downtown Birmingham is the "best place" to shop for denim.
The key to great jeans — and any look, for that matter — is fit, and Khan recommends finding a tailor. "You don't need to be a certain height or size for clothes to look good on you. But a good tailor is a must!" Caruso Caruso, 166 W. Maple Road, Birmingham; 248-645-5151; carusocaruso.com.
The Trend: Cargo
When it comes to cargo, Khan says it all started with the Italian brand Miu Miu.
"They came out with a micro miniskirt that … had multiple pockets on it. I can't look at any website now where I'm not seeing cargo pants, cargo dresses, cargo everything."
The key to the current look, Khan notes, is the number of pockets — the more, the better. Khan says she has yet to see a designer this season who "hasn't embraced this trend."
Some of her favorite looks from Fashion Week were from Tom Ford, The Attico, LaQuan Smith, and Cynthia Rowley. Plus, there was a specific Diesel skirt that she proclaims will "be perfect for summer." And it's not just about cargo bottoms ("Although the pant is still the front-runner," she notes): You'll even see this utilitarian look in tops and handbags, too.
Items to Embrace This Trend
Gabardine Patchwork Shirt, $45.90, Skirt, $49.90, at Zara, zara.com; Raver Medium Bag with Chain, $1,650, at Balenciaga, balenciaga.com.
Khan's Pro Tip
Dress it up! "When you see cargo, you immediately think casual, you immediately think daytime." Khan, a big proponent of looks that do double duty, suggests taking cargo to the next level with high heels and metallic accents.
Complete the Look at Bird Bee
Since 2017, downtown Detroit's Bird Bee has been offering fashion fans the latest in contemporary clothing. When it comes to the season's cargo looks, Khan says the Capitol Park staple is a must-shop. "They carry different styles as well as a wide range of fabrics and colors, including denim." Bird Bee, 1228 Griswold St., Detroit; 313-315-3070; shopbirdbee.com
The Trend: Embellishments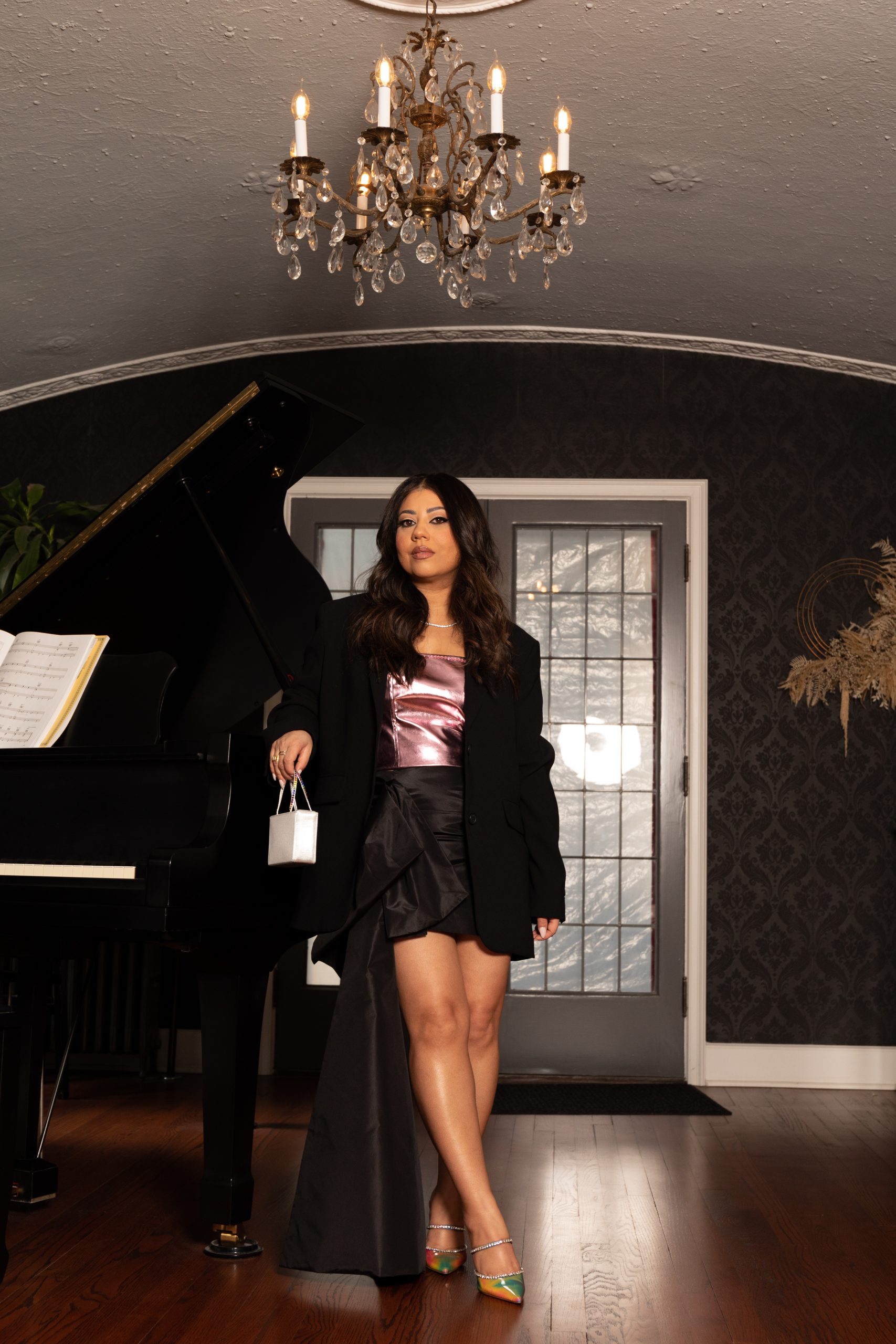 From sequins to feathers, rhinestone, and fringe, embellishments of all shapes and sizes have embedded themselves into the season's latest fashions, according to Khan.
"Currently, it's never too much; go big or go home," Khan says.
Sheer fabrics encrusted with gems and beaded micro bags are just a couple of examples of looks to try this season. Need inspiration? Khan recommends checking out Retrofête, Paco Rabanne, LaPointe, and Cinq à Sept — although it was Australian label Bronx and Banco's ability to fuse the elements that truly impressed her.
"They are all about feathers, sequins, and Swarovski crystals, and it was almost like, 'Let's figure out how to mix all of them together,' … which is amazing."
Items to Embrace This Trend
ide Sandals with Crystals, $1,490, at Gucci, gucci.com; Stine Goya Daya Shirt in Hydrangea, $270, at Coup D'état, shopcoupdetat.com; Kelly Elan Folie's Bag, $15,400, at Hermès, hermes.com; Floral Lace Pullover, $3,700, at Louis Vuitton, louisvuitton.com for similar styles.
Khan's Pro Tip
While Khan loves "how crazy you can get" with the embellishments trend, those looking for a more toned-down ensemble can master the look, too, she says. "You don't have to go so all out. There are ways to do things on a little bit of a minimal scale, too." A feather-trimmed blazer is just one way to embrace the trend without going "full force," she says.
Complete the Look at Jaus
Carrying Australian-designed pieces, downtown Birmingham's Jaus is home to casual and evening dresses as well as accessories. Khan says it's just the place to shop for fringe, sequins, ruffles, and more. Jaus, 311 E. Maple Road, Birmingham; shopjaus.com.
---
This story is from the June 2023 issue of Hour Detroit magazine. Read more in our digital edition.