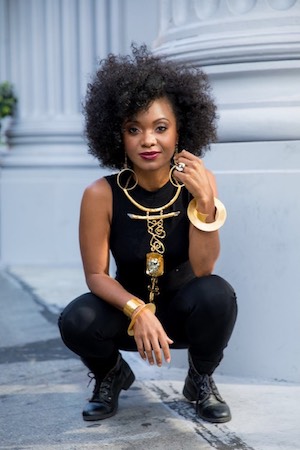 When Marvel's Black Panther was released in February, audiences were in awe of the story it told about the beauty, technology, and power struggles of the fictional African nation Wakanda. Actors Michael B. Jordan, Chadwick Boseman, and Letita Wright were praised for their standout performances, as well as those who worked behind the scenes on music, writing, and, of course, fashion. With a focus on the latter, jewelry designer Douriean Fletcher, who worked on the film under renowned costume designer Ruth E. Carter, is stopping by Detroit's Charles H. Wright Museum tomorrow evening to share her experience with the highest-grossing superhero film in the U.S. In anticipation of the Design Talk, the 31-year-old Pasadena, Calif. native spoke with Hour Detroit about creating jewelry for Black Panther, how it felt to see the positive reception to her work, and her trip to the city.
Hour Detroit: What was the jewelry-making process for Black Panther, from initial ideation and research to seeing the final product?
Douriean Fletcher: Me and Ruth sat down, and she showed me her mood boards and design aesthetic, which is very similar to mine. She wanted me to make very bold, huge pieces that were predominately metal, and had some raw crystals on them to give a very high-end yet raw aesthetic. A lot of huge bracelets, huge cuffs, big necklaces. For the Dora Milaje [the group of female bodyguards and Wakandan special forces], I was given the task of coming up with different iterations of what the illustrations from Marvel and Ruth looked like. The armor took a while, maybe a month. Those are all handcrafted, made out gold-plated and silver-plated metal pieces. I worked on Black Panther from June 2016 to last year. Following that, I got the license to sell the Marvel Black Panther jewelry line. When I [first] saw a clip of Black Panther at Comic-Con last year, that moment was extremely emotional because I realized I had never seen myself look so strong and powerful on screen before. I started crying because there was a sense of pride and power I felt.
In February, Big Sean surprised 900 Detroit Public School students at a screening of the film in Royal Oak, encouraging them to do anything they set their minds to. How does it feel to see the impact this film had on not only Detroit, but the black community worldwide?
It's quite phenomenal. How people react to social media, we pay attention to things for a week, then it fizzles away. But Black Panther has the same power, and people are still inspired by it, and talking about it. It's become a part of the culture now. I could not believe how young black girls and boys would react. How is a young person going to take this and process it? Especially with what is going on in the world today. It's given some representation to people in color in general, not just African-American people, and given them a new hero, especially kids. I've never seen this before, and I don't remember the cultural impact of Coming to America, but the fact that there is this pride of being from African descent that has happened since then, unapologetically across the board, I really take a lot of joy in seeing that. People came out in their African wardrobe, and I loved that.
Why do you want to share your experience at the Design Talk event?
The first reason is because of Detroit Fiber Works. [Co-owner] Mandisa was one of the first to open her doors and say, 'You can sell your work to the people and the community.' I had two pop-ups there, one in 2014 and the other in 2015. Being featured in an African-American museum was a dream of mine. When they approached me with that I thought, 'Of course, I want to do that,' especially with the love I've received from Detroit.
At the event, I will be sharing my story on the process of becoming who I am today. There will be a Q&A session and some interactive activities with the audience. On Saturday [11 a.m. to 7 p.m., June 30] at Detroit Fiber Works, we will have some of the official licensed Black Panther pieces, which encompasses sterling-silver pieces and the "Kilmonger Collection," which is gold-plated brass. There will also be some pieces from my last collection, Messengers.
Any advice for metro Detroit creatives who eventually want to work with major films like you?
Keep trying, keep going. Sometimes you've gotta put yourself in uncomfortable situations to get to the results that you want. No matter what distractions may come, stay focused on that goal. And really stay authentic to the talent that one may hold.
Organized by the Charles H. Wright Museum of African American History, Detroit Fiber Works, Studio M Detroit, and Metropolitan Museum of Design Detroit, the Design Talk featuring Douriean Fletcher is free and open to the public. For more information, visit the event's Facebook page.
Facebook Comments