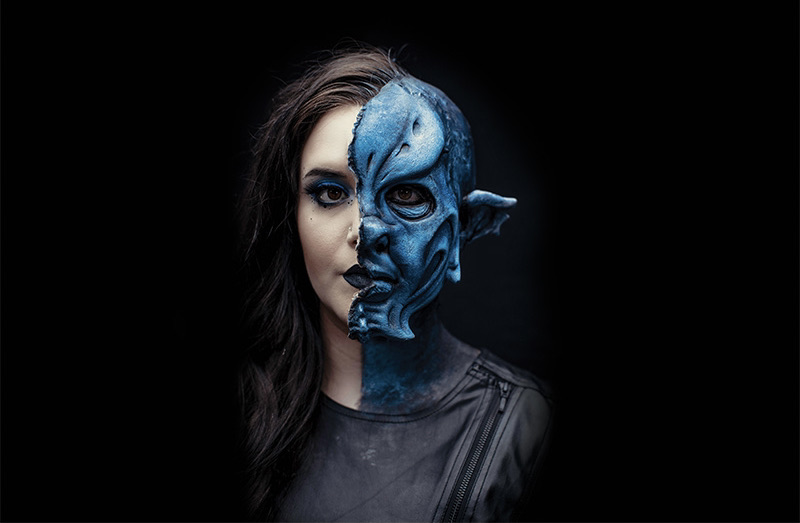 When it comes to Halloween getups, anyone can dab on a bit of clown paint. Not everyone can transform into a terrifyingly believable Pennywise. Or a zombie. Or an imagined alien creature. Alexandria Bishop can do all that and more.  
The self-taught, Waterford-based special effects makeup artist excels at creating macabre looks both on herself and on clients for short films, music videos, plays, and photo shoots. Bishop's nearly 55,000 Instagram followers rave over her gory creations (in one, she has a metal stake through her heart and blood spattered on her face; in another, she's Stephen King's murderous clown, with those awful rows of bloody fangs) as well as her cuter and more playful beauty looks (think Harley Quinn in Birds of Prey). 
With Halloween approaching, we asked this makeup master to explain how she pulled off one of her killer creations. Here, she deconstructs the alien creature she dreamed up in 2018 for the first makeup challenge of the international NYX FACE Awards, in which she was a finalist. 
How Special Effects Makeup Artist Alexandra Bishop Transformed into an Alien Creature
Wax on …:
She used Ben Nye Nose & Scar Wax along the edge of the prosthetic face so it would better blend into her skin. 
Go for the glam:
For the exposed side of her face, Bishop used all NYX products, including Angel Veil Skin Perfecting Primer, Total Control Drop Foundation, Liquid Suede Cream Lipstick, and various eyeshadow palettes. 
Not your average E.T.:
To begin, Bishop ordered a full-face, foam latex prosthetic from mostlydead.com, which she cut in half. "I thought it'd be more fun to look like my face is peeling away and showing an alien," she says. She applied the prosthetic using Pros-Aide Cream Adhesive. 
Color theory:
Since the prosthetic came in a nude color, Bishop used water-based paints from the brand Mehron to achieve the shades she wanted, including three different blues, white, and black. She used a stipple sponge to achieve the textured look on her neck and the prosthetic's head. 
Don't try this at home:
Since she didn't have a bald cap, Bishop pinned her hair back and made a makeshift cap using blue painter's tape. "I ripped out so many hairs," she says of the removal process. So, she highly recommends using a bald cap
The better to hear you with, my dear:
The ear was a separate prosthetic, also from mostlydead.com. 
Find more of Bishop's work on her Instagram, @aalexandriabishop, and at alexandriabishop.carrd.co.
---
Plus — How to Create Your Own Next-Level Look at Home 
Prep your skin!

 
Before you apply any makeup, you need to do your  usual skincare routine. "Wash your face and moisturize before," Bishop says. Once you're ready to take off your makeup, repeat the process. "Exfoliate, and then I would moisturize again. These [makeup products] can make your skin really dry." 
Check out these paints.

 
Bishop swears by water-based paints for body painting from Mehron, a New York-based cosmetics company that sells makeup specifically for special effects, Halloween, cosplay, drag, theater, and other creative uses. She loves the brand's Paradise Makeup AQ palettes, which come with eight colors and are vegan and paraben-, gluten-, and cruelty-free.
A skeleton look doesn't have to be boring.

 
While it's probably up there with bunnies and vampires in the not-so-original costume category, Bishop says a skeleton is still a great beginner's look that can easily be elevated. She suggests adding jewels you can buy from craft stores like Michaels for a glam look, or fake blood to keep it scary. (She recommends making your own blood — YouTube is your friend!) And instead of the usual black-and-white color scheme, try different colors or even glow-in-the-dark paints. 
Here's where to go for the best prosthetics.

 
If you're looking for full face masks, body parts, and more, Bishop recommends ordering from actual special effects shops. "When it comes to Spirit Halloween and the normal Halloween stores," she says, "don't get discouraged if you can't make their prosthetics look good, because it's really hard to make them look good." For budget-friendly prosthetics, head to mostlydead.com. If you're willing to spend big bucks, check out immortalmasks.com. 
Invest in setting spray.

 
It's essential for your makeup to last — you don't want all your hard work to go to waste! For a regular beauty look, Bishop's go-to is KVD Beauty's Lock-It Makeup Setting Mist. If you're doing a special effects look, try Cinema Secrets' Super Sealer Mattifying Setting Spray.
---
This story is featured in the October 2021 issue of Hour Detroit magazine. Read more stories in our digital edition.