When your last name is Saarinen and your father (Eero) and grandfather (Eliel) were internationally renowned architects who helped usher in the modernist movement, it's difficult to fill those shoes and measure up to that famous legacy.
"My father never pushed me to become an architect, but the biggest pressure was the last name and figuring out what I would do," says Eric Saarinen, 81, of Bloomfield Hills.
Eliel Saarinen, who was Finland's foremost architect and city planner, famously designed the buildings and landscape at the Cranbrook Educational Community in Bloomfield Hills and taught and served as the first president of the Cranbrook Academy of Art from 1932 to 1946 as the school became famous as the incubator for midcentury modernism.
His and his wife Loja's home, Saarinen House, located at the Cranbrook Academy of Art, is referred to by the institution as an "Art Deco masterwork and the jewel of Cranbrook's architectural treasures." Loja Saarinen was an artist, a designer, the academy's first head of the weaving department, and the director of Studio Loja Saarinen. She also designed some of the landscape on the Cranbrook campus.
Eliel's Finnish-born son, Eero, who studied and taught at Cranbrook with other design giants, including Charles Eames, Florence Knoll, and Harry Bertoia, later became known as one of the masters of modern American architecture for his revolutionary designs for the General Motors Technical Center in Warren; the Gateway Arch in St. Louis; the TWA terminal at New York's Kennedy International Airport; Dulles International Airport in Washington, D.C.; and the Tulip and Womb chairs for the Knoll furniture company.
By all accounts, Eric Saarinen has more than measured up, but in a different artistic arena. He has made a name for himself as an award-winning film director and cinematographer in Los Angeles for half a century.
Saarinen photographed 15 feature films, including Albert Brooks' Lost in America, Modern Romance, and Real Life, and was an Oscar nominee for best documentary, short subject, (Exploratorium) before directing and shooting hundreds of television commercials that garnered virtually every major advertising award, including the Grand Prix at the Cannes Lions International Festival of Creativity.
In 2005, he became the first director of photography ever to be inducted into the prestigious American Society of Cinematographers for "Extraordinary Achievement in the Field of Television Commercials."
In 2019, Saarinen returned to his roots and moved back to Bloomfield Hills after a 66-year absence, in large part because of film projects about Eero and Eliel.
Growing up at 1045 Vaughan Road near Cranbrook Schools, Saarinen says he was raised in a nonstructured environment without nurturing parents, although he was very fond of his grandfather Eliel, who he describes as "warm, very funny, a practical joker, and who took a real interest in me." (He later became close with his godparents, Charles and Ray Eames.)
"My dad was pretty cold and was always working, and my mother [sculptor Lilian Swann Saarinen], who came from a wealthy family, was never shown how to raise children, so I was really missing parents," he says.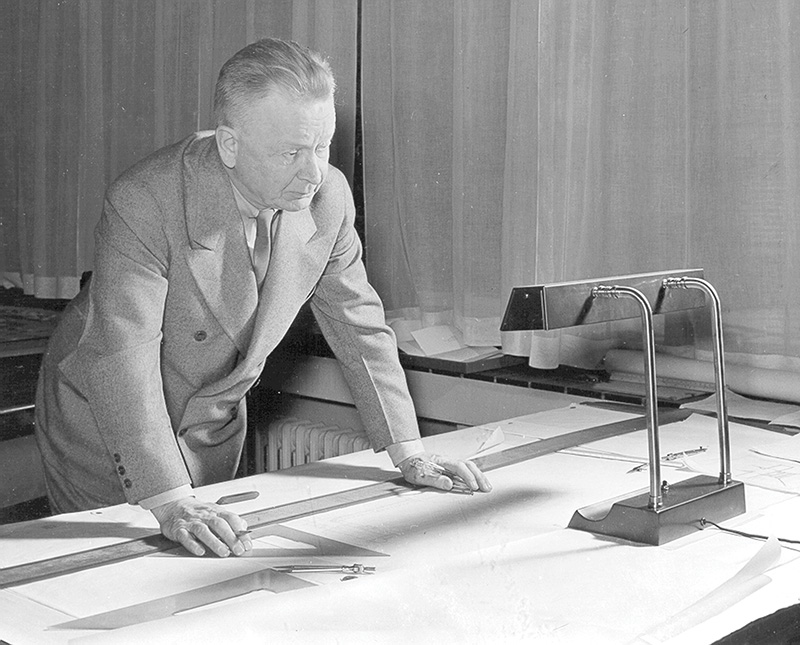 "I remember when I was around 6 years old, I stayed overnight at my grandparents' in Saarinen House, and when I awoke, I asked my grandfather, 'What should I do?' He said, 'Just go,' and I knew that meant to run around outside and explore," says Saarinen, who calls Cranbrook "a wonderful playground."
"I spent the day exploring Cranbrook, and I asked myself, 'Who were these people who lived here so long ago?' because it felt like the buildings and sculptures had been there forever. It was sometime before I learned that my grandfather designed it and that my father contributed some of the design elements," he says.
His childhood dramatically changed when, at age 11, he came home from school and saw his mother in tears packing boxes.
"She told me that she and Dad were getting a divorce and that she; my sister, Susan; and I were moving to Cambridge, Massachusetts," Saarinen says. He quickly learned that his father had fallen in love with New York Times art critic Aline Louchheim, whom his father promptly married. "I was very bitter about having to move and losing my friends, so I hated my father after that," Saarinen says.
He returned summers and, as a teenager, worked at his father's architecture office.
"I saw that my dad and his team worked 16-hour days and they were all brilliant. I thought, 'I'm not having fun and can't compete with them, so I have to find my own passion,'" says Saarinen, who was devasted at age 19 when his father died during brain surgery at age 51.
"It was a gut punch because I didn't have closure with him and I was denied the opportunity to show him who I was and what I could do," he says. "When you never get your father's blessing before he dies, life is uneasy."
After obtaining a Bachelor of Arts at Goddard College, he studied cinema at the University of California, Los Angeles, before embarking on a highly successful career as a cinematographer and beginning to shoot and direct art films. He also filmed the documentary Gimme Shelter, The Rolling Stones' Altamont concert, and numerous music videos and was the cinematographer for Roger Corman, Wes Craven, and other noted directors.
Saarinen's early career culminated with the 18-minute film Symbiosis, which was seen by millions during a 12-year run (1982-95) at Disney's EPCOT Center in Florida. Filming in 70 mm, Saarinen circumnavigated the globe two and a half times during the 13-month shoot.
In 1983, Saarinen co-founded Plum Productions, for which he traveled the world filming hundreds of television commercials.
About 10 years ago, Saarinen was given a unique opportunity to be the director of photography for a film that changed his life.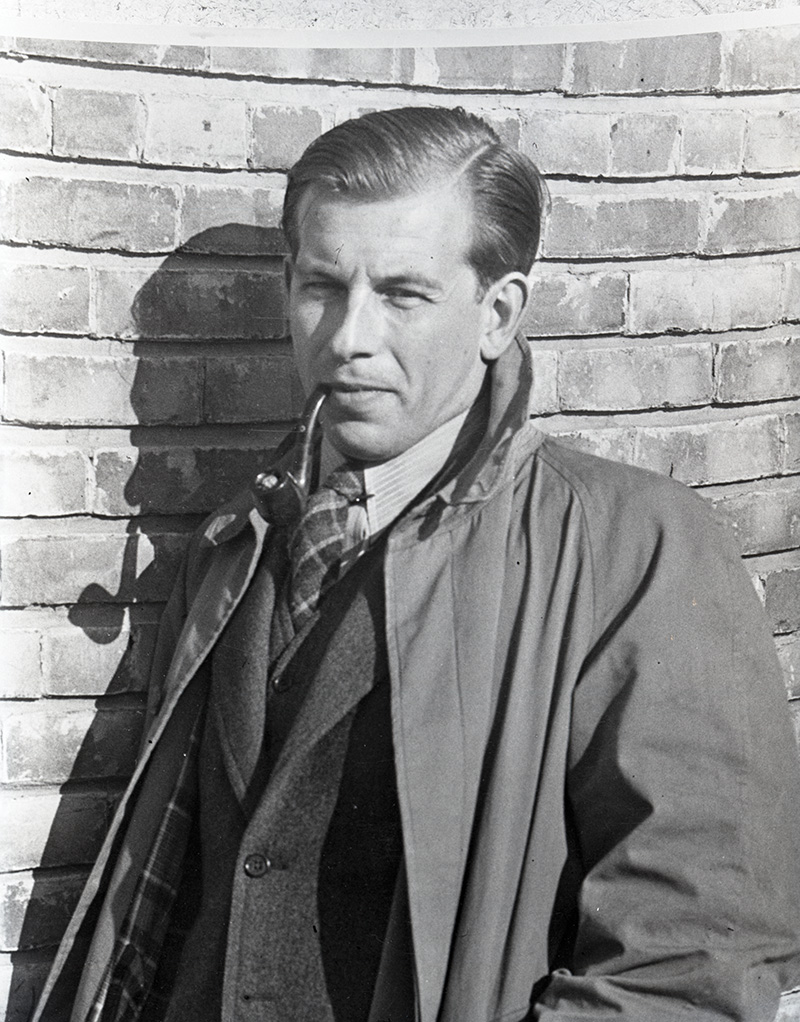 "The acclaimed documentary film director Peter Rosen asked if I would be the director of photography for a film on Eero for the American Masters series on PBS. I turned him down, mainly due to the continuing resentment I had towards my father," Saarinen says. He ultimately decided to take on the project so that Eero Saarinen's work could be properly remembered.
"I thought, 'If someone else films his work, they're going to screw it up,' and I insisted on
also editing," says Saarinen, who is interviewed throughout the film, which includes breathtaking views of the pioneering architecture from a drone.
During his research, Saarinen also made some important discoveries.
"I found the love letters between my father and Aline and letters Dad sent to his psychiatrist that revealed in detail the troubling marriage with my mother. Suddenly, I was able to put myself in his shoes, which gave me a much better understanding of him," he says.
The film, Eero Saarinen: The Architect Who Saw the Future, debuted in 2016.
"The film brought closure for me because I was able to forgive my father while elevating his reputation, which was a lot more validating than filming car commercials."
While working on the Eero film, Saarinen decided that he would also make a film about his grandfather, whose life and work he says have "been overlooked and underappreciated even though he was one of the leaders of modernism."
"At first, I thought I would do another documentary, but after reading his 1948 book The Search for Form in Art and Architecture and learning that he believed that 'artists should never copy themselves,' I decided to make a feature film instead," says Saarinen, who has produced a treatment and a pitch deck as he continues to try to raise the funds needed to make it.
A breakthrough in completing the storyline occurred two years ago when, by chance, he discovered a rare book at the National Library of France in Paris written by a French architecture student that covers Eliel's life and work between 1896 and 1909, a period about which Saarinen was missing information.
"I have a great and entertaining story that is inspirational," Saarinen says.
As a side project, he has also been filming a local 9-year-old girl named Gianna reading a book that she wrote and illustrated, an endeavor he says may become a movie short. "It's a remarkable story about living in the woods with a wolf pack from the perspective of a wolf," he says.
Returning to where he grew up has been a fulfilling experience. "Moving back to Bloomfield Hills after all these years, enjoying Cranbrook once again, and doing this film on my grandfather has brought my life full circle," Saarinen says.
---
This story is from the November 2023 issue of Hour Detroit magazine. Read more in our digital edition.