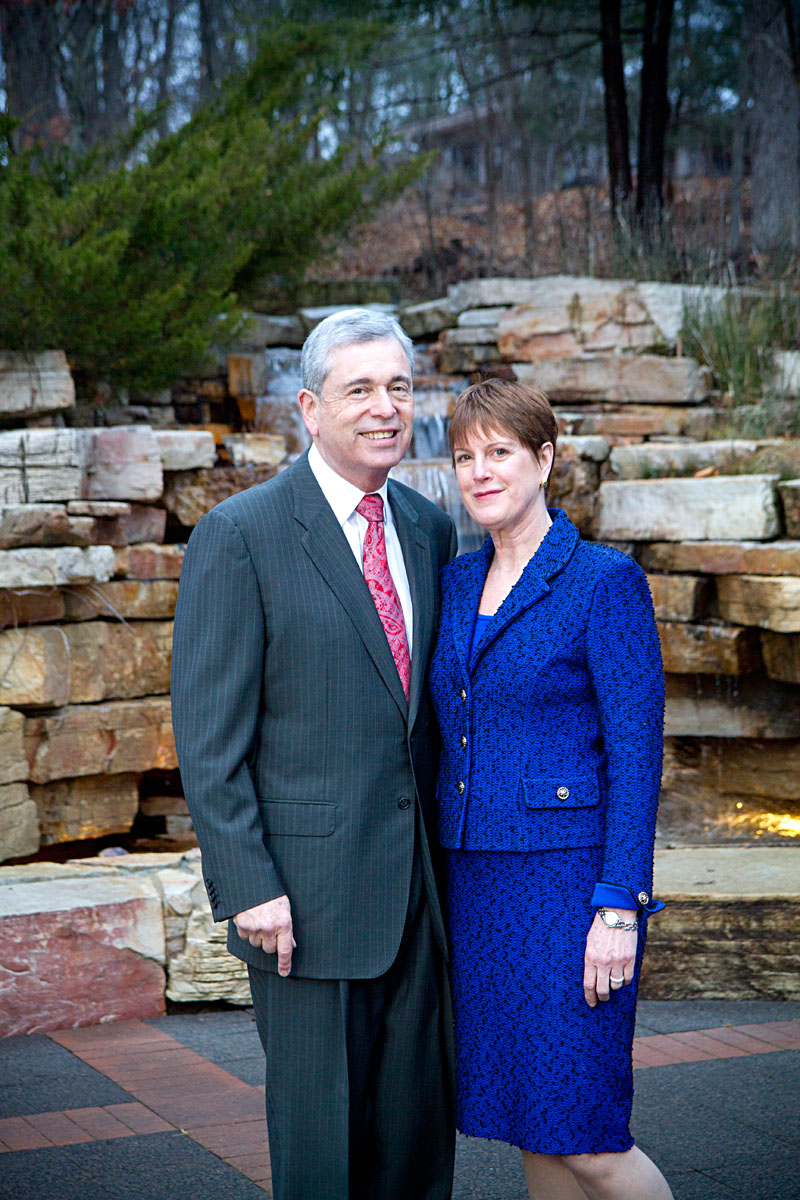 For the past decade, Ambassador Ronald and Eileen Weiser have prioritized improving Michigan's education system. Only 80 percent of the state's high school students are graduating — that's 4 percent less than the national average. At the time of our conversation, Ambassador Ronald, chairman of the Michigan Republican Party, was preoccupied with Michigan's 2018 general election. However, Eileen, superintendent and member of the State Board of Education, gladly shared the husband-and-wife duo's plans to create learning opportunities that are tailored to boys and girls across the state.
Give Detroit: You and your husband have donated roughly $80 million to more than 26 schools and programs at the University of Michigan. What is your relationship with your alma mater?
Eileen Weiser: With a liberal arts education, you learn how to be a team player, fail at something, and then prevail. The knowledge that the university gave me became useful in navigating future projects, like renovating a scrap yard that went through environmental remediation. Today, I'm currently chairing the Commission of Presidential Scholars, a committee that selects 151 of the top-performing students across the country that excel in the arts, career and technical education, as well as academics. I've been involved with a variety of initiatives, even nonprofit or education-based, that I know I wouldn't have been prepared for if I not had the education I was fortunate to get. When you're lucky enough to have an education that can make the world a better place, even if it's a small part of the world, you automatically start thinking about how such a thing can be possible for those behind you.
Many of your donations focus on improving Michigan's education systems.
Our primary focus has been on the University of Michigan, as we have relationships with both the administrators and professors, and understand the challenges they face. I'm on the State Board of Education, so both Ronald and I are aware that colleges and universities can only start at the point at which K-12 leaves off. My priorities have been trying to find out what it takes to connect every child with an education that works for him or her and leaves them prepared for life. Michigan currently is not providing this resource, and because of that, it limits the number of kids who are able to go on to post-secondary education. We are working to solve this issue and prepare tomorrow's leaders.
With your major financial gift to the University of Michigan Dearborn, the school was able to establish the Engineering Lab Building. Do you see a connection between this educational institution and the greater future of Detroit?
As a Michigan Science Center board member, Ron and I believe that Michigan's heritage and employment base is directly tied to keeping families in state. Anything that develops or maintains the strength of the state's employment base is of importance to us. University of Michigan Dearborn has an incubator status for its proximity to Detroit, the Henry Ford, Ford Motor Co., and the entirety of the automotive industry in southeastern Michigan. The automotive tradition is what made southeastern Michigan strong; this was before Driverly and autonomous vehicles, which will certainly shape our society over the next 50 years. The education and skills that come with being an effective engineer, regardless of how they are utilized, will continue to be valued into the near and far future.
The Weiser Family Residential Scholarship Fund provides grants for students who lack the funds needed to achieve higher education. Why is it important to give Detroit's academically achieving students the scholarship they need to attend college?
We're finessing a method to get every child into a K-16 or K-14 experience; an education that will help them obtain a life that they're suited to lead. Far too often, kids are held back by education. According to the 2017 National Assessment of Educational Progress Report, Michigan's white and African-American students who come from middle and upper-class economic backgrounds, ranked 49th in the country for their reading skills. People are unaware that our state's education system is not connecting with every child. Children living in inner cities and rural poverty are not the only ones at risk; it's also students from wealthier backgrounds. In addition, 29 percent of Michigan's children who have Individual Education Plans, or special-education students who have dysgraphia, dyslexia, mild cognitive or learning disabilities, drop out from high school. This number is substantial when compared to the national average, which is 18 percent. We're one of a few states that the U.S. Department of Education singled out for intervention along with the Marshall Islands, and Washington, D.C. schools.
You also have contributed toward University of Michigan's Project Healthy Schools, which focuses on studying pediatric cancer, food allergies, among other health-related issues. Why are you and your husband so passionate about supporting these causes?
Two of our five grandchildren have Type 1 diabetes, and others are severely affected by food allergies. There's very little funding for research on juvenile diabetes and our philanthropy answers the questions that are moving medicine toward children who are affected by illnesses. It's the same sort of thing as educating children on to live as healthy as possible. These illnesses impact our family or people we care about and they impact children, so I guess that would be the common thread.
What is your personal philanthropic mission?
There are many issues that could be eased with minimal intervention. We've not matched providers and educators who want to help kids, and failed to provide the evidence-based reforms that are needed. These reforms have actually made a difference and proven to be effective. I'm passionate about competency-based learning, which I think is the wave of the future for all schools. You're still demanding high standards, but you're teaching, for example, geometry by having students build Habitat for Humanity houses. You're never going forget geometry if you build a house. In addition, Habitat for Humanity teaches community building and connects people who have a need that you can help address. Students learn teamwork and all of the skills that you need to work effectively in the industries of the future. We should be connecting the dots on these two puzzles that seem like they have no similarities and see if there's a new, cost-effective, and smarter way of providing better outcomes than what we're doing right now.
What does it mean to you and your husband to be receiving the Association of Fundraising Professionals' Max Fisher award?
Max Fisher was a legend, an extraordinary human being and a delightful person, who was also complicated and challenging. The fact that the award is named after him with all he did is extraordinary for us. We're not good at being recognized — we like being under the radar — but this is an extraordinary honor for us and we're obviously humbled and appreciative.
---
For more information, visit umich.edu
---
Related: AFP Interview Series: Nominee Detroit Feedback Loop