–  A  D  V  E  R  T  I  S  E  M  E  N  T  –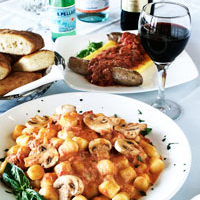 Italian people are known for being passionate, and Anthony Rugiero is no exception. One of his greatest passions is ensuring that Antonio's Cucina Italiana serves only the very best in traditional Italian-style dishes. For the chefs at Antonio's Cucina Italiana, it is only by putting their heart and soul into the cooking that they live up to the time-honored tradition expressed in these simple words: Passion is part of our business.
"The atmosphere at each of our five restaurant locations is warm, inviting, and perfect for the family," Rugiero says. As a family man with a wife and four children, he would know. His mother, Chef Momma Rita, came up with house specialties such as handmade gnocchi with "Rita sauce," and comfort food like veal osso buco. Other classic specialties include polenta, veal parmesan, lasagnas, linguine with clam sauce and our famous pizza bread. While awaiting your food, you can watch pasta being made, in the "pasta factory." After dinner enjoy espresso and authentic gelato, made fresh daily.
Soon the Rugiero's will celebrate 55 years in business. "We had small beginnings…until pizza put us on the map," Rugiero says. In fact, his father started the original restaurant back in 1964 with a pizza pie that consistently won local awards. A keen businessman, the elder Rugiero listened to customers' desires when adding items not only to the pizza, but also to the restaurant's menu; and so the business grew, along with its vast number of loyal patrons.
Today, the business gives back to the community through its annual Feast of St. Antonio celebration, which raises donations for those less fortunate. The Rugiero Promise Foundation (rugieropromise.org), founded by Anthony Rugiero, hosts an annual signature event Rugiero Casino Royale This event benefits the diabetes research fund at U of M.
Rugiero is President and CEO of his family's five Italian restaurants in the metro Detroit area. All the restaurants are upscale family dining with smart casual attire. The design is Tuscan and provides guests with a warm authentic Italian experience. If you have a passion for true Italian cuisine in restaurants that offer old-world charm, consider yourself invited to any of the 5 locations; Antonio's Cucina Italiana or Roman Village Cucina Italiana or Antonio's Piccolo Ristorante.
To learn more about the Rugieros and their restaurants, visit antoniosrestaurants.com.