NIGHTINGALE AWARDS 2012 – SPECIAL ADVERTISING SECTION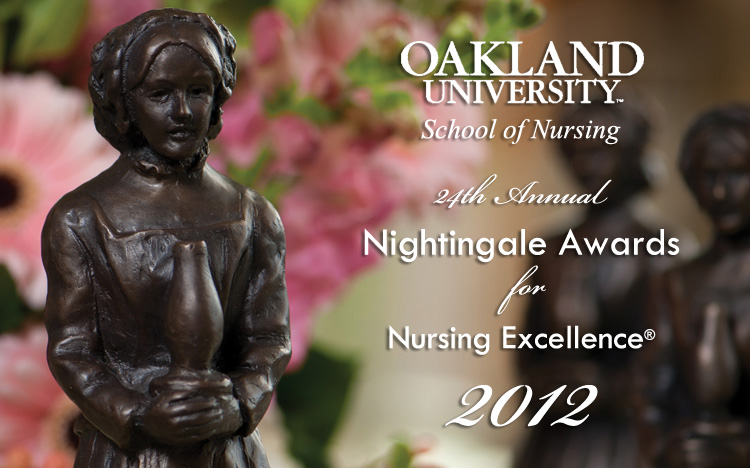 The tradition of honoring Michigan's top nurses began 24 years ago, at the urging of Maggie Allesee, an Oakland University School of Nursing long-term Board of Visitors member and philanthropist. The first year, honorees were selected by placing the names of potential winners in a hat. This process has been honed, and today a committee of nearly a dozen nurse leaders within the community read and score more than 100 nominations.
Hundreds of hard-working, heroic, and honorable nurses from around Michigan, Ohio, and Canada have been lauded at the Nightingale Awards for Nursing Excellence.
Proceeds from the event, referred to as the Academy Awards of Nursing, benefit students through scholarships and faculty through research support, and they ensure that nursing education remains on the cutting edge — which will improve the lives and safety of the patients and their families with whom nurses work.
New this year, Hour Detroit magazine will be the media sponsor of the event and will also sponsor the People's Choice Award. With Hour Detroit's sponsorship, the presentation of this award will vary slightly from the other award categories. For the People's Choice Award, the selection committee will select the top three honorees and the winner will be announced at the Nightingale event, rather than ahead of time. We are excited about our partnership with Hour Detroit magazine.
"This prestigious event not only honors the intelligent and inspiring men and women in nursing; it also raises needed funds for scholarships and up-to-date equipment to adequately prepare future nurses, so they can provide their patients with the highest-quality care." Maggie Allesee, Oakland University School of Nursing Board of Visitors and founding member of the Nightingale Awards.
ADMINISTRATION AWARD WINNER
Barbara Medvec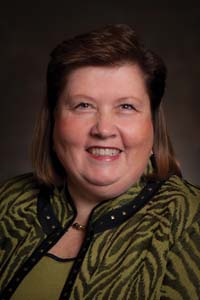 Oakwood Healthcare Inc.
Barbara Medvec is a visionary leader dedicated to the profession of nursing. She works tirelessly to influence change and improvement in health care. Under her 10-year leadership, Oakwood Healthcare Inc. has created and implemented multiple quality initiatives to improve health care. Medvec introduced Magnet to Oakwood after arriving there, and has been the driving force behind Oakwood's Shared Decision Model throughout the nursing organization, the foundation to Magnet. Her leadership and guidance have resulted in nursing engagement from the direct care nurses in the Corporate Councils, and fostered sharing in the decisions that are made everyday around clinical practice. Medvec has ensured that the environment for the profession of nursing at Oakwood is in accordance with Oakwood's philosophy, "Patients Come First," and the nursing operating vision which encompasses both mission and vision through a visible community of nurses who are engaged in guiding the delivery of care and inspired to positively impact patients' experiences. To guide Oakwood to a practice environment that is supportive of nursing research and its application into clinical practice, Medvec has created an innovative partnership with the Nurse Research program at the University of Michigan School of Nursing. She also developed the Oakwood Nursing Clinical Inquiry Information Council (NCIIC).
RUNNER UP
Maureen Bowman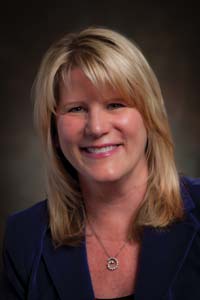 Beaumont Health System
Maureen Bowman has dedicated her career to Beaumont Hospital, Royal Oak, for more than 30 years. She advanced through the ranks, starting as a staff nurse and working her way up to administration in her current role as vice president and chief nurse officer. Bowman, with her cooperative spirit and professional ethic, works collaboratively with several disciplines, ensuring the patient remains the main focus. She has excelled in developing nursing into a robust and respected partner in all hospital initiatives. She is committed to the organization's goal for 2012, which is to improve the patients' experiences and enhance the culture of safety.
ADVANCED PRACTICE AWARD WINNER
Mary Sieggreen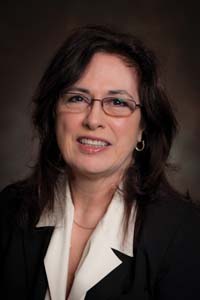 DMC Harper University Hospital
For more than 30 years, Mary Sieggreen has worked tirelessly in the battle against one of health care's greatest iatrogenic problems: pressure ulcers. In recognition of her work, the National Pressure Ulcer Advisory Panel (NPUAP) invited her to become a member of its board of directors (2010-2014). As a dedicated member of NPUAP — a national organization that serves as the authoritative source in pressure ulcer prevention and treatment through education, research, and public policy — Sieggreen has been instrumental in educating nurses about the appropriate evidence-based practices in the treatment and eradication of nosocomial pressure-related injuries. Her educational and leadership abilities are evident on the Harper-Hutzel Pressure Ulcer Committee. Sieggreen is extremely committed to the education of bedside nurses, and supports their efforts for pressure ulcer control and education/adaptation of research-based interventions to prevent skin breakdown and healing of wounds of all types. She was appointed to the Detroit Medical Center's system-wide committee for pressure ulcer prevention and treatment because of her common-sense approach. Sieggreen was also appointed to the National Quality Forum (NQF) Steering Committee's "Patient Safety Measures-Completion Project," due to her inherent knowledge and understanding. The maintenance project addresses hospital complication-related measures including pressure ulcers, falls, medication safety, and thromoembolism.
RUNNER UP
Helen Stewart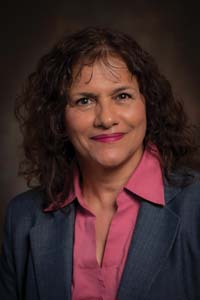 McLaren-Oakland
Helen Stewart is the McLaren Children's Health Services (MCHS) administrator and a pediatric nurse practitioner, and she has dedicated 35 years to the field of pediatric nursing. As a result of being passionate about the children in her community, she became acutely aware of the nationwide increase in childhood obesity. Wanting to make a difference, she implemented her own program to provide parents with information about childhood obesity, and initiated collaboration between the clinic and the Oakland County Health Division. Stewart is partnering with Michigan State University's Extension Services Health and Nutrition Institute to develop a childhood obesity prevention program for the Pontiac schools.
EDUCATION / RESEARCH AWARD WINNER
Caroline Trapp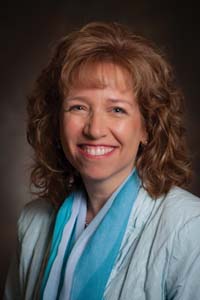 Physicians Committee for Responsible Medicine
Caroline Trapp is the director of Diabetes Education and Care for the Physicians Committee for Responsible Medicine (PCRM), a nonprofit organization that influences advancements in medicine and science, and advocates for preventive medicine and higher ethical standards in research.
Trapp was the first nurse to be employed by the PCRM, where she has established new programs and disseminated life-altering information through a DVD that she helped produce, a companion manual that she wrote, guest lectures, and national and international presentations. The DVD, entitled "Food for Life: The Power of Food for Diabetes Prevention and Treatment," has aired on PBS nationwide and received the Favorably Reviewed Seal from the American Association of Diabetes Educators. Since Native Americans have the highest rates of this disease in the U.S., Trapp sought out leaders in the Native American communities, and shared with them the research on the plant-based diet. She has built relationships with the decision-makers within the Navajo Nation Special Diabetes Project, the Indian Pueblo Cultural Center, and the Institute of American Indian Arts. Strong and self-directed, Trapp inspires collaboration and cooperation through her proactive attitude and her desire to get things done.
RUNNER UP
Cheryl Larry-Osman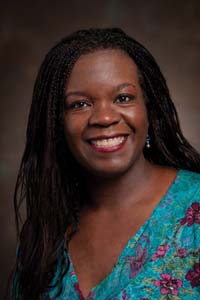 Henry Ford Health System
Cheryl Larry-Osman is a perinatal clinical nurse specialist at Henry Ford Hospital. She began her career in the Detroit Police Crime Laboratory, working in in the area of forensics. After the death of a close friend, she decided she wanted to work where she could make a difference in people's lives. As a perinatal nurse, Larry-Osman strives to ensure the infants and their families are physically, mentally, and emotionally ready for their new lives.
Beyond her caring for tiny patients, Larry-Osman values the education and training of health-care professionals and the community at large. She develops and authors courses to teaching curricula used throughout the Henry Ford Health System. Specifically, she developed the Obstetric Orientation courses for Henry Ford including basic fetal monitoring, normal pregnancy and birth, high-risk pregnancy and birth, postpartum/normal newborn, labor support, and operative vaginal delivery/operating room techniques.
Larry-Osman also serves a course instructor for the Association of Women's Health Obstetric and Neotnatal Nurses, and is part of the simulation team for the Henry Ford Obstetrics Department.  In 2011, Henry Ford Health System received the Malcolm Baldridge National Quality Award, the only awardee in Michigan, thanks to an instrumental role she played in developing simulations.
LONG-TERM CARE / REHABILITATION WINNER
Maria Bobo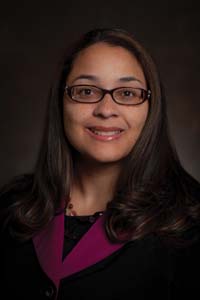 DMC, Rehabilitation Institute of Michigan (RIM)
To build a stronger shared governance model, Unit Based Practice Councils (UBPC) was established on each unit at the Rehabilitation Institute of Michigan (RIM). Maria Bobo worked closely with the nurses to equip them with the skills and resources they would need to become an effective council, unit, and hospital leader. She also provided instructional sessions on how to organize and run an effective meeting, the role and responsibilities of the UBPC chairperson, group dynamics, how to be a change agent and role model, and how to successfully communicate with council members and other unit stakeholders. Since the start of the UBPCs in 2010, Bobo has been an active member on each unit council and still provides support and guidance to the chairpersons. All of RIM's UBPCs have been successful in improving the delivery, quality, and efficiency of care to the patients through recommendations, implementations, and maintenance of professional nursing standards. For the past three years, the Rehabilitation Institute of Michigan's Professional Nurse Council (PNC) has been committed to the enhancement and empowerment of nursing through education, communication, and shared decision-making. As the resource advisor to the PNC, Bobo made necessary changes and enhancements to the shared governance structure, fostering active participation.
RUNNER UP
Laurie Murray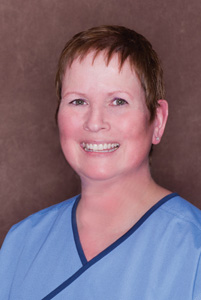 Crittenton Hospital Medical Center
Laurie Murray has worked as a staff nurse at Crittenton Hospital Medical Center's Inpatient Rehab Center since 2007. She has taken on a number of leadership responsibilities and special projects, including serving on the Unit Practice Council (UPC) and representing the rehabilitation unit on the Nurse Practice Council (NPC). Murray has completed monthly chart audits and has assisted in tracking the Commission on Accreditation of Rehabilitation Facilities Stroke Specialty Accreditation requirement to monitor evidence-based outcomes at discharge for stroke patients. Murray has developed an "F.Y.I." sheet that she shares with the rest of her rehab co-workers every one to two months, so that they are aware of specific changes in policies.
NURSING IN THE COMMUNITY WINNER
Mary Hagen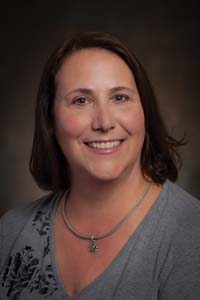 Henry Ford Home Health Care
Mary Hagen is helping to define the changing face of health care for many patients, as a role model in the use of technology. As supervisor of Henry Ford e-Home Care, Hagen is responsible for a comprehensive array of home technology options that are geared not only to keeping patients safe in their homes, but also toward helping them take a more active role in their health, while reducing the risk of repeated hospital admissions and emergency department visits. The e-Home Care in which Hagen is responsible includes Henry Ford Lifeline, Henry Ford Medication Dispensing System, and Henry Ford Telehealth. Overall, these programs serve more than 1,100 patients in southeast Michigan. As e-Home Care supervisor,  agen's quest to improve, innovate, and simplify the lives of patients through the use of technology is evident. She has worked diligently to expand the scope of services offered by Henry Ford e-Home Care, as well as the number of patients served. She works closely with nursing staff, to help them learn to identify patients whose complex medical problems or history of frequent hospitalizations might enable them to benefit from in-home monitoring. Hagen stays on top of the latest advances in technology for Henry Ford's patients.
RUNNER UP
Darleen Whitlow
Adult Well-Being Services
Darlene Whitlow is able to achieve significant improvements in the health of the most vulnerable adults in the community by serving as the leader of an interdisciplinary mobile health team in an integrated health care project funded by the Robert Wood Johnson Foundation. The project targets adults with severe mental illness and co-morbid diet-related conditions who live in adult foster care homes in Wayne County. The University of Michigan's Department of Psychiatry October 2011 Report documented concrete improvements in adult foster care residents participating in their project after just two months of receiving intervention from Whitlow and her mobile team.
OAKLAND UNIVERSITY DISTINGUISHED ALUMNI WINNER
Cathleen Solecki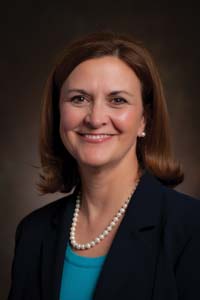 Beaumont Health System
Cathleen Solecki is the nurse lead for the Beaumont Grosse Pointe Hospital and Beaumont Health System Neuroscience Center of Excellence. As the nurse lead, she ensures clinical effectiveness system-wide, with optimal results. She also assures the adoption and standardization of best practices throughout the system. Solecki coordinates with team members to develop action plans for the nursing component of the Center of Excellence, and facilitates implementation of desired changes at the division and system levels. In October 2011, Solecki's leadership led to improvement in 13 out of 24 quality indicators of the neuroscience Quality Matrix. This dramatic improvement in the quality scores was due to her daily comprehensive review of every stroke TIA patients had, to ensure that all core measures and documentation were correctly implemented. Other reasons for this success included the education of 150 RNs and ancillary staff, as well as education provided to emergency room physicians, neurologists, neurosurgeons, and primary care providers. As the nurse lead for the Neuroscience Center of Excellence, Solecki reviews and analyzes every 30-day related readmission for neurology and neurosurgery, with a focus on chronic readmissions, and identifies trends and ways to affect and decrease these readmissions. Her work has helped improve HCAHPS patient satisfaction scores.
RUNNER UP
Michelle Wallace
Beaumont Health System
Since 2001, Michelle Wallace has served as a nurse clinician in Beaumont's Radiation Oncology Department. Her dedication to the totality of a patient's well-being is unparalleled. She coordinates the Contura/MammoSite program, and serves as a preceptor for medical students and summer research interns. In October 2011, Wallace received the Nursing Scientific Abstract Award from the American Society for Radiation Oncology and the Nursing Committee for presenting a comparison of five-year clinical outcomes. Wallace was also awarded the 2012 Excellence in Radiation Therapy Nursing Award from the Oncology Nursing Society.
STAFF NURSE PRACTICE WINNERS
Nancy Herman
Beaumont Health System
For the past six years, Nancy Herman has accomplished many goals and achievements with the Family Birth Center at Beaumont Health System – Troy. She has been the driving force with improvements, and is an inspiration to her colleagues and patients. Patient safety is one of Herman's top priorities, and her commitment to shared governance with the Unit Practice Council has enabled her to develop many procedures like "Dr. Mann," which stands for More Assistance Needed Now. Before the implementation of text messaging, this code was used as the primary means for immediate assistance to patients. Herman has served on the Professional Nurse Council for two years, and collaborates with hospital administration to improve and assure excellent patient care. Some of her contributions include raising money for a Habitat for Humanity project; and serving on the Quality and Safety Committee; where "traveling" posters were created to educate staff on fall prevention. Also, she assisted in creating Professional Development Day, an annual event for PNC members and leaders. Herman is an active member of the Magnet Committee, which helps recognize excellent delivery of patient care. In May of 2009, she was selected to receive the DAISY Award for her compassionate and extraordinary work as a nurse.
Kari Szczechowski
Oakwood Hospital and Medical Center
Motivated, uplifting, committed, and energized are four words which describe Kari Szczechowski. She represents all of these qualities as a staff nurse in the IICU at Oakwood Hospital and Medical Center. She has been recognized by countless patients for her extraordinary services. Every day, she demonstrates Oakwood's values of CREDO (Compassion, Respect, Excellence, Diversity, and Ownership). Szczechowski has taught, mentored, and engaged her team members to focus on quality patient care within the unit. Her value and dedication as a nurse has led to waiting lists of other staff nurses who want to join her team. Since her time in the IICU, the unit has experienced record retention greater than 95 percent annually, and nursing engagement scores exceed 75 percent of the National Gallup database. Her accomplishments include developing a standard schedule for full-day orientation, creating an orientee handbook for reference to new staff, and introducing a ventilator withdrawal order set with Palliative Care Services, which included video training for all units in the hospital. For the past three years, Szczechowski has led her team with the IICU Unit Engagement Day, focusing on expanding education and knowledge. This has become one of the most valuable events within the OHMC nursing organization.
RUNNER UP
Marisa Engel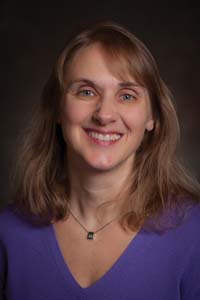 Beaumont Health System
Marisa Engel has more than 20 years of nursing experience with Beaumont Health System. Her dedication to patient care and her colleagues has led to her taking on responsibility for many projects, and she became a Subject Matter Expert (SME) for the launch of STORK, Epic's product for electronic OB documentation. Engel's goals are to make sure all of her patients' needs are addressed in a timely manner, and to ensure that her colleagues have the necessary tools they need to be the best bedside caregivers.
Nancy Hearold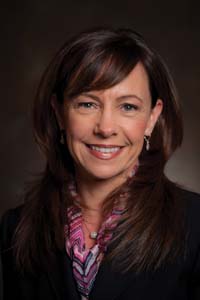 Beaumont Health System
Nancy Hearold's goal is to make sure all patients and their families are heard and understood. She has a strong work ethic and a passion for healing, and has been recognized by many patients and colleagues for those qualities. Hearold has worked within trauma, SICU, and MICU. She goes beyond her role as a nurse and is involved with projects such as "Creative Critical Care" — a class to help motivate and inspire nurses who struggle with heavy workloads — while still giving proper care to patients.
PEOPLE'S CHOICE TOP THREE NOMINEES
This award is presented to a professional nurse who demonstrates excellence in direct patient care delivered in a hospital, clinic, and/or sub-acute care facility. This nurse is dedicated to quality, compassionate care of patients and promotes a positive image of nursing. She demonstrates exceptional practice, inspires others, and has excellent communication skills. The sponsorship of this award and the statue of Florence Nightingale is supported through the generosity of Hour Detroit. Winner will be announced at the Nightingale Ceremony on May 10, 2012.
Milissa Louwaert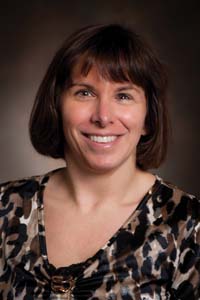 Advanced Professional Home Health Care
In 1995, Milissa Louwaert volunteered in the emergency room at Crittenton Hospital in Rochester. That experience provided her with the driving force to continue on with her dream of being an excellent nurse. Currently, she is a home health nurse who is dedicated to her patients. She volunteers at a free clinic in Lapeer to help people in need. Additionally, she organized a dinner to raise funds for a wife and children in her community who lost their husband/father due to a hunting accident.
She has proven herself to be a remarkably responsible, confident young woman. She tackles all patient care with knowledge, and has the drive that most nurses cannot master. She has the ability to bring attention to every detail of every patient skill she knows. Her communication and people skills are excellent, and she has many innovative ideas. She is no ordinary nurse, and she contributes greatly to the growth, progress, and development of the Advanced Professional Home Health Care. She is a devoted nurse who makes a lot of connections with patients and their families. Louwaert is extremely organized, can work independently, and follows through to ensure that the job gets done.
Patricia Shulskie
DMC, Children's Hospital of Michigan
Patricia Shulskie has dedicated 26 years of her life to the patients and families of DMC, Children's Hospital of Michigan. She has always encouraged friends and family to donate gently worn clothing items to the clothes closet, so that patients admitted as traumas — and their families — could have something to wear while not in the comfort of their own home. Shulskie's focus is not only on a disease process or injury; it is on the big picture of what her patients and their families need. Her experiences on a neurological pediatric floor made her more overprotective than she might have been, and she thinks nothing of toting a cranky toddler in need of a little extra attention on her hip while caring for her six other patients. She is an ordinary nurse who does not consider herself anything special, but to her patients and their families has made all the difference in the world. Shulskie is the nurse who takes the extra time to make sure a parent has all of their questions answered before his or her child goes into surgery — especially those questions the parents did not think were important enough to ask the doctor.
Norma Spryszak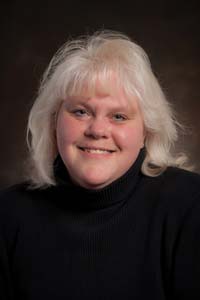 Beaumont Hospital, Troy
Norma Spryzak not only demonstrates the highest professionalism and a convincing, consistent passion for her profession, she also inspires the same in those privileged to work with her. After receiving her A.D.N. from Hurley Medical Center School of Nursing in 1987, she went on to gain her B.S.N. from Oakland University in 1993. Coupling her maternal gifts with her professional skills, she served as a nurse in Royal Oak Beaumont Hospital's Pediatric Oncology Unit before assuming the nurse manager position for the Oncology and Hospice unit at Beaumont Hospital, Troy, in 2009. Spryszak developed and implemented an oncology core curriculum course for her staff, and built a highly skilled and tightly connected team whose success would be measured by maintaining the hospital's highest Press Ganey satisfaction scores for her unit: in the 90th-and above percentile. Continuous process improvement and staff-driven initiatives to enhance care have resulted in the addition of services, like a comfort amenity cart and a library of CDs and DVDs for patient enjoyment, and the creation of a rooftop garden for a patient's view. Spryzak leads in each of these initiatives with passion, professionalism, and a spirit that enlists every discipline and department on her unit.
2012 Nightingale Award Nominees
ADMINISTRATION
Bernard, Dorothy – Beaumont Hospital-Royal Oak
Bosah, Lori – DMC, Rehabilitation Institute of Michigan
Bowman, Maureen – Beaumont Hospital-Royal Oak (Runner-up)
Boyle Reinman, Marie – Beaumont Hospital-Grosse Pointe
Brady, Stephanie – St. John Providence Health System
Cholette, Katherine – Beaumont Hospital-Troy
Dangerfield, Bridgett – DMC, Sinai-Grace Hospital
Farley, Theresa – Beaumont Hospital-Royal Oak
Juliano, Barbara – Beaumont Hospital-Royal Oak
King, Deborah – Crittenton Hospital Medical Center
McCloskey, Cathleen – Henry Ford Health System
Medvec, Barbara – Oakwood Healthcare Inc. (Winner)
Nixon, Elmira – DMC, Sinai-Grace Hospital
Novack, Gayle – St. John Providence Health System
Pagac, Gretchen – Crittenton Hospital Medical Center
Pietrzyk, Gail – Crittenton Hospital Medical Center
Scott, Denise – St. Joseph Mercy Oakland Hospital
Whitney, Randy – Beaumont Hospital-Royal Oak
NURSING IN THE COMMUNITY
Antonishen, Denise – Northern Michigan Regional Hospital
Hagen, Mary – Henry Ford Home Health Care (Winner)
Ishioka, Naomi – Beaumont Hospital-Troy
Shepherd, Joan – Northern Michigan Regional Hospital
Taurence, Pamela – DMC, Children's Hospital of Michigan
Taylor, Charlene – Northern Michigan Regional Hospital
Whitlow, Darleen – Adult Well-Being Services (Runner-up)
Woodside, Patricia – Northern Michigan Regional Hospital
EDUCATION & RESEARCH
Campbell, Denise – Beaumont Hospital-Royal Oak
Conoff, Sandra – DMC, Children's Hospital of Michigan
Dorsey, Adenika – DMC, Harper-Hutzel Hospital
Draus, Catherine – Henry Ford Hospital
Hoover, Lisa – Northern Michigan Regional Hospital
Larry-Osman, Cheryl – Henry Ford Health System (Runner-up)
Meeker, Beth Ann – Beaumont Hospital-Troy
Rodriguez, Linda – DMC, Sinai-Grace Hospital
Stomp, Julie – Beaumont Hospital-Royal Oak
Trapp, Caroline – Physicians Committee for Responsible Medicine (Winner)
Wolff, Susan – DMC, Children's Hospital of Michigan
PEOPLE'S CHOICE
Campbell, Nancy – Battle Creek Health System
Hayward-Bulloch, Marylin – Heartland Health Care Center-Oakland
Kosel-Rozanski, Patricia – Henry Ford Health Systems Transplant Institute
Louwaert, Milissa – Advanced Professional Home Health Care (Top 3)
Markowski, Chris – St. John Providence Hospital
Prawdzik, Lucy – Beaumont Hospital-Troy
Shock, Carla – St. John Hospital and Medical Center
Shulskie, Patricia – DMC, Children's Hospital of Michigan (Top 3)
Spryszak, Norma – Beaumont Hospital-Troy (Top 3)
LONG-TERM CARE / REHABILITATION
Anetrini, Lisa – Ciena Healthcare
Aynes, Patrice – Oakwood Rehab & Skilled Nursing Center-Dearborn
Bobo, Maria – DMC, Rehabilitation Institute of Michigan (Winner)
Buday, Michelle – Northern Michigan Regional Hospital
Murray, Laurie – Crittenton Hospital Medical Center (Runner-up)
Vaitkevicius, Mary Kathryn – St. John Macomb-Oakland Hospital
OAKLAND UNIVERSITY DISTINGUISHED ALUMNI
Brzezicki, Vivian – Beaumont Hospital-Grosse Pointe
Carroll, Bernadette – Beaumont Hospital-Royal Oak
Gardner, Suzanne – Beaumont Hospital-Grosse Pointe
Sciberras, Annette – Beaumont Hospital-Royal Oak
Solecki, Cathleen – Beaumont Hospital-Grosse Pointe (Winner)
Stephens, Lisa – Beaumont Hospital-Troy
Wallace, Michelle – Beaumont Hospital-Royal Oak (Runner-up)
ADVANCED NURSE PRACTICE
Armstrong, Janice – Beaumont Hospital-Royal Oak
Boyce, Victoria – St. John Hospital and Medical Center
Braun, Karen – DMC, Sinai-Grace Hospital
Cischke, Susan – Troy Beaumont Vein Center
Jones, Jacqueline – Crittenton Hospital Medical Center
Kelm, Lauren – DMC, Children's Hospital of Michigan
Klar, Reva – DMC, Sinai-Grace Hospital
Newman, Christine – Henry Ford Hospital
Palleschi, Maria – DMC, Harper-Hutzel Hospital
Sieggreen, Mary – DMC, Harper-Hutzel Hospital (Winner)
Stewart, Helen – McLaren-Oakland (Runner-up)
STAFF NURSE PRACTICE
Albert, Lisa – Beaumont Hospital-Royal Oak
Callan, Heidi – Beaumont Hospital-Royal Oak
Check, Cynthia – Beaumont Hospital-Royal Oak
Christian, Laura – Beaumont Hospital-Troy
Crampton, Katherine – Beaumont Hospital-Troy
Demorest, Patricia – Birmingham Pediatrics + Wellness Center
Dobrzechowski, Amy – Beaumont Hospital-Grosse Pointe
Dubay, Faye – Northern Michigan Regional Hospital
Engel, Marisa – Beaumont Hospital-Grosse Pointe (Runner-up)
Fuller, Jacqueline – Brighton Center for Recovery
Gamel, Michele – Beaumont Hospital-Grosse Pointe
Garduque Tan, Mary – Beaumont Hospital-Troy
Gauvin, Shawn – Providence Hospital-Southfield
Georgy, Jai – Beaumont Hospital-Troy
Godzwon, MaryAnn – Beaumont Hospital-Grosse Pointe
Goldsmith, Jana – Northern Michigan Regional Hospital
Hearold, Nancy – Beaumont Hospital-Royal Oak (Runner-up)
Hebert, Kelly – Northern Michigan Regional Hospital
Herman, Nancy – Beaumont Hospital-Troy (Winner)
Hollingsworth, Bethany – DMC, Detroit Receiving Hospital
Hughes, Karen – Oakwood Hospital and Medical Center
Kablak, Erin – Crittenton Hospital Medical Center
LoPiccolo, Laureen – Beaumont Hospital-Grosse Pointe
Meyer, Kerwin – DMC, Harper-Hutzel Hospital
O'Connor, Christine – Beaumont Hospital-Grosse Pointe
Robertson, Donna – St. John Providence Hospital
Rosette, Maureen – Beaumont Hospital-Troy
Salley, Amy – St. John Providence Hospital
Sharp, Andrea – Providence Park Hospital
Singh, Sudha – Beaumont Hospital-Royal Oak
Sparks, Karen – Henry Ford West Bloomfield Hospital
Stabryla, Gloria – Providence Park Hospital-Novi
Szczechowski, Kari – Oakwood Hospital and Medical Center (Winner)
Vagts, Kim – Beaumont Hospital-Troy
Facebook Comments